Professional MotorSport World Expo has got off to a flying start at Köln Messe, Germany. The show runs today, tomorrow and Friday (November 9, 10, 11) and is the place to find a wide array of specialist companies showing their latest and most advanced technologies for the motorsport sector, with the show seeing the debut and launch of a host of new state-of-the-art products. It's not too late to attend – click here to register for your free entry pass.
Here are a few of the highlights from the first morning…
VESevo launches non-destructive tire measurement device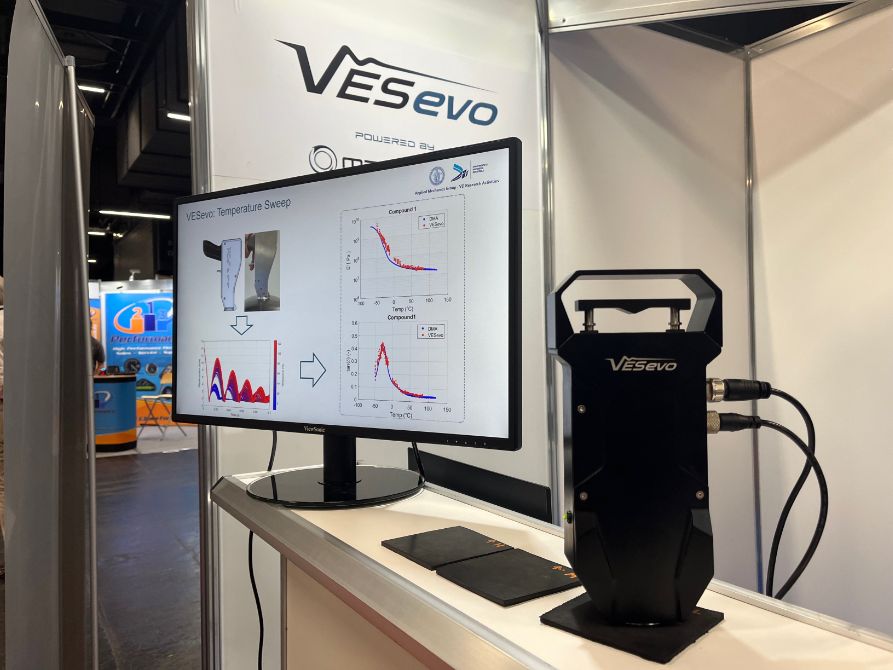 The VESevo Generation 2 device for non-destructive measurement of the viscoelasticity of tires has been launched by VESevo at Professional MotorSport World Expo 2022.
Unlike conventional tire testing devices which require a tread sample to be removed from a tire's surface, VESevo's latest device enables the analysis of tires quickly and efficiently without making the tested tires unusable.
The company's latest-generation device delivers a range of benefits for users on the racetrack, such as being able to predict adhesive and hysteretic grip and even a tire's optimal thermal working range. Furthermore, the device can aid in selecting the correct tire compound for a team's strategy by delivering reliable data on a tire's performance.
VESevo's device can also be used within a production or manufacturing environment as it enables engineers to monitor the quality and uniformity of tires in addition to helping to determine the best thermal curing cycles.
To date, the VESevo Generation 2 device has been used within some of the motorsport industry's top disciplines including Formula 1, Formula E, the World Rally Championship and MotoGP.
"VESevo's Generation 2 is a non-destructive device for testing the viscoelasticity of tire tread compounds. Directly on track or wherever you are, the device is able to categorize the properties and the loss factor of the tire," commented Andrea Genovese, CEO, VESevo. "This means you are able to predict the behavior and the working range of the tire during a race. The most powerful aspect of the device is that it is totally portable and you put it onto the tire without any destructive or invasive effects."
VESevo can be found at booth #6042. 
MoTeC outlines the advanced capabilities of its GPRP electronic control units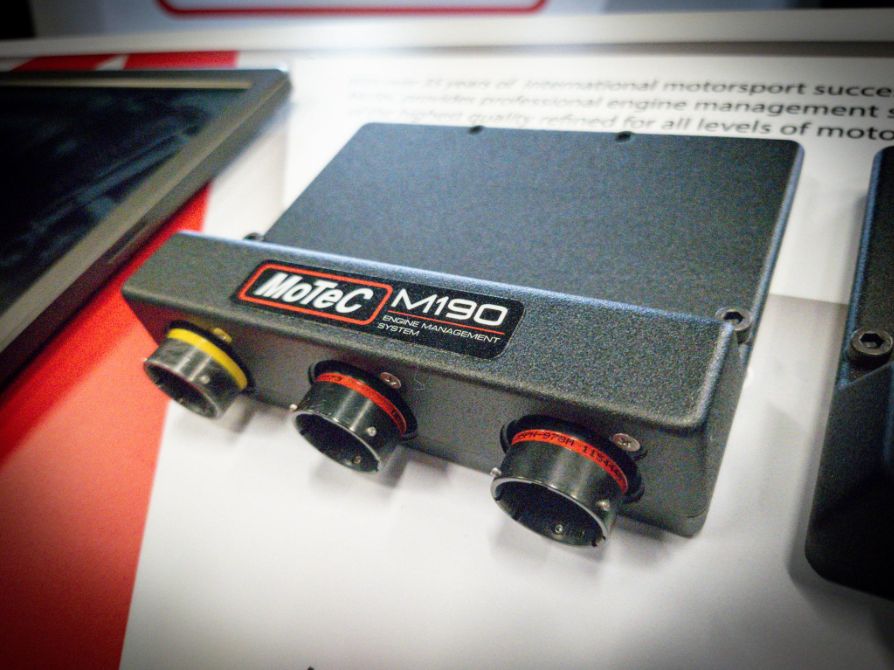 Electronic control unit specialist MoTeC is discussing its latest GPRP ECUs for engine and gearbox control with visitors to booth #6044.
The GPRP Pro and GPRP-DI Pro packages are MoTeC's new torque-based engine and gearbox control firmware for port and direct injection applications. Both packages can be used with new and existing M1 hardware which enables current customers with MoTeC ECUs to upgrade to the new firmware remotely.
MoTeC's new firmware places a firm focus on calculating and controlling engine torque by throttle opening and ignition control. Many key features are enabled with the GPRP Pro and GPRP-DI Pro packages, including torque-based throttle control to deliver a faster control response and improved vehicle drivability and seamless transitions.
Additional features of the new solution include, but are not limited to, sophisticated traction control with dynamically adjustable closed-loop control, clutch slip control to protect or maximize clutch performance and configurable throttle pedal options for improved consistency, control and feel.
"MoTeC is a world-leading specialist in electronic control systems, data acquisition and programmable software for ICE, EV and hybrid applications," said Paul Bower, applications engineer, MoTeC. "Our commitment to continual innovation in line with changing technologies is reflected in our range of versatile, expandable solutions that are well suited to professional teams and racing categories alike. We our showcasing our M1 Integration Tool for Simulink and our new Pro firmware Packages at PMW Expo 2022."
MoTeC can be found at booth #6044.
FEV showcases fire suppression systems for latest FIA standards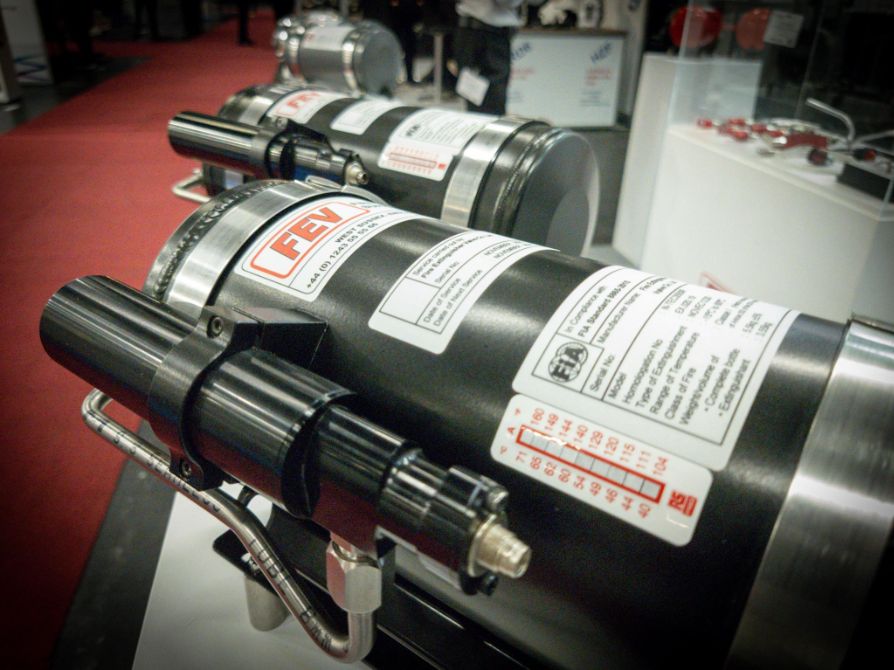 UK-based safety company FEV is showcasing its broad portfolio of systems and products for the motorsport sector.
The company's comprehensive fire suppression range, on show at the expo, is FIA certified and has been designed and developed utilizing 30 years of experience to bring the latest safety advancements for vehicles on racetracks all over the world.
FEV's fire suppression portfolio includes the plumbed-in N-TEC2950R, a fire suppression system been designed to use 3M Novec 1230 Fire Protection Fluid. The waterless suppressant is capable of extinguishing flames in only a few seconds, in addition to protecting expensive onboard equipment including electronics as it leaves no residue and is electrically non-conductive.
Alongside plumbed-in fire suppression products sit FEV's handheld devices such as the F-TEC240HH which meets all FIA and MSUK requirements. The N-TEC2000HH and N-TEC2500HH handheld fire extinguishers can be used in any orientation, enabling their use for fires occurring underneath vehicles or in tight spaces such as engine compartments.
"We design and manufacture fire extinguishers in the UK for the motorsport industry and supply a range of teams from F1 to WRC, GT categories and Le Mans and LMDh," explained Jack Sexton, design and development manager, FEV. "At today's Professional MotorSport World Expo we have a wide range of fire safety systems on show, including the plumbed-in N-TEC devices and the handheld F-TEC products which cater for a wide array of budgets and uses."
FEV can be found at booth #6030.
Brand-new SR Series pads on show at EBC Brakes Racing booth

Formed in 2015 as a response to the ever-expanding trackday and race car markets, EBC Brakes Racing – a subdivision of EBC Brakes – is exhibiting its range of braking products which includes the RP Series and the brand-new SR Series pads at the company's booth.
Designed for vehicles driven hard on track, the RP-1 possesses a moderately high friction level of 0.45 from 100-750°C (200-1400°F). The more progressive response characteristic of the RP-1 makes it well suited for inherently over-servoed vehicles where a softer pad material is desirable to enable greater finesse when on the brakes. Then there is RP-X, which possesses a high friction level of 0.55 from 0-750°C (ambient -1400°F) and achieves a 100% brake effect from cold. This makes the RP-X suitable for sprint racing or hill climb events, where full brake performance is essential without any warming up. The RP-X is also well suited to any type of circuit use where a high initial bite and powerful brake response is desirable.
The EBC sintered SR pads benefit from more bite and zero fade and claim to offer the lowest cost per racing mile of any pad. The SR11 medium friction compound and the SR21 ultra-high friction compound are targeted for use on the front and rear of race cars with bias controls only. SR is therefore only made in a limited range of ultra-fast street vehicle systems or for full race calipers from such as AP, Brembo, Alcon and Wilwood.
"The RP-1 has more bite than the road-legal brake pads and is made for higher temperatures of up to 750°C, and the RP-X has a higher friction coefficient," explained Michael Gerhard, managing director, EBC Brakes Germany. "The SR is a sintered pad and is much more temperature stable and has an extremely high friction coefficient. These are produced for the highest performance applications."
EBC Brakes Racing can be found at booth #4036.
The latest EMU Pro and PMU 24DL electronics systems from Ecumaster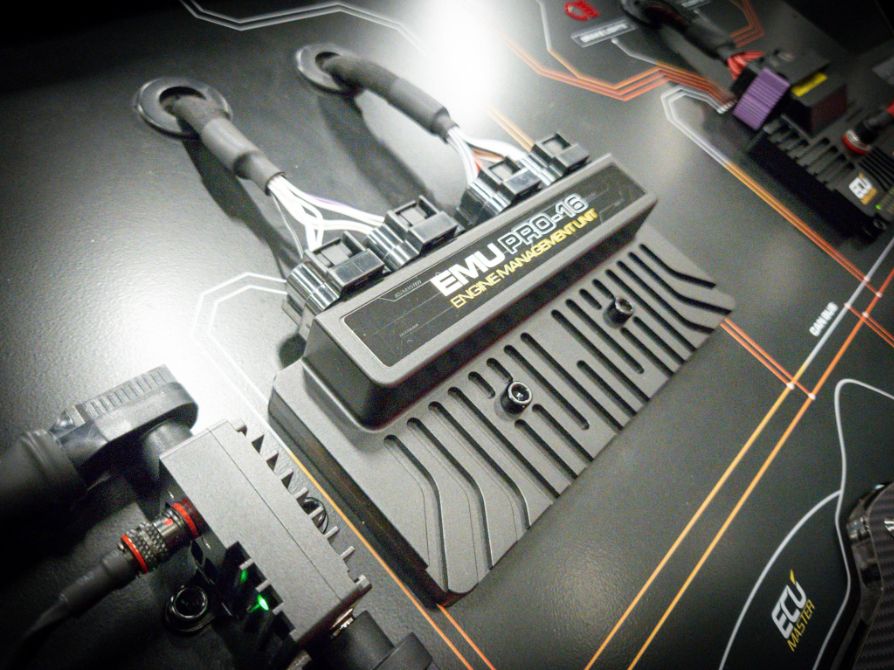 Poland-based company Ecumaster, a manufacturer of complete electronics systems for tuning and professional motorsport, is showing two of its new products at this year's PMW Expo – the EMU Pro and the PMU 24DL.

Ecumaster's new EMU Pro unit is designed for use within the professional motorsport sector and features a comprehensive feature set to offer vast tuning possibilities. The solution is a standalone engine management system which has been designed to operate four-stroke, two-stroke or rotary engines with up to 12 cylinders (10 with fully sequential control). An advanced fueling model, including closed-loop short- and long-term trim algorithms, combined with a fuel film model helps to give exceptional accuracy for injector control.
Alongside the EMU Pro unit sits the company's PMU 24DL, an enhanced power management unit which benefits from 24 high-side outputs and internal datalogging memory. All of the solution's output states, voltage and current information are transmitted via CANbus to dash displays to inform drivers of potential problems. Furthermore, all of the system's logged data can be downloaded from the device for analysis after a race or track event.
"Our main goal of Professional MotorSport World Expo is to show our new products, the EMU Pro and the PMU 24DL," said Jakub Kojder, CEO, Ecumaster. "This is the premiere for our latest products and the first time we are showing them in public. We hope to convince new customers that our products are the best."
Ecumaster can be found at booth #4030.
Coryton Advanced Fuels debuts Sustain Racing fuels for motorsport use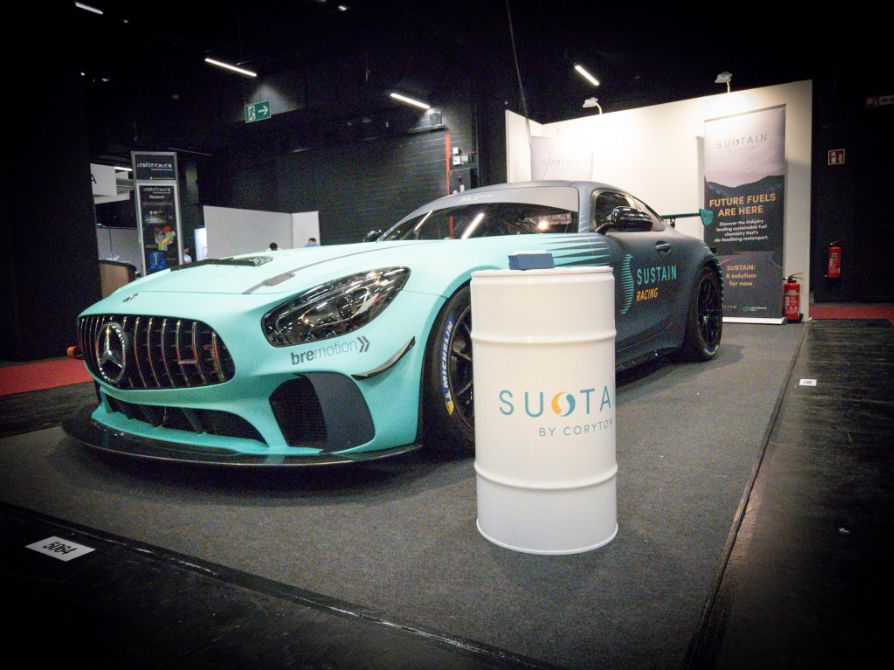 Following years of research and development work, Coryton Advanced Fuels has launched Sustain Racing, a new sustainable fuel range dedicated to the motorsport sector. Unveiled at this year's Professional MotorSport World Expo, Sustain Racing aims to provide the industry with access to a range of off-the-shelf sustainable fuels and the opportunity to create bespoke blends using Coryton's expertise.

Offering the potential for significant CO2 emission savings compared to traditional fossil fuels, Sustain Racing products seek to make an impact on the industry's net zero initiatives and are already proving popular with some major racing players.
Coryton has celebrated several successes in motorsport and its fuels continue to prove their performance for partner Prodrive in races such as Dakar 2022 and the recent FIA World Rally-Raid Championships.
The company uses second-generation biofuel derived from agricultural waste to create the fuels, along with e-fuels created using CO2 captured directly from the atmosphere. Coryton has an advanced and dedicated specialist fuels blending facility in Europe, creating over 4,000 unique blends each year for manufacturers including Mercedes-Benz, Volkswagen, Volvo, Renault and Jaguar Land Rover.
"We've worked with the industry for many years and see that sustainable fuel has a huge role to play in the future of motorsports and motoring in general," said David Richardson, business development director, Coryton. "The ICE engine is going to be here for many years to come so it makes sense to do what we can now to reduce the carbon emissions from those vehicles. With the work we're doing with teams such as Prodrive and Bremotion, as well as others behind the scenes, and with F1 moving to 100% sustainable fuel from 2026, the world is watching. That's why it's vital that sustainable fuels are backed up by expertise and rigorous testing. We need these fuels to demonstrate that they can perform as well – if not better – than fossil fuels."
Richardson continued, "Our second place in Dakar 2022 showed how there need be no drop in performance with Sustain Racing and we're going for gold in 2023. If four cars can save 85 tons of carbon by using our fuels, imagine what a whole series run on them could do?"
Coryton Advanced Fuels/Sustain Racing can be found at booth #5064. 
Druck presents its advanced pressure measurement technology for the motorsport industry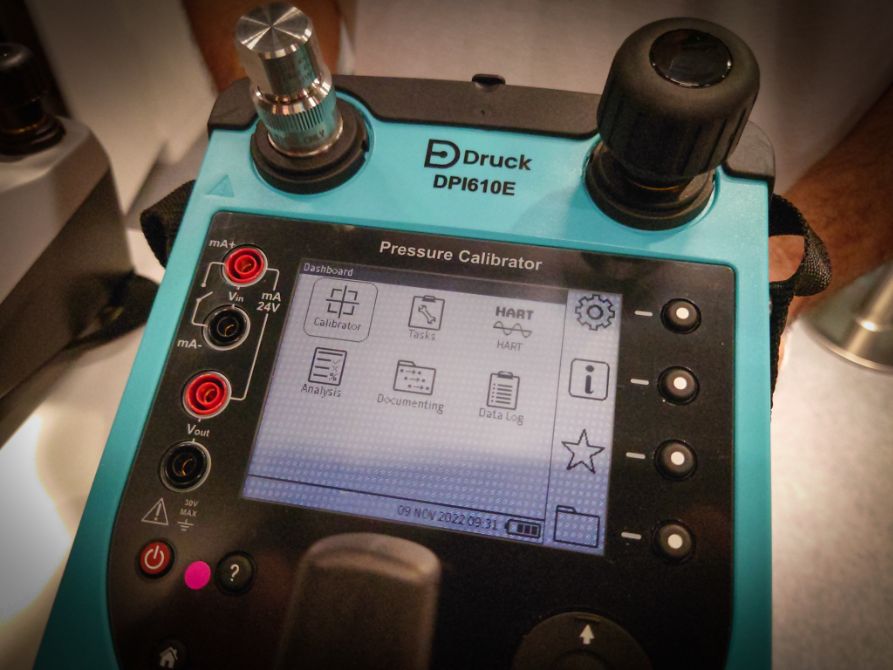 Pressure measurement technology chosen for Formula racing, the World Rally Championship, the Indy Racing League, MotoGP and British Super Bikes, amongst others, is being presented by Druck at this week's PMW Expo.
Druck's most advanced sensor for the motorsport industry, the PMP 4400, is a small, lightweight solution which has been designed to provide enhanced levels of accuracy and reliability. It is capable of monitoring all chassis and engine pressure requirements including brake, fuel, tire, manifold and air pressures which can directly impact vehicle performance.
Despite being just 12.5mm in diameter and weighing less than 25g, the PMP 4400 is robust and can perform at temperatures from -20°C to +175°C, in addition to withstanding the extreme vibrations and shocks associated with racing. The sensor is available at pressure ranges from 1.6 to 350bar.
Druck is also exhibiting its DPI 610E and DPI 705E series test and calibration equipment at the show. The DPI 610E is a portable, complete pressure calibration tool that offers best-in-class accuracy – down to just 0.025%. It provides pneumatic pressures to 35bar/500psi and hydraulic pressures up to 1,000bar/15000psi. The handheld device can operate over a temperature range of
-10°C to +50°C and features a backlit high-contrast display and a countdown to calibration function. Full datalogging capabilities are included, with a hazardous area version available too. The DPI 610E can be used as part of a plug-and-play system with Druck's PM700E pressure sensor and Resistance Temperature Detector (RTD-INTERFACE).
The DPI 705E provides accuracy and reliability combined with a rugged design – essential for conducting testing and measurements within motorsport. When paired with a tire pressure hose the DPI 705E becomes a fast and easy-to-use device for race-critical tire pressure monitoring. This
handheld pressure indicator operates across 41 pressure ranges, from 25mbar to 1,400bar. It is compatible with Druck's pneumatic and hydraulic hand pumps and with optional remote plug-and-play pressure (PM700E) and Resistance Temperature Detector (RTD-PROBE) sensors.
Druck's range of PACE pressure monitors and controllers are also on show at the expo.
"Druck is displaying the new combined 4400T sensor which is a combined pressure and temperature sensor. It is a very small sensor based on the existing 4400 series sensor but with the addition of a temperature sensing element in the front," explained Clive Hill, chief engineer at Elite Sensors, co-exhibiting with Druck. "The sensor is coming to the end of its development cycle and will be available soon."
Druck can be found alongside Elite Sensors at booth #4014.