With just three weeks to go until Professional MotorSport World Expo, which takes place November 7-9, 2018, in Cologne, Germany, it's time to take a closer look at all the exciting new product launches and innovations in store, starting with the latest developments for drivers:
Newly designed FIA-certified helmets and race suits
Zamp (Stand 7078) will introduce its newly designed FIA-certified RZ-35E helmet (top) at this year's PMW Expo. The RZ-35E includes a removable/washable interior, which allows drivers to custom fit their helmet or replace the liner due to damage caused by harsh driving conditions. Features include a lightweight composite fiberglass shell; seven-top air system, in addition to chin, scalp and exhaust vents; and a plush fire-retardant interior.
Also on display will be the company's new Series 4A, which offers features never seen before in the head and neck restraint market. New patent-pending features include an advanced axis adjustment that allows drivers to adjust shoulder width, arm angle and arm width to fit different body shapes and sizes, as well as adjusting to different race seats. The Series 4A is also super lightweight at approximately 925g. A dual-compound specialized fiberglass-reinforced nylon is used for the shoulder frame, offering leading structural characteristics; the arms are made with a modified alloy material to give the device a dampening characteristic in a crash.
Finally, Zamp will also present its ZR-50 racing suit, which delivers a high-quality multi-layer suit at an affordable price. This SFI 3.2A/5-approved ultra-lightweight suit is available in a large range of sizes to fit all drivers.
Racetech Europe race seat range launch
Respected supplier Racetech will introduce a brand-new range of seats at PMW Expo this year. There will be two examples on show in Cologne, as part of a new four-seat range. The new seats will be available with or without head restraints, and will be available in either standard or wide/tall specifications. The new seats will break cover for the first time on November 7, on Stand 7030. Also to be seen on the stand will be Racetech's FIA-approved back-mounted seats, as supplied to Porsche, Aston Martin and McLaren.
Unique UK-manufactured titanium driver protection system


SST Technology (Stand 2010) will showcase its Titanium Driver Protection System (DPS-ProTi) – the only system of its type manufactured in the UK.
It has been designed to achieve conformity to FIA Standard 8869-2018, and can be supplied with the Additional Frontal Protection Halo (AFP-Halo) to Formula 1, Formula 2 and Formula E series. Furthermore, it is manufactured to be at the lower limit of the weight tolerance stipulated by the FIA.
Extremely tight material control, production parameters and dimensional tolerances ensure an accurate fit of the assembly onto the chassis, and allow it to meet the extremely high load requirements of the structure.
SST employed its extensive experience in the design, development and manufacturing of high-precision fabricated components, tube manipulation and precision machining to meet the unique challenges this project presented.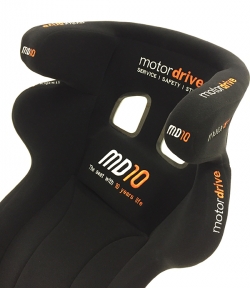 World exclusive: Motorsport's lightest six-point FIA8862-2009 seat
Join Motordrive (Stand 5064) at PMW Expo for the launch of the second series of its FIA8862-2009 seats, offering both four- and six-point mounted ultra-lightweight models.
Motordrive says it has become the first seat manufacturer in the world to develop both four- and six-point mounted FIA8862-2009 advanced motorsport competition seats. Visitors will be able to view its full 'MD' 10-year range (pictured), alongside the ever popular FIA8855-1999 series. The company can also advise on fitting services and personal branding, world-wide distribution opportunities and how it can provide a competitive edge with new GT3 seating regulations.
First dedicated LMP seatbelt for endurance racing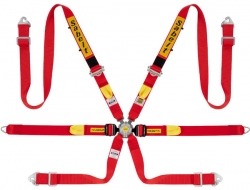 Sabelt (Stand 5076) will introduce the first seatbelt developed expressly for endurance competition.
The new LMP seatbelt is based on Sabelt's SH.006.16-T-6 model already used worldwide by GT teams as well as Hyundai WRC and Citroen. But the new belt that will preview at PMW Expo has been introduced in the market to satisfy the specific needs of endurance drivers.
The 8853-2016 FIA homologated seatbelt is a standard configuration, with a range of accessories, including handles for simple strap regulation, Velcro sections, a new fixing system with intercom and hydration, lap straps with pull down adjustable tongues, and a new buckle with quick link.
The new endurance buckle of the LMP seatbelt is based on the already-in-use endurance buckle made in aluminum chosen by Audi and Porsche in the LMP Series and developed following GT Teams requests. It has been studied to maintain the same performance of the previous aluminum endurance buckle using different materials. Patented with a new structure, the buckle is fitted with a quick link system to helps tongues insertion and new ejectors that optimize the driver change time.
To see these and many other exciting new launches from more than 230 exhibitors, including familiar names such as BBS, Continental, Ricardo, ZF, Bosch, Danecca and Cosworth, make sure you register for your free fast-track entry code, now.