The 14th edition of Professional MotorSport World Expo, which took place November 13-15, 2019, in Cologne, Germany, attracted more than 4,000 attendees eager to source new solutions and discover the latest technology from over 230 exhibitors, as well as benefit from a range of expert insights at the free-to-attend engineering workshop program featuring nearly 30 speakers.
Familiar names such as Bosch, Ohlins, Continental, Integral Powertrain, Ricardo and Xtrac could be found on the exhibition floor, with visitors able to discuss in detail their needs for the 2020 race season and beyond. Closed to the public, the show was once again praised for its strict focus on business, allowing leading teams, drivers, engineers and suppliers to network without interruption and really engage in detailed discussion.
"It's a great opportunity to meet the suppliers from overseas, because you don't normally get much of a chance to talk to them in person and talk about business," said Michael Hirzel, a development engineer from Audi, about the show.
"PMW Expo is the largest show in Europe, so I think you have to be here if you are working in motorsport and we are here to connect to some people in the industry, to network, and to keep on top of the latest trends," explained André Klug, R&D technician (damper development), Hyundai Motorsport.
"We're always excited to visit the show to understand what the current dynamics are and what the next developments will be," added Stephane Fillastre, head of brand, Fédération Internationale de l'Automobile (FIA). "This year, I've seen a lot of technology related to sustainability. I've also seen a lot of simulation tools and demos, so there is clearly a lot happening in those two areas."
New products
The 2019 show saw a wide range of new product launches across the whole motorsport technology spectrum, from engine components to race seats, and safety equipment to suspension systems.
Following a 12-month R&D program, SPA Design launched a new fire suppression system at PMW Expo 2019. The system, which will be available from early 2020 under the brand FireSense 8865, is specifically designed for rapid fire out and to conform to the strict new regulations imposed by the FIA (8865-2015) for WRC, R5, T1, S2000, RGT and GT3 race categories, with further categories to be added.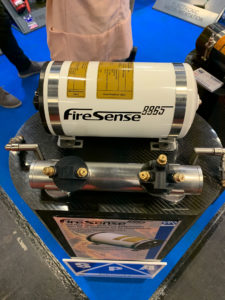 Smaller and lighter than previous systems, it offers a weight reduction of 3kg, simple installation and features a new fire suppression fluid, resulting in a compact but highly effective solution.
"It's a lot smaller and it's very competitive from a price-point perspective – we think it's the least expensive fire suppression system on the market. From a packaging point of view it's also very simple to install," explained Will Barnes, managing director, SPA Design.
"We've still got to get all the various testing paperwork signed off with the FIA, but through talking to current customers, everyone is very excited, primarily because of the package and the price point. We've always liked PMW Expo because it's only open to trade rather than the public, and interest so far has been good."
Ecumaster introduced a new power management unit optimized for motorsport at PMW Expo 2019. The PMU16 Autosport version features a battery connection that utilizes a Radlok connector rated to 200A, which can be disconnected without the need for any tools. The output connector is a custom 18-pin, 12-gauge connector designed and manufactured specifically for Ecumaster. The unit features an IP65 environmental protection rating, permitting its use in the harshest conditions, including dusty and wet
environments.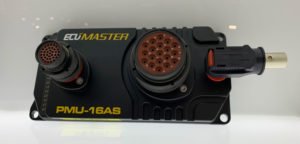 Compared with the standard PMU16, six low-side outputs have been added and are rated at 2A per channel. Fourteen of the main output channels are rated at 25A, with two output channels rated at 40A. Mating connectors and terminals are included at no extra cost, which represents a substantial saving for customers and removes the hassle of ordering separate components.
"The PMU16 AS features new connectors, new options and new performance parameters," said Adam Jugowski, marketing manager, Ecumaster, speaking on the first morning of the show. "We've had a lot of visitors and interest already. People love coming to PMW Expo because they can talk about the products in detail, the options and what we can create in the future. They can talk to our engineers from Poland, Germany, the UK, the Netherlands – every visitor can find an engineer that they can talk to in their language. The expo is the biggest and the greatest in our part of Europe. It's very important for us to be here to show our products and talk to people about the future."
AP Racing debuted no fewer than five new products at PMW Expo 2019. These included new forged six-piston front CP7269 and four-piston rear CP7480 calipers designed for GT3 and GT4 applications, which are lighter and stiffer than previous incarnations and are manufactured using near-net forgings. The calipers are available to order now for delivery in March 2020.
A new floor-mounted pull-type sliding pedal box designed to suit FIA fixed-seat regulations was also on display for the first time, featuring many new design features and improvements over the company's previous CP5538 pedal box. Three- and two-pedal (brake and clutch) versions are available.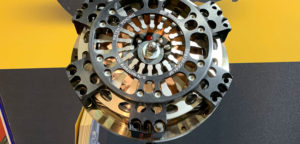 The company's brand-new CP8732 clutch assembly offers a patented concentric dual-banded cover feature. Dual-band clutches benefit from the same optimized software used in Radi-CAL brake technology, offering a significant reduction in weight and increased stiffness compared with conventional clutch assembly.
Finally, the company also showed a new interlocking disc and bell mounting system for GT3/GT4 brake discs, which provides increased drive lug strength and constant float under all conditions. Analysis has shown a 31% reduction in stress compared with conventional systems.
"This is their first public airing, here at the show," confirmed Joe Bennett, marketing and product group engineer, AP Racing. "We've had lots of interest and people coming along to see the new products. The show is ideal for bringing new products to show to existing and potential new customers."
Bosch Motorsport presented an update to its collision avoidance system. The EVO version of its CAS M3 system boasts an improved HD camera with extra-low latency, as well as a dedicated motorsport connection for faultless reliability in harsh racing conditions.
The system combines a rear-facing camera and radar with a high-resolution screen inside the cabin to give the driver a constant overview of the cars behind, with information on their closing speed, distance and position.
"Even in bright and dry conditions, it still helps the driver to glance at the screen now and then," explained senior manager, Michael Stams. "However, the real strength of the system is when it's dark, misty or wet. In these conditions, the radar will still be able to tell when objects are getting closer and where they are."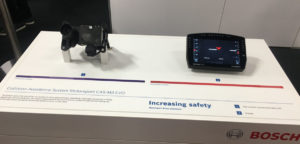 The new camera has lower latency at 60-80ms, making sure it can show its images on the display in real time. It now also films in HD resolution, enabling future developments for video recording. Another new development is that the camera lens is designed to work well in conjunction with the mid-range radar sensor of the system. The camera sends its information to the display over Ethernet, while the radar uses CAN.
The EVO version also features a new motorsport-grade connector: "The most important new feature is the motorsport connector," added Stam. "The previous version had a more standard connector and we occasionally saw issues caused by vibrations."
Renowned gearbox specialist Hewland revealed the newest addition to its range of transmissions: The PEVD-200, a performance three-shaft transmission for EVs that takes power from a single electric motor and outputs it to a limited-slip differential.
"As standard, with the Integral Powertrain motor, we're looking at a torque capacity of 450Nm and a maximum input speed of 20,000rpm, but of course, if somebody has a project with a different motor, we can gear it to suit that specific application," explained principal engineer James Batchelor. "Same with the differential – if we're doing a lower-torque application, we have a range of lighter diffs that we can slot straight in there for the all-important weight saving."
Motordrive used the 2019 show to debut its modular concept seat, the MD30, for which it is aiming to obtain homologation in 2020. Darren Meadows, managing director of Motordrive, explained how the concept can make the process of fitting the seat to the driver quicker: "Most seats are a hard shell with a cover on it, but with the MD30, we make a shell and then add pads of different shapes and sizes so you can have different padding for different sizes of people. We fit all of our seats to our customers; with the new seat, we can have a more general shell that people can pad according to what they need rather than having to come in for a fitting."
Racetech launched a new, low-cost seat to the European market at PMW Expo 2019. The RT4100 is a standard-size fiberglass race seat that has the option of being back-mounted to the roll cage at shoulder level. The seat is available in two sizes and complies with FIA 8855 regulations. Compared with the company's more premium 4119 range, the lower-cost seat has less shoulder support and no air ducting, but still offers back-mounting, breathable spacer fabric, parallel sides and pronounced thigh support to make it comfortable and safe during tough races.
KW presented a new range of three solid-piston dampers, ranging from a basic, fixed-rate setup all the way up to a five-way-adjustable coil-over. The latter features an inline reservoir that can be adjusted for low- and high-speed bump, low- and high-speed rebound and blow-off; ride height can be set using shims. It is primarily aimed at GT classes and LMP cars but can also be downgraded to a two-adjuster and made suitable for TCR and GT4 cars.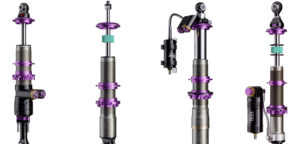 The suspension specialist also debuted an 'upside-down' version of its four-way-adjustable solid-piston damper. "Often you have the problem that you want the high stiffness and resistance against side forces, but you also want the clear hydraulic system of a solid piston, so we're combining the two," explained head of motorsport, Thomas Rechenberg. "That has forced us to put the hydraulic unit on top of the damper, which makes it more complex design-wise, but this setup actually makes it very easy for the customer to adjust the settings – often you don't even have to take off the wheel to make changes."
Rechenberg emphasized the show's value as a place for detailed discussion and business: "It's always good to have a clear launch for a new product, and PMW Expo is a really good place to do that. It provides an atmosphere to meet and connect with people away from the racetrack, because at the track everyone is always stressed and very busy."
Engineering workshops
The 2019 free-to-attend workshop program featured nearly 30 presentations from leading race teams, suppliers and academic experts, including an insight into the challenges presented by Extreme E, courtesy of Glen Pascoe, principal engineer at Williams Advanced Engineering; and advice from Sauber's Willem Toet on how Formula 1 aerodynamics can help an extreme track day car.
Exclusive details of the vehicle design and battery technology powering Extreme E's electric SUV, ODYSSEY 21, were provided by Pascoe, who explained how Williams is drawing on its experience of assembling the batteries and cells for the first four seasons of the ABB FIA Formula E Championship. He also highlighted some of the key differences, not least the harsh environments, that the car – and battery – will have to face.
Operating temperatures ranging from -30°C to +40°C, plus 100% humidity, water ingress, field servicing by a small team, and extreme vibration and shock are just some of the challenges that have called for a very different approach from Formula E. Pascoe noted how a strong focus on structural engineering and early prototype and testing, along with a limited number of test team personnel to replicate race scenarios, had helped to solve some of the issues inherent in the new race format.
Visitors seeking to harness extra downforce to help them go even faster on the track were spellbound by Sauber's aerodynamics specialist, Willem Toet, as he patiently described how F1 teams use development tools including the wind tunnel, CFD and track tests, before revealing some of the tricks used in F1 to maximize performance, and relating how these concepts could be applied to other types of vehicle – including road cars.
"I hope those who attended got a deeper understanding of just how much difference aerodynamics can make to the performance of a race or track day car," said Toet. "I hope they came away with some clear ideas for ways to improve their own cars, based on sensible engineering practice rather than special research."
2019 Awards
The annual Professional MotorSport World Expo Awards, held on Thursday, November 14 during the international exhibition at Köln Messe, once again recognized the efforts of individuals, teams and suppliers across the motorsport industry.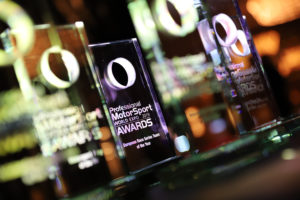 Split into six dedicated categories – Motorsport Facility of the Year, Motorsport Technology of the Year, European Race Series Team of the Year, International Race Car of the Year, Outstanding Contribution of the Year, and UK Young Rally Driver of the Year – the fiercely contested awards were judged by an expert panel of leading motorsport journalists.
The victors were announced during a lavish evening gala dinner. Those who had cause to celebrate included WSR and Team BMW, who picked up two awards (European Race Series Team, International Race Car); The Bend MotorSport Park (Motorsport Facility); AirShaper (Motorsport Technology); Alejandro Agag (Outstanding Contribution), and Robert Wilson (UK Young Rally Driver) – click here for full details.
Professional MotorSport World Expo 2020 will take place November 11, 12, 13, 2020, Hall 10.1, Cologne, Germany.