Toyota is to return to the British Touring Car Championship with a works entry in 2019, using a racing version of the new Corolla hatchback. It is already on sale in North America and will appear on European roads next year.
The car will be driven by Tom Ingram and run by Cheshire-based Speedworks Motorsport, which has previously campaigned the Toyota Avensis as an independent entry in the BTCC, with great success.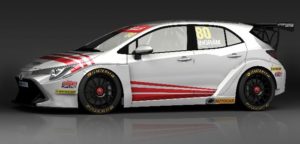 The entry sees the Japanese brand running as a full works team for the first time since the early 1990s, when it was a major player in the UK's biggest motorsport series.
Speedworks has fielded the Toyota Avensis in the BTCC since 2011, posting victories and regular front-running performances. With driver Tom Ingram, it secured the independent teams' and drivers' trophies in 2017 and 2018. However, the new Corolla will be the first car that the team has built from scratch.
Speedworks team principal Christian Dick sees the new status as a manufacturer team as a major step forward. "We have been establishing an ever-closer relationship with Toyota GB for the past few years, nurturing that bond through our common passion for motorsport, engineering excellence and, ultimately, success," he said.
"Our new relationship with them will enable us to take that final step and really push for the overall BTCC title. As a team, we are ready to pitch ourselves against the very best in Britain and, with Toyota GB's backing, we are confident of doing just that."
Ingram is looking forward to driving the new Corolla: "What we have accomplished as a small independent outfit, particularly over the last two seasons, has been nothing short of mind-blowing and demonstrates just what this little team is made of."
"To attract the support of Toyota is a phenomenal achievement and huge credit must go to Christian and Amy Dick, who have worked so hard to pull this deal together."
Toyota GB marketing director Andrew Cullis believes the BTCC entry will greatly boost the launch of the new Corolla road car, which replaces both the Avensis and the Auris in showrooms in 2019. "Speedworks Motorsport and Tom Ingram have a winning track record and we look forward to working with them throughout the coming season," he said.
The Corolla will make its race debut on April 7 at Brands Hatch in the first rounds of the Kwik Fit British Touring Car Championship – named after the servicing chain that has taken over the series' title sponsorship from Dunlop Tyres this year.