UK-based automotive manufacturer AP Racing has been involved in every Formula One championship since 1967. Focused primarily on manufacturing performance brake and clutch systems for road and race cars, its systems have been used in cars that have amassed 818 Formula 1 wins.
Always striving to push the boundaries for its customers, AP Racing first established its in-house 3D printing capabilities over 15 years ago. Initially focused on prototyping, the team soon expanded to tooling and final-production parts.
However, as briefs became more complex and the competition more aggressive, the company  needed a technology that could simultaneously produce highly detailed (0.014mm resolution), accurate, multi-color prototypes and advanced multi-material tools. The company bought a Stratasys J750 3D printer to reduce design cycles and alleviate certain design challenges.
Bringing ideas to life
Designing a brake or clutch system is highly complex, with parts exposed to dynamic loads with high initial peaks. When designing components such as calipers, the AP Racing team completes in-depth FEA (finite element analysis) plots for inspection. This analysis is essential to determine how the brakes and clutches will best operate within the car, and how load will be distributed through the component.
Engineers at AP Racing are using the full-color, multi-material 3D printer to produce highly detailed and complex 3D models of FEA stress plots that provide proof of concepts to its customers, resulting in new business wins.
"FEA plots are an essential part of our design process, and the resulting digital simulations are the color of the rainbow. However, they only offer us a view of one side of the component. When trying to win business and explain new designs to clients this can prove problematic," explained John Schoon, senior design engineer, AP Racing.
"So, to secure the business of a prominent F1 client, our team decided to create a 3D printed model of the FEA plot for a clutch component. The J750 enabled us to produce a multi-material, multi-color 3D model of the entire FEA plot of a clutch basket. The resulting model was so accurate and so vivid in color definition, that the team instantly understood the design decisions and placed an order."
This tactic was so successful, AP Racing now deploys 3D printed FEA models routinely to provide proof of concept to its current and future customers.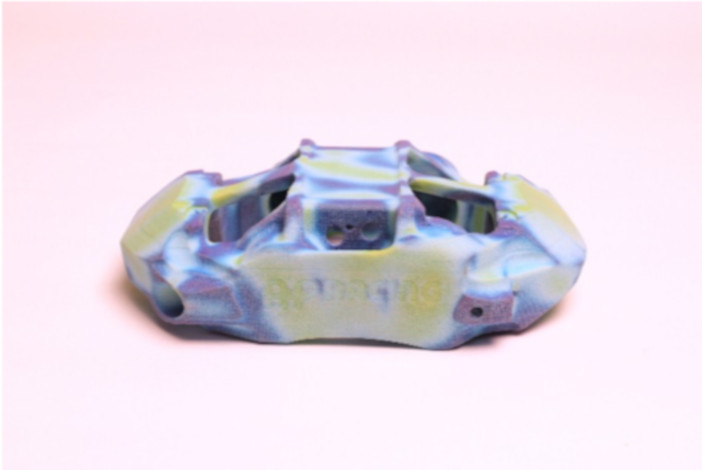 Beating the traditional
Another essential 3D printing application for AP Racing is prototyping brake calipers. Traditionally, these would be machined in aluminum. Not only is this method expensive, but the lead times are often extremely lengthy. Now, with its in-house J750, a prototype caliper can be produced in only 24 hours, a time-reduction that has dramatically improved the team's responsiveness to its customers' needs. However, in this case, it is not only the reduction in time that proved beneficial.
"In the case of a prototype brake caliper, absolute accuracy is essential, as we need to complete fitment checks for internal components such as seals, pistons, fixings and brake pads. Previously, we were limited in the functionality of 3D printed brake caliper prototypes," explained Schoon.
"However, the J750 enables us to produce more accurate prototypes. The fact we can print in multiple materials at once has enabled us to create functioning threads on the caliper prototype, allowing for more accurate testing within the vehicles' suspension and revealing any potential issues far earlier in the design process."
Improved tooling performance
Beyond prototyping, AP Racing is using the Stratasys J750 for tooling applications. Every project it works on presents different, unique challenges, and requires complex, customized tooling. Almost every tool AP Racing creates is a one-off, and the team was previously reliant on external suppliers, which often resulted in high costs and lengthy lead times of several weeks.
Now, 3D printed tools can be produced at a fraction of the cost of those produced in aluminum and can be made in less than 24 hours.
In the case of laser etch fixtures, accurate positioning of a component is critical for repeatability. However, every single laser etch fixture is highly complex, so having customized fixtures is invaluable. Using traditional methods to manufacture fixtures resulted in extremely high costs for AP Racing.
Schoon's team tested a 3D-printed customized netting-like application for these fixtures, with a simple plastic 3D printed model costing only £100 ($130). Some of these can locate 10 or more parts, ultimately speeding up production.
Schoon said, "Additive manufacturing offers us the freedom to design low-volume, customized tools that were previously unthought of.
"We can match different material requirements to ensure the tools perform to expectations. We can combine tough ABS with Agilus30 to create tools that are resilient yet coated with a rubber-like material to help prevent damage to a production part that may be painted.
"Given the extent to which this technology is now integrated within our processes and the quantifiable benefits that we are enjoying, I can certainly envisage a greater use of it in the future."