CARTEK Motorsport Electronics is a recognised brand and major supplier of specialised motorsport equipment with a constantly expanding product range. Our products are used in every level of motorsport from amateur club racers to international GT and Global Rallycross with some parts being standard equipment on race cars and mandatory fitment in some race series.
CARTEK is well known for: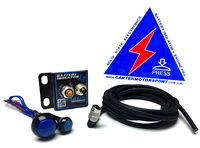 Solid State Battery Isolators
Developed specifically for motorsport applications this device is a major advance in the safety and reliability of race vehicles. Fully electronic with no moving parts and cemented into an aluminium shell makes this system highly resistant to shock, vibration, moisture and dirt. This product has become the preferred choice in many categories of motorsport from European Rallycross to FiA GT racing.
---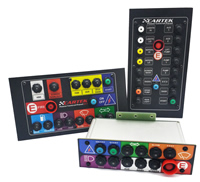 Power Control Panels
An all-in-one solid state solution to power distribution in your race car. Designed to replace all the Fuses, Relays and Switches - these units greatly simplify the wiring, saving weight and maximising reliability. The fully customisable nature of the Power Control Panels allow CARTEK to configure systems to customers exact requirements. Customers can choose the number of channels, channel functions, button colours, and graphics.
---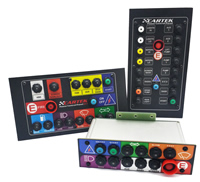 Wireless Control Systems
The quickest and easiest way to install pushbutton controls to a detachable racing steering wheel. The system has 8 pushbutton switches which are wirelessly linked to 8 relays within the Relay Control Unit. These relays are microprocessor controlled and individually configurable to provide a choice of functions including momentary, latching and flashing modes for uses such as: PTT radio, pit lane limiter, dash menus, lights, indicators, etc.
CARTEK Motorsport Electronics also specialise in FiA Rain Lights, Coolant Level Sensors, Shift Lights, Digital Gear Indicators and Liteblox batteries. For more information on all our products go to www.cartekmotorsport.com