Goodyear has signed up to continue as top-level NASCAR's sole tire supplier for the foreseeable future. Director of race tire sales Greg Stucker reflects on the first year with the 18in tire and looks ahead to the 2023 race season.
In a form of racing characterized by continuity and tradition, the 2022 NASCAR Cup Series season was something of an outlier. Brand-new 'Next Gen' cars with unprecedented levels of standard components leveled the playing field, serving up 19 different race winners across 36 races, in one of the most unpredictable Cup seasons on record.
At the heart of it all was Goodyear, which likewise developed brand-new tires to facilitate the Chevrolet, Ford and Toyota Next Gen cars' switch from traditional 15in steel rims to modern, 18in alloy race wheels (see NASCAR goes large, bottom). It was arguably the single biggest shake-up in stock-car tires since the first radials in 1989.
The Covid-delayed Next Gen's combination of suspension characteristics, aerodynamics and tire size led the Goodyear team to look at a softer compound than had been used before. There was no need for radically different tire materials or constructions, but it was crucial to tune the components to account for the reduced sidewall height of the 18in tire, which entered production in late 2021 after two years of testing.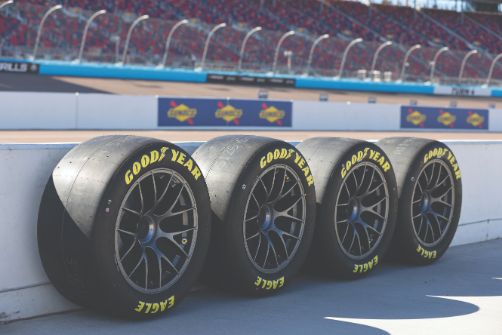 Like the 15in rubber that still serves NASCAR's second-tier Xfinity Series and third-tier Truck Series, the 18in units are made in Akron, Ohio, where Goodyear invested heavily to handle the volume.
"We had to upgrade enough building machines to accommodate the 18in size," says Greg Stucker, director of race tire sales. "We made sure we had the right curing hardware and the extra equipment that goes with handling the tire all through the system. There were a lot of conveyor upgrades, updates to x-ray and shearography and the like, to make sure we could handle this volume in an 18in tire."
Testing times
Stucker professes himself happy with the new tire's performance in its first season: "This was the first time an 18in tire had been used in the high-speed, high-load, steady-state environment of oval track and speedway racing. There were bumps along the way, no question, but I think the vast majority of those were application issues. The teams were trying to learn a new car and had to come to grips with the tire differences. Setups for the 15in tires are not the same as for the 18in. By maintaining the same overall diameter as the 15in, we had an inch-and-a-half less sidewall with which to absorb the load and deflection. It was a steep learning curve for the teams and, as always with something new, there was a lot of education and evolution throughout the year."
As well as providing its usual up-front tire force and moment data to feed into the OEM and team simulations, Goodyear conducted additional pressure sweeps during the year to support decision making on chassis setup with information on tire durability.
"That was where the learning had to take place," says Stucker. "[Teams were asking,] 'If I could run 14psi in a left rear at Phoenix on a 15in tire, what could I run comfortably in the 18in tire?' We developed a methodology where, by position, we would take the input from the OEMs' wheel-force transducer (WFT) testing and create a matrix for various air pressures with the load and speed signatures we would expect at a particular racetrack."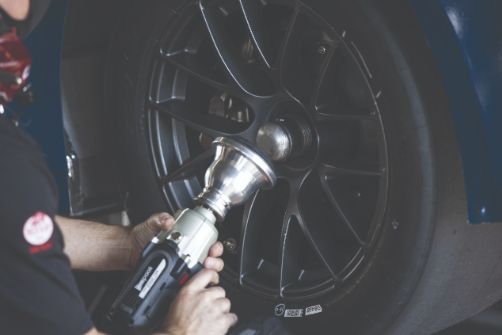 Goodyear used the raw data from WFT testing to build a drive file to run its tire dynamometer under the desired conditions, running the tire to failure at different pressures to create the array of longevity data for the teams.
"We tried to select a representative set of conditions for an individual racetrack and an array of pressures that would bookend where they might want to go," Stucker continues. "We wanted teams to understand that if they made a pressure selection based on tire force and moment data, they may be paying a penalty when it came to longevity. We gave them as much information as possible to make those choices, especially when, late in the year, they were trying to drop air pressure to get the rear of the car down, trying to get the spoiler out of the air."
A dirty job
The season also marked the second year of the Cup Series's return to dirt racing with the April event on the short track at Bristol (see Dirty tricks, July 2021, p20-24*). Different track preparation and shifting to a night race helped keep moisture in the racing surface, mitigating some of the tire-wear issues experienced in 2021. The 18in tire also had a larger footprint to generate less heat. But the product Goodyear brought to the half-mile short track was all-new, not merely a resized version of the previous year's tire.
"We made the move from a bias tire to a radial," says Stucker. "We took the opportunity to work on the mold shape and tread pattern. We incorporated a lot of features that we'd developed over the years in other forms of dirt racing – ways to reinforce the different tread elements so they didn't squirm as much as they had on the 15in, and ways to create some heat relief in the center of some of those tread blocks.
"In 2021 we had adapted a 15in tire from the line that was pretty close to the NASCAR tire size. But here we purpose-designed a tire for Next Gen. We're so happy with it that we're developing a radial 15in for the Truck Series dirt race this year."
Season preview
NASCAR will extend the use of wet-weather tires – previously confined to road courses – to short ovals in 2023. Last year, Goodyear deployed a new radial wet for the Next Gen package with a tread pattern based on the Eagle F1 Supercar 3 and 3R UHP tires. The same rubber will be deployed on the ovals this season.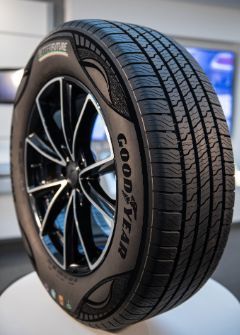 "As with previous rain tires, we tapped into the area of the company that does this all the time – consumer high-performance tires," says Stucker. "The Supercar 3 was designed for fitment on the Camaro SS and ZL1, and the 3R is a trackday version of the 3. Those were a good platform upon which to build. We tuned the pattern to the size of Next Gen and opened up the grooves somewhat, because we have more volume of water to handle at speed, with a heavier vehicle. There's a little less tread depth and – even though those consumer tires have very tractive tread compounds and were built upon some race compounds that we had in our line – we still put our racing rain compound on it.
"If you look at the two side by side, even though we made some modifications, the similarity is obvious," he continues. "Both are asymmetric, and we maintained the big, solid blocks on the outboard shoulder of the 3 and the 3R. We just tuned it for more of a racing application and it performed well. At Watkins Glen last season, we started in damp conditions and moved to dry. We received a lot of comments from drivers saying they didn't realize it was going to have that much grip."
Stucker acknowledges that the wet tire will grain and blister with prolonged running in dry conditions but says it's plenty robust enough for a regular Cup car stint on a short oval, where the heavy traffic and heat from a full grid of Cup cars might be expected to dry the track surface quickly.
Another challenge will be the addition of two new venues to the Cup calendar – a street race in Chicago and the return to the historic North Wilkesboro track – but Stucker is confident that the venues' tire needs won't differ greatly from what Goodyear already offers on road courses and other ovals. Meanwhile, cars racing on the 1.5-mile (2.4km) ovals like Las Vegas, Charlotte or Texas will continue to be shod with the revised-construction tires that Goodyear introduced late in 2022 following the aforementioned durability test program.
"We made subtle changes that get us closer to where we need to be and give teams a slightly larger window in which to operate," he explains.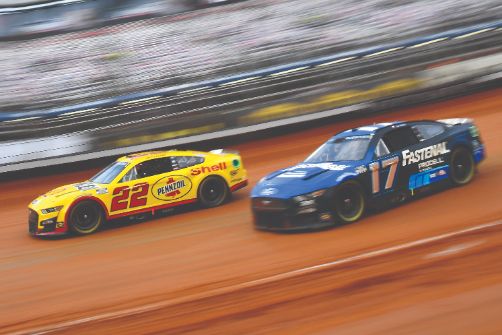 Future plans
There will be no immediate changes to Goodyear's NASCAR tire supply arrangements as part of the new commercial agreement between the two parties that was announced in December 2022. Stucker says, "As the top three series continue, as the rules evolve and new cars are developed, our job is [still] to develop a tire package for everyone. None of
that has changed."
In particular, and despite the successful shift to a larger tire in the Cup Series, there is no timeline specified for a potential switch to 18in rubber or adoption of Next Gen-style machinery in the Xfinity or Truck categories. Such a move is thought to be years away, if it happens at all. "I've not had that conversation with NASCAR," says Stucker.
"After moving to sole-supplier positions on a lot more components than previously, with supply chain the way it is now, it's been difficult to get all the parts that are needed for the Cup Series. Logistically there are a lot of things that would have to be worked through before they would move forward to the other two series."
SUSTAINABLE STOCK CARS
Will wider sustainability efforts affect NASCAR?
Goodyear made a splash at CES 2023 with a demonstration tire made of 90% sustainable materials – a concept which also topped a category at this year's Tire Technology International Awards. It's part of a wider drive to sustainability that includes plans to sell a tire with up to 70% sustainable material content in 2023 and a 100% sustainable product by 2030. Goodyear Racing has no such goals, according to Stucker, but developments from the road-car side will inevitably find their way into race tires all the same.
"We learn from what the rest of the corporation does," he says. "Our material specialists stay in touch and determine which items – whether it's oils, resins, the new technologies around carbon black replacements – are applicable to us. You also have to think about reinforcement, which in our case is nylon. We'll incorporate those things when we can, knowing that we've still got to maintain a different level of performance from a normal consumer tire.
"The other thing we stay abreast of is that as more people move to sustainable materials, some of the materials that don't fall into that classification become harder to find because the volume of usage drops. We want to make sure we're ahead of the curve with regard to material availability.
We'll make the choices and do the research so that we can make adjustments, formulation changes, whatever it might be, at our pace – and not be in a position where we're forced to make a decision very quickly."
NASCAR GOES LARGE
Exploring the new wheels and tires at the heart of Next Gen
The larger wheels on NASCAR's Next Gen machines are one of the biggest visual differences between the new Cup cars and the outgoing Gen 7 racers. The overall tire diameter is similar to before, but the bead/rim diameter is up by 3in to 18in. The wheels – now aluminum alloy rather than steel – are 1.5in wider, too, at 12in. The new, innerliner-free, metric-sized tires are 365/35 R18s.
This article was first published in the March 2023 issue of Tire Technology International, available to read for free, online, here.