To ensure it delivers on its promise and vision of a lightweight, track-only hyper sports car built around the W16 engine, Bugatti is beginning the next phase of development testing with its high-performance Bolide model.
Limited to a production run of just 40 units, the vehicle is said to represent "an entirely new level of engineering, aerodynamic and technological innovation." Starting with the quad-turbo W16 engine as the vehicle's heart, Bugatti has then built an extremely lightweight body to encapsulate the powertrain. Despite its minimalistic design, the bodywork is highly functional and has been developed to provide maximum downforce and cooling. Furthermore, the combination of 1,600ps and a dry weight of 1,450kg results in the track car achieving a power-to-weight ratio which exceeds 1:1.
Although the W16 engine is the same in terms of its layout and capacity, Bugatti has integrated it into the Bolide's chassis in a new way, resulting in the development of a newly shaped carbon monocoque compared to the Chiron. This means the OEM reengineered a multitude of components, including cooling, transmission and suspension, which had to be packaged within the confines of the Bolide's body. Engineers designed new engine mounts and the suspension of the vehicle's drive unit is three times stiffer than those found in the Chiron. Combined with uniball suspension bearings, the Bolide delivers precise feedback.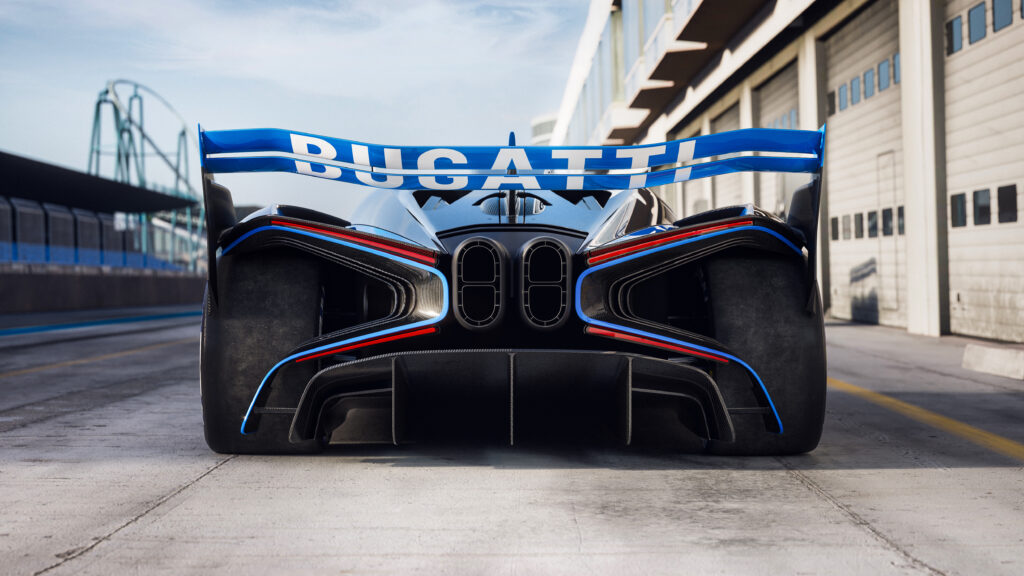 Following testing, Bugatti ensured the W16 operates using all four of its turbochargers to complement track use where engine revs are always high. Engineers tuned the powertrain to deliver higher revs per minute and also fitted a modified transmission for additional performance.
For braking, the Bolide uses heat-resistant 390mm carbon-carbon brake discs which must be warmed before they are most effective. To aid in this, the OEM's engineers designed entirely new calipers which would more efficiently generate and absorb heat. Due to its track-only status, the Bolide is equipped with slick tires from Michelin.
"The Bolide is treading new ground for Bugatti," said Christophe Piochon, president of Bugatti Automobiles. "Never before has such a powerful engine been paired with an ultra-lightweight design to create a track car that delivers motorsport levels of performance. Almost every component has been analyzed and redesigned to ensure Bolide is as light, capable and reliable as our strict targets require it to be. The next phase of development is a major milestone in the creation of a car that takes Bugatti's 'form follows performance' philosophy to a new level."
First deliveries of the Bolide will commence in 2024, with production limited to just 40 units at a net unit price of €4m each.
For the latest Bugatti news, click here.