GM Holden's Design Team has explored future technology potential through the development of a virtual racer. The Time Attack Concept was conceived and executed entirely in-house.
The concept racer was developed entirely virtually, using sophisticated simulation technology, and driven by the expertise within the company's Melbourne Design Studio.
"The technology we employ today has transformed the way we design cars," said GM Holden's design director, Richard Ferlazzo. "We have the ability to simulate a car's appearance, technology and dynamics in convincing animations, which enables us to deliver better designs in a shorter time.
"A large part of our work is advanced design and we use this technology to develop concept designs for our parent company, General Motors. This concept is a digital advertisement for the advanced skills, capability and technology of the GM Holden team."
Ferlazzo set a challenge for his talented design team to explore a futuristic race car using the latest emerging technologies around the world.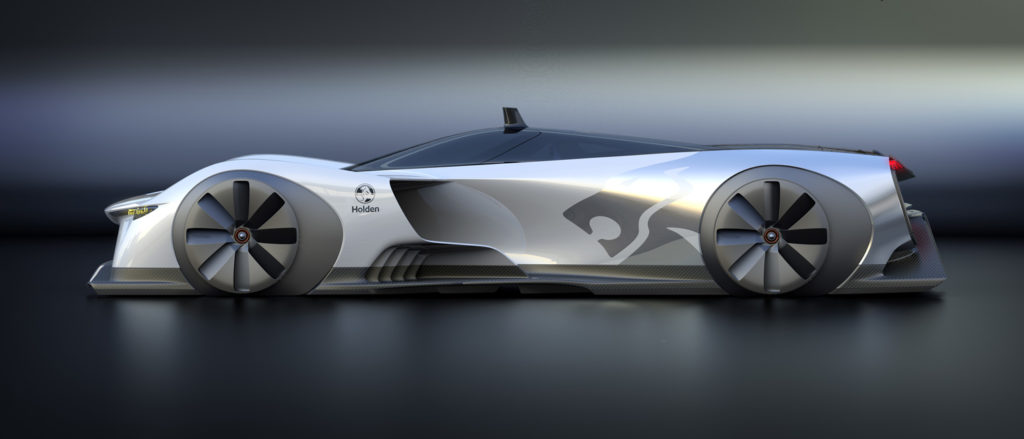 "Lead designer Ewan Kingsbury perfectly captured the essence of what we wanted to achieve: an expressive, futuristic design which also displays innovative engineering solutions. Concepts are always meant to push the boundaries but are even more impactful when they are feasible, and this concept is plausible as an advanced racer of the future," said Ferlazzo.
The concept was developed with technical input from GM Holden's Engineering team and the final design was validated with a digitally printed 3D model. "Automotive Design and Engineering remains a core strength and competitive advantage for Holden and for Australia," concluded Ferlazzo.
"The Time Attack Concept racer is an illustration of how we can utilize cutting-edge technology to develop transportation solutions for the future."