Professional MotorSport World Expo 2022 is maintaining momentum at Köln Messe, Germany. The show runs until tomorrow (November 11) and is the place to find a wide array of specialist companies showcasing their latest and most advanced technologies for the motorsport sector. The show has already seen the debut and launch of a host of new state-of-the-art products. It's not too late to attend! Click here to register for your free entry pass.
Here are a few highlights from Day 2…
Lane Motorsport displays its latest high-performance electrical connectors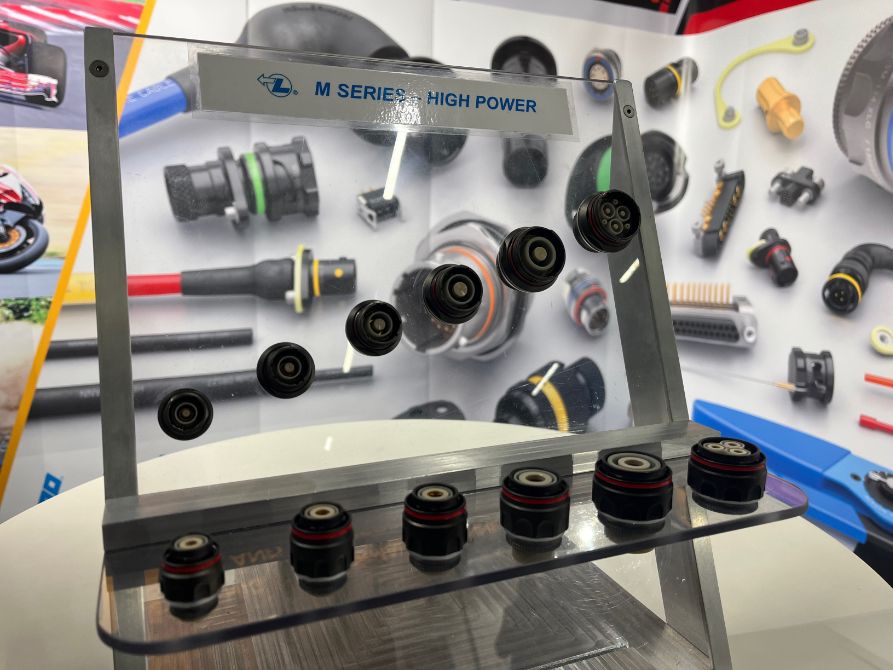 An advanced portfolio of specialist products which enable electronic interconnection for the motorsport sector is being exhibited by Lane Motorsport.
The UK-based company delivers the very latest high-performance connector technology from stock in addition to lightweight connector accessories which have been developed to deal with the demanding environments of varying motorsport disciplines.
Lane Motorsport has some new products on its booth at this year's PMW Expo, including a new extension to the Souriau/Eaton 8STA circular connector range which now claims to provide one of the smallest 6-way motorsport connectors available globally in the form of the 8STA 02-06. The connector portfolio offers both space and weight saving for vehicles and features integrated backshell and color coding options.
Also on the booth are Lane's LEMO M series high power connectors which have been designed for the most demanding high power distribution requirements. Featuring seven different contact layouts across five shell sizes, the connectors utilize the company's ultra-compact M series' bodies with new gold-plated low-resistance high-power contacts.
The latest high-power variants of the LEMO M series can deal with up to 430A in unipole and multipole options for high power distribution of electronic devices and electric drive vehicles in motorsport.
"We're exhibiting the new Souriau/Eaton 8STA 02-06, the smallest and lightest connector available with six contacts. With more people now using CAN, they need a 6-way connector as they can daisy chain the product," explained Peter Costin, new business manager, Lane Electronics. "We have the new LEMO M series high power connectors on show, an innovative product for electric vehicles."
Lane Motorsport can be found at Booth 6038
Hyperco exhibits new stockcar spring technology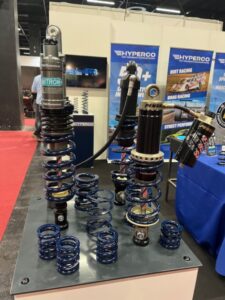 Motorsport spring supplier Hyperco is showing its extensive range at the show, including a 7,000 lb per square inch spring being used on the Next Gen NASCAR Cup Series car designed by Dallara.
"The new NASCAR springs are catching a lot of people's eyes because of their size," explained Justin Cockerham, motorsports and performance aftermarket manager, Hyperco. "That was a new and exciting program for us as that was Dallara's first front-engine car."
With over 65 years of experience, the US-based company has worked with many OEMs along the way including BMW, Dallara and multiple shock manufacturers, resulting in springs being made for a wide range of applications within motorsport.
With its products being used in series and championships all over the globe from IMSA to the WEC, Hyperco's springs are produced using precision design tolerances to ensure they deliver optimal performance to teams, backed by a warranty which says the springs will never sag over their lifetime.
At present the company is expanding its range to deliver new spring rates, lengths and designs to its customer base, in addition to offering custom Designed-to-Load services along with accessories including a hydraulic spring perch.
"This is the first time that Hyperco has been at this show, and it has been fun in the sense that there are a lot of familiar faces here," said Cockerham. "It's been great to make some new relationships – we have enjoyed it."
Hyperco can be found at Booth 2028
Arrow Precision Engineering displays its crankshaft and connecting rod components for performance vehicles

UK-based Arrow Precision Engineering is exhibiting its wide range of engine components for high-performance and ultra-high-performance applications.
 The company manufactures crankshafts and connecting rods for the automotive and motorsport industries and has supplied parts to entrants of the WRC and the Isle of Man TT among many others. Arrow Precision Engineering additionally supplies parts to vehicle OEMs and parts for vintage and classic restorations.
All crankshafts are produced using a solid billet of Arrow's own 722M24 specification or other types of available aerospace-grade materials. These are then manufactured using a combination of CNC lathes and 4-axis and 5-axis mills which enable complex designs to be created at an extremely high standard.
"We make these components from start to finish," said James Williams, sales manager, Arrow Precision Engineering. "We take care of everything from sourcing the raw materials from the mill, right through to the design, manufacture and heat treatments. We manage the entire process from start to finish and everything which is supplied comes with detailed inspection reports to give customer confidence in what they receive from us."
Arrow Precision can be found at Booth 4019
Staübli is showcasing its Formula E advanced connector range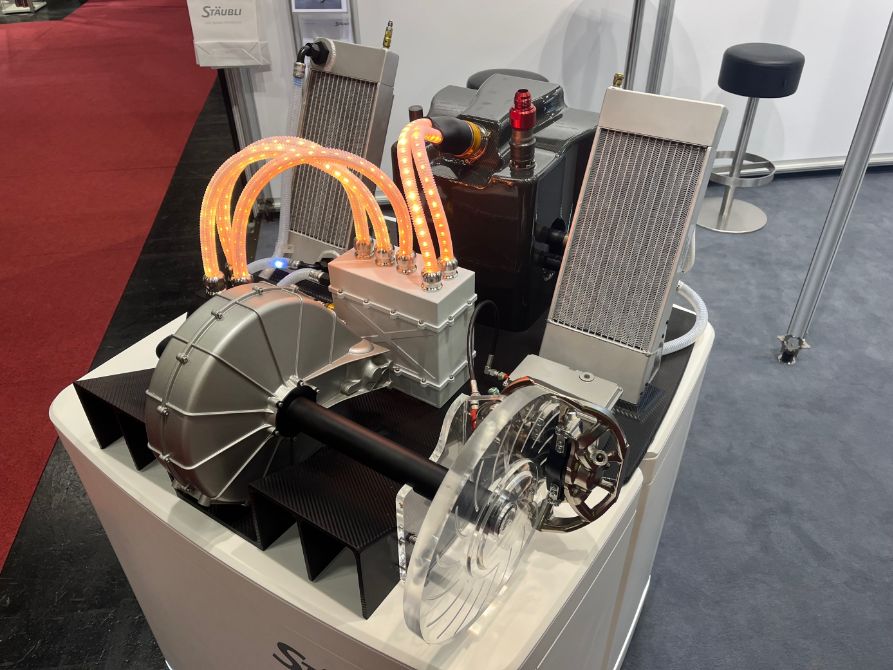 Automotive and motorsport connection specialist Stäubli has put on show its full range of advanced connectors for various vehicle components.
The company's diverse connector portfolio is displayed on its booth using a partial model of a Formula E car. This model features Stäubli's quick-release, non-spill brake line connector to ensure no air enters the braking system (for example, when a calliper needs to be changed). If the braking system does need to be bled, however, Stäubli's newly developed bleeding couplings ensure an easier, cleaner and more efficient bleeding process.
Also on the display are the company's break-away electrical connectors – as used on Formula E race cars – which release instantly during a collision to protect the delicate and costly wiring looms from damage.
Additional products include quick connectors for cooling systems, efficient refueling products for endurance races and a newly designed tire valve to replace standard Schrader applications.
"So far we have had some good conversations and people are really interested in what we have to show," explained Yannick Lehuen, motorsport marketing, Stäubli.
Stäubli can be found at Booth 3032
Hewland shares its transmission systems for electric motorsport applications

Hewland Engineering is showcasing its portfolio of gearboxes designed for internal combustion engine applications and EV-specific options.
The EV gearboxes on show include the PEVT-200, a high-performance motorsport dual motor torque vectoring transmission. The solution weights just 18kg and is capable of outputting up to 300Nm of torque and a maximum of 20,000rpm per side for a combined powertrain potential output of 500kW.
In addition to the wide array of motorsport-orientated transmissions on show, Hewland Engineering is also displaying the HSP-200, a gearbox used within the Singer DLS project which features a magnesium casing and has been designed to fit in place of standard G50 transmissions also found within older Porsches including the 964 and 993 models. The company also produces the HSC, an aluminum version of the gearbox, which is slightly heavier and has been developed to cater for the restoration of the aforementioned vehicles as components get harder to come by.
The company's transmissions have seen use within Formula 1, Le Mans GT, WRC, open-wheel racing and Touring Car championships, a testament to their excellent design, durability and engineering.
"It has been really good. Everyone has been really welcoming and has been interested in the products that we have got on show," explained Alexander Trup, commercial director, Hewland Engineering. "There are plenty of people looking for a transmission system, so it has been well worth us being here."
Hewland Engineering can be found at Booth 3042