Ahead of running at the 2023 Goodwood Festival of Speed, Ricardo Zeziola's 1969 Huayra Pronello-Ford has undergone aero testing at the Catesby Tunnel testing facility in Northamptonshire, UK.
Designed by Heriberto Pronello for the Ford Sports-Prototype team, the Huayra Pronello-Ford went on to be successful within the Argentinian Sports-Prototype series of the late 1960s.
The aerodynamic testing was organized by engineer Sergio Rinland and supported by engineering students from Oxford Brookes University. The Huayra Pronello-Ford was fitted with pressure sensors and various other instruments to enable the team to analyze the vehicle's aerodynamics. The race car uses ground effect aerodynamics to create an area of low pressure under the car that generates downforce. Engineers also tested the effects that ride height and the extended tail had on the car.
"It is a stunning car," said Willem Toet, ex-Ferrari, Honda and BMW Sauber F1 aerodynamicist. "It has a slippery upper shape and a flat floor with a diffuser that gave it quite an edge in its day. The diffuser has an expansion ratio that puts it staggeringly close to the maximum downforce you can get from a diffuser. The car was at the tunnel with pressure tapings added to it, in order to look at the pressure distribution around the car which looks to completely confirm that it works exactly as the designer expected."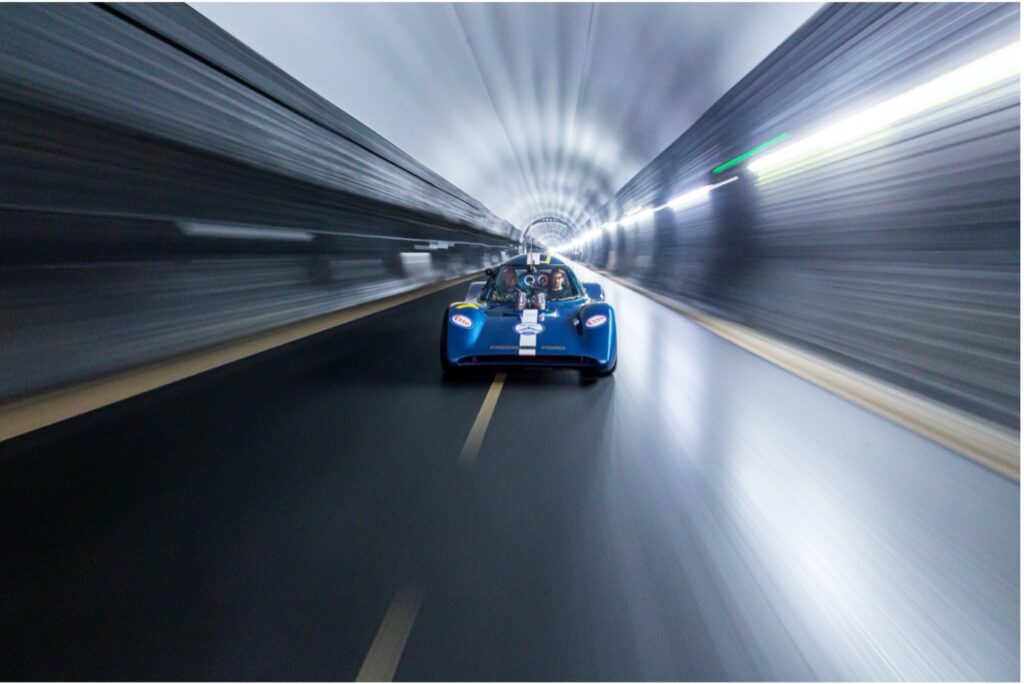 "Catesby Tunnel really is the perfect facility for this sort of testing," added Sergio Rinland, ex-Brabham, Benetton and Sauber F1 designer. "We have a full-scale vehicle on an asphalt road, without the need for struts or supports like in a wind tunnel. The radiators, gearbox, engine etc are all at proper running temperatures. Also, unlike traditional outdoor testing we can control the variables. The smooth surface and consistent environmental conditions have allowed us to collect data with phenomenal repeatability. This is a great way to confirm or otherwise the aerodynamic characteristics of historic cars in a fun and inexpensive way."