Toyota will race the Supra body style in the 2019 NASCAR Xfinity Series, replacing its current car which uses the Camry saloon profile.
The body, evolved from the new road version of the Supra sports car launching in 2019, will make its debut in NASCAR's second-division championship at Daytona International Raceway in Florida in February.
The choice of the Supra follows the example of the other two manufacturers in the Xfinity Series, Chevrolet and Ford, in switching to sports-derived body shapes instead of saloons.
Since the adoption of the 'Car of Tomorrow' chassis in the series in 2011, Ford has raced with the Mustang and Chevrolet with the Camaro, while Toyota has until now continued with the Camry that it first raced in 2007, updating the body to reflect the latest generation of the road car.
"From a marketing perspective, it's important to have a race car that evokes the dynamism and character of its showroom counterpart – we're confident we've accomplished that with Supra," commented Ed Laukes, group vice president of Toyota Division Marketing, at the unveiling of the 2019 race car.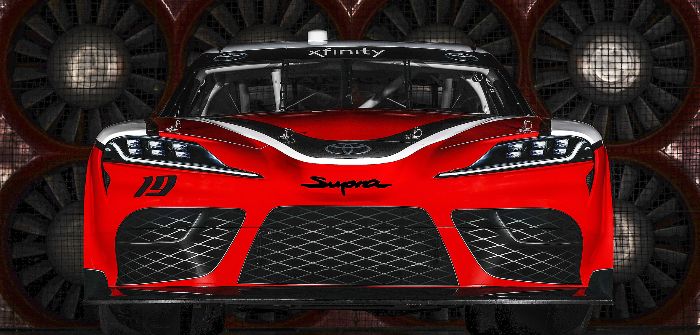 The creation of the new car has been a joint project between Toyota's competition engineering arm TRD USA, (Toyota Racing Development) in Costa Mesa, California, and Calty Design Research, Inc. (Calty) in Newport Beach, California.
TRD and Calty have co-operated on several recent Toyota programs in US motorsport, including the eighth-generation Toyota Camry that debuted in the headline NASCAR Monster Energy Cup in 2017 – the car won the championship that year with Furniture Row Racing and driver Martin Truex Jr.
The latest project primarily involved scaling the Supra road car's body to fit within the template NASCAR issues for its competing series – the car 'body' consists of carbon-fiber panels over a tubular racing chassis, the three different brands of car broadly similar under their exteriors.
While the aerodynamics are strictly controlled, TRD and Calty have been able to retain the distinctive deep V-shape at the front of the Supra's hood, in similar fashion to the significantly bolder front-end treatment that debuted on the Camry Cup series car in 2017.
Rumors that Toyota would follow the example of its rivals and switch to a sportscar shape had circulated for some time and were increased by the knowledge that the Supra road car was about to relaunch.
Both Ford and Chevrolet have progressed their latest Xfinity bodies to the Cup Series – Chevrolet began racing with the Camaro this season and Ford will replace its Fusion with the Mustang for the 2019 season.
There is no current indication that Toyota will put the Supra into the Cup series, the latest Camry being only part-way through its second season of competition.