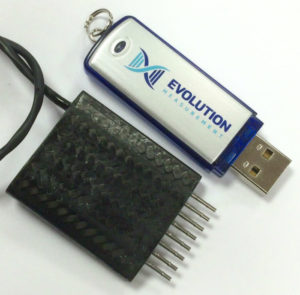 UK-based Evolution Measurement has launched a new pressure scanner platform which it states is a 'game-changer in achieving highly accurate, fast-response measurements in a compact package'.
Its latest product, the all-new EvoScann P-Series has been designed to enable users to make critical measurements in areas Evolution says may have been previously inaccessible. In consultation with many customers in the motorsport world, Evolution identified the need for a scanner that could measure pressures accurately and quickly, in very confined spaces that are also often subjected to high temperatures and vibration.
The end product is the EvoScann P-Series. Weighing-in at less than 25g and fully encapsulated in carbon fibre, with a single communications and power lead, the unit is ideal for a wide range of applications, such as being inserted directly inside an aerofoil section where it provides no disturbance to the airflow.
"F1 teams, and other aerodynamic research customers, are excited about the new EvoScann product platform, as it allows them to measure in places that have previously been inaccessible or not cost-effective to measure in," explained Paul Crowhurst, managing director of Evolution Measurement. "The product is so compact that it finds uses not only in the wind tunnel it's also rugged enough to be used on-car; one of the most challenging of environments."
The EvoScann P-Series has been designed to allow quick and easy customisation of the product to suit a wide range of applications. This allows users to have the product customised to suit their most challenging applications, taking such measurements from places never before possible.