UK-based Everrati Automotive, which specializes in the electrification of high-end classic vehicles, has revealed technical details on its new high-performance zero-emission version of the Ford GT40.
Headquartered in Bicester, Everrati joined forces with fellow specialist Superformance in July last year to re-engineer the legendary Le Mans-winning car with an electric drivetrain. Superformance, based in Jupiter, Florida, is a manufacturer of 1960s-era continuation sports cars and produces a rolling chassis for the GT40 built under license. As a result, the Everrati is the world's only GT40 EV listed in the official Shelby Registry.
Company engineering director Mike Kerr commented, "Future-proofing a car of the GT40's legendary status is both a privilege and a challenging responsibility. Quality and authenticity are of paramount importance at every stage. That's why at Everrati, we insist on the complete design and development process being documented and controlled using OEM-derived practices. Utilizing Everrati V model product design and delivery methods, ensures quality is maintained at every stage of the vehicle development process, from concept through to post-production sign-off."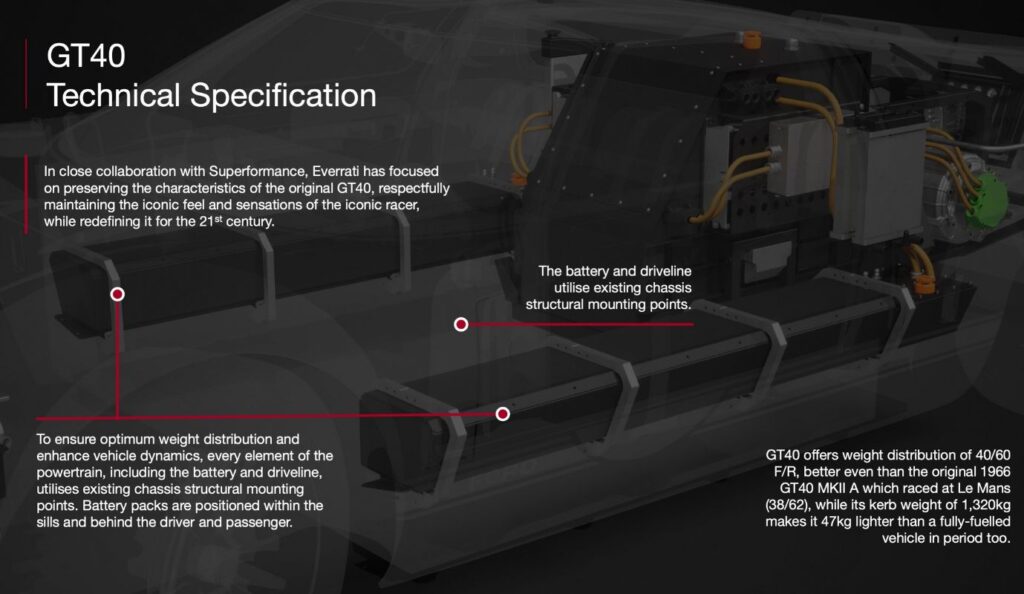 The EV powertrain generates up to 800bhp and 800Nm of torque, with Integral Powertrain providing the twin radial flux permanent magnet electric motors that supply drive to the car's rear axle. A power-dense 60kWh lithium-ion battery is integrated into a 700V electrical system, which benefits from liquid-cooling and a thermal and safety management systems to support high-performance use on both road and track. The battery can be charged from 20% to 80% via an 80kW CCS fast charger in as little as 45 minutes and provides a range in excess of 125 miles. A 6.52:1 compound single ratio reduction transmission system and limited-slip differential are used to transmit power from the motors to the road.
To ensure optimum weight distribution and enhance vehicle dynamics, every element of the powertrain, including the battery and driveline, utilizes existing chassis structural mounting points. Battery packs are positioned within the sills and behind the driver and passenger, while the low positioning of the battery in the chassis also optimizes rear visibility.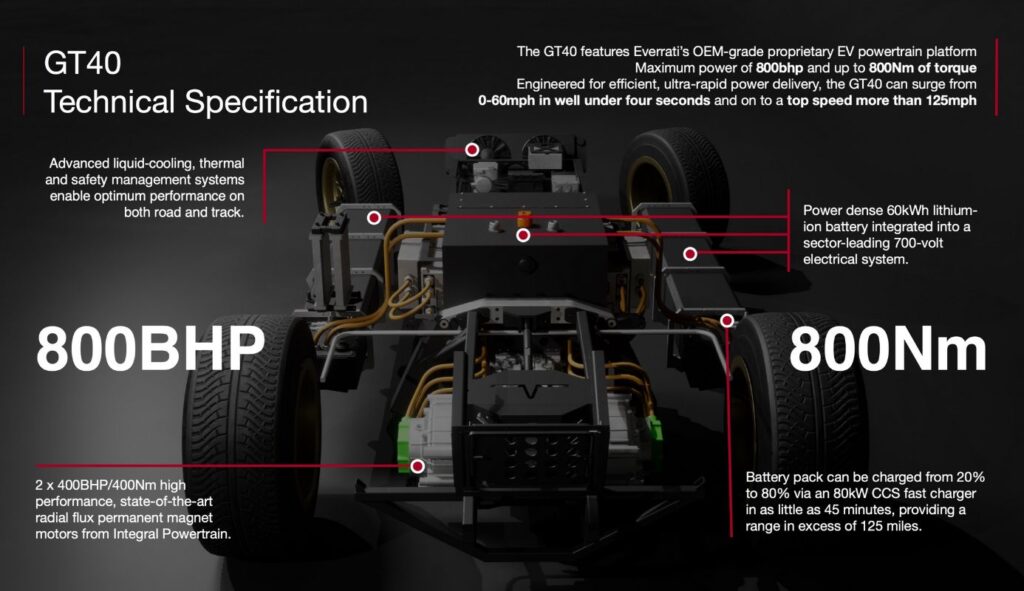 This approach means that the GT40 offers a weight distribution of 40/60 front to rear, better even than the original 1966 car which raced at Le Mans (38/62), with a kerb weight of 1,320kg stated to be 47kg lighter than a fully fueled vehicle in period. It should be noted that the 1966 Le Mans-winning GT40 MkIIA featured an endurance racing spec 42-gallon fuel tank.
In an interesting attempt to give the driving experience greater emotional appeal, Everrati has deployed technology developed for racing simulators, in the form of twin active sound generators, which deliver up to 110db of augmented V8 exhaust sound, along with seat mounted transducers to give a synthetic approximation of the sound and vibration of real GT40.
The gear shifter – which is normally used to select drive, reverse or neutral – also enables the driver to select virtual gears, with each shift synchronized to the sound generators and torque delivery giving a corresponding momentary 'pause' in acceleration to ensure driver engagement that invokes the experience of driving a car with a conventional transmission.