IndyCar announced this month that it is planning to improve cockpit safety for all drivers with the introduction of a titanium piece in the cockpit of its cars, which will be tested on April 24, 2019, at the Indianapolis Motor Speedway.
The USA series' single-seaters are smaller and less sophisticated than F1 cars, but with their 600hp, twin turbocharged, directed-injected V6 engines, they are still exceptionally quick. Acceleration for an IndyCar is around 0-60mph in about 2.8 seconds with maximum speeds of up to around 220mph (354km/h).
Inevitably, with that speed comes risk. IndyCar's organizers have received criticism for not reacting quickly enough to concerns over safety. A crash last year that left Robert Wickens with both legs broken, a broken arm and a spinal injury led to calls for the more rapid introduction of safety improvements.
Frontal protection
Indycar and Dallara have been developing and testing the titanium advanced frontal protection piece (AFP) since 2012. The AFP is designed to flick debris away from the drivers, keeping them safer while the car is in motion. It is 3in high and 0.75in wide and is placed directly in front of the driver. The introduction of the AFP is seen by most commentators as a temporary measure while Indycar continues to develop a windscreen.
A windscreen made by USA-based firm PPG Aerospace was tested at the ISM Raceway and Indianapolis Motor Speedway last year, but PPG has said it is not ready for use yet.
This work mirrors changes in F1, which last year introduced a halo protection system to the cockpit to better protect drivers. A halo-type device has been considered for IndyCar, but was found to be incompatible with the current version of IndyCar's chassis.
Other changes
F1's plans for a new car in 2021 include the aim to increase downforce generation in the car's design to encourage closer, more exciting racing. Data obtained by F1 shows that a car loses up to 50% of its downforce when stuck behind another car.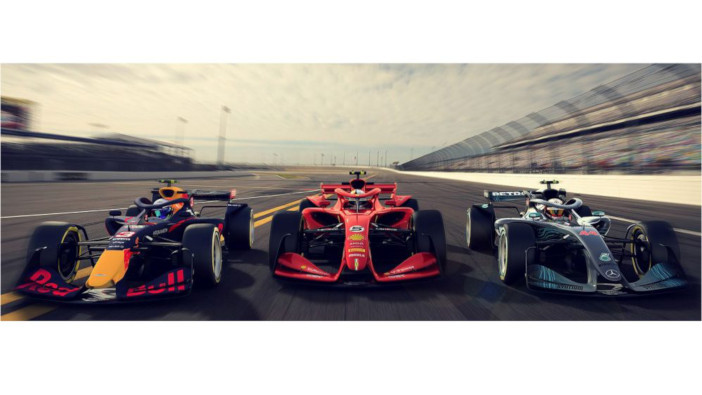 There are concerns over safety that such a change would make, but correctly engineered with safety in mind, the gains in performance and close-quarters racing could be significant. The FIA is testing new designs over the next two years to arrive at the 2021 car.
Is IndyCar following where F1 leads in safety? The answer is that engineers involved with both race series are still discovering new aspects of how their cars interact with the track and how they drive every day. More safety improvements for both series are bound to happen.