Attendees, exhibitors, speakers and contributors gathered at the Koln Messe in Cologne, Germany, on November 8 and 9 for Professional MotorSport World Expo 2023. The event served as a platform for discussions on cutting-edge racing technology and featured an extensive display of motorsport-focused components, ranging from new sustainably fueled engines to high-performance chassis technology.
With more than 170 exhibitors, the expo once again facilitated networking and collaboration opportunities for some of the industry's major players. The Technology Presentation Stage, featuring an impressive line-up of speakers, hosted numerous presentations and roundtable discussions, enhancing the overall experience for participants.
Notable speakers included Ian Palmer, commercial director at Cosworth UK, who discussed case studies analyzing how motorsport technology continues to transition to niche applications and support mainstream automotive innovations.
Yann Labia, motorsport fuels manager, and Alessandro Ferrari, head of development performance fuels, at ETS Racing Fuels, outlined the use of renewable racing fuels and how they contribute to reducing greenhouse emissions by reducing overall CO2 emissions.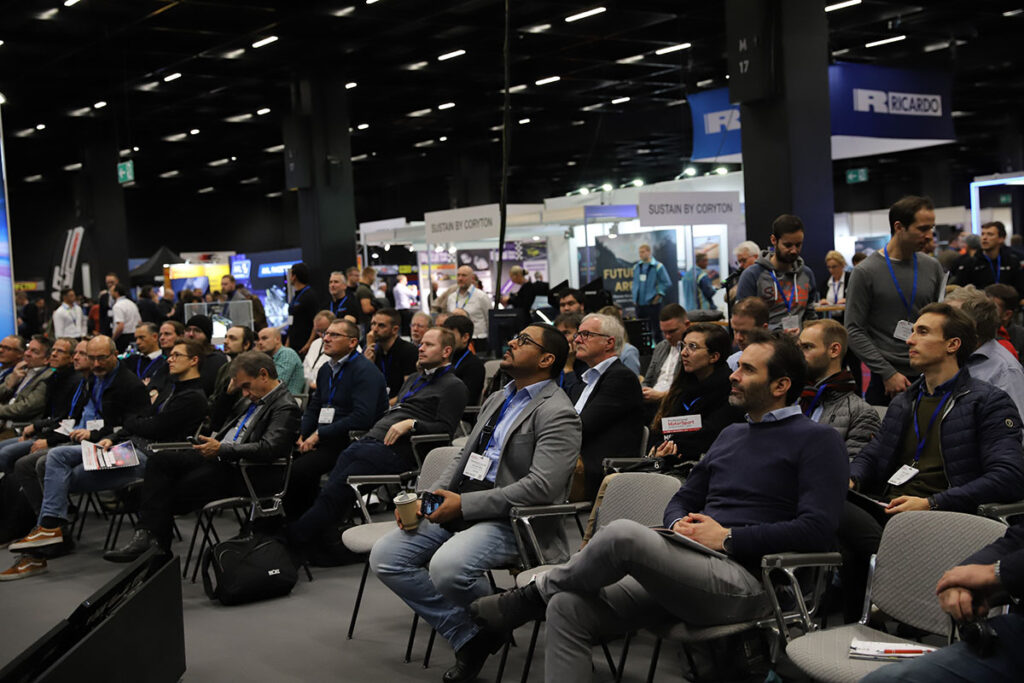 Feedback from PMW attendees was positive, with many previous visitors to the show making a return to the exhibition. Among those familiar faces was Marius Queste, category manager at Oreca – The Motorsport Company, who outlined one of the many benefits of the expo: "We can meet existing and new suppliers, while discovering interesting products. It is a good opportunity to uncover new brands and reinforce relationships."
Attending the show for the first time was Paolo Sola, who explained what Ferrari Automotive was looking for at the show: "This is a very important exhibition because motorsport producers are all together, ranging from accessory producers all the way to Formula 1 manufacturers – this is the perfect place to be exposed to all kind of suppliers."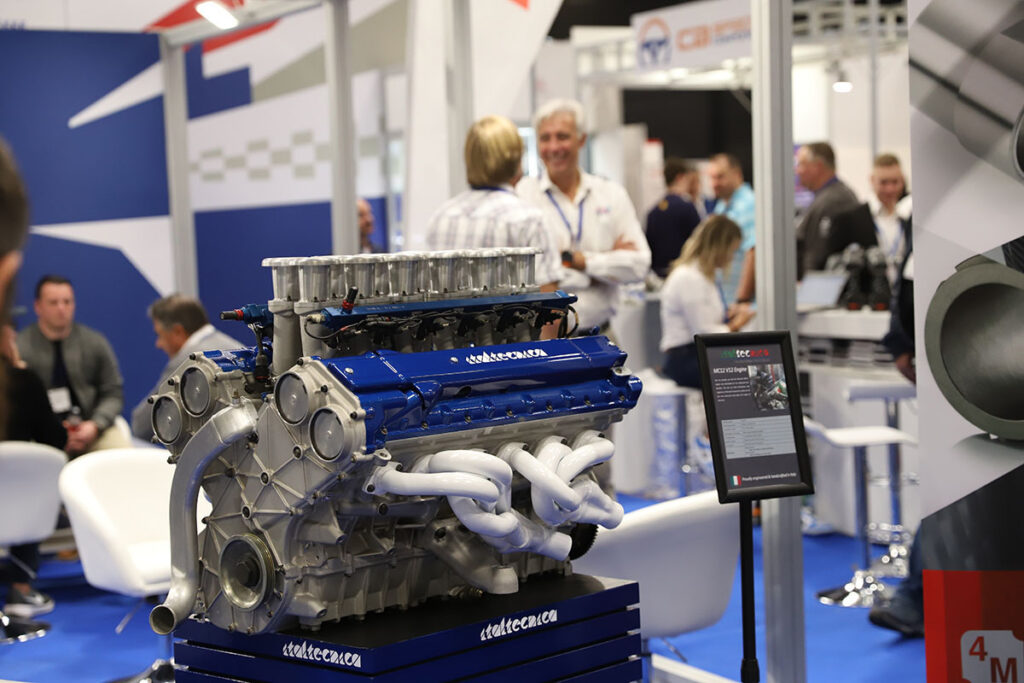 Highlights of the exhibition included companies such as Italtecnica, part of the RPM network, which presented its patented passive pre-chamber that can be retrofitted to most existing engines. The system has been thoroughly tested and calibrated to run with ethanol and methanol, with ultra-lean combustion to cut emissions.
Danilo Brossa, technical director and automotive engineer in Italtecnica's testing department, explained, "Using the best technologies available on the market (01-D analysis, CFD, FEM, CAD) internal combustion engines can evolve, finding a perfect trade-off between performance and respect for the environment."
Rete Professionisti Motorsport (RPM), of which Italtecnica is part, is the official Italian motorsport network and was founded in 2019 to develop and promote Italian excellence in the motorsport industry internationally. Twelve network companies, including Merin and NTP, featured several products and services at Professional MotorSport World Expo. On display were products and services that ranged from the mechanical to the electronics fields, including key racing parts and accessories from established brands within international motorsport.
Riccardo Paterni, VP of business development and network manager at RPM, explained, "PMW is an ideal stage to internationally showcase RPM presence along with the unique products and services of our companies. We have been exhibiting at PMW for the last few years. We featured some innovations that have been developed recently as well as top-level commercial products that some of our companies represent."
Also launched at the show was Alcon's SMART Insert. David Clegg, the company's principal motorsport brake engineer, demonstrated the new product – which specifically resolves any angular gap between the piston and brake pad – live on the Technology Presentation Stage.
According to Clegg, a brake caliper with taper-worn pads will use more brake fluid in closing this angular gap when the brakes are applied and therefore present a longer brake pedal travel to the driver. Alcon's insert solution addresses brake pedal feel degradation.
Set to transform testing with a new transmission spin rig is Mapeex. According to the company, its product obviates costly, time-consuming trials by streamlining the validation process, significantly reducing development time and expense.
When asked about her expectations of PMW expo, Jo Litra, director at Mapeex and co-director at Mapeex Europe, explained, "This year at the show, we expect to meet potential clients and showcase our engineering capabilities in terms of high-precision scanning and reverse engineering."
Yet another showcase at the expo was Druck's 4400T, a pinnacle motorsport sensor (PMP4400T) that combines stable pressure and temperature measurements. Designed and engineered to withstand demanding racing conditions, and offering competitive lead times, the 4400T is an ideal on-vehicle solution for elite motorsport applications.
Metin Akpinar, regional sales leader, central European region (CER) at Druck, explained, "With accuracy down to ±0.25% FS up to pressures of 600 bar absolute, Druck's new 4400T is ideal for use in many applications, including fuels, oils, coolants and hydraulic system pressures, in harsh environments with high temperature and vibration levels."
Druck's motorsport sensors have been used in Formula Series, MotoGP, the World Rally Championship, NASCAR, Indy Racing League and many more race series.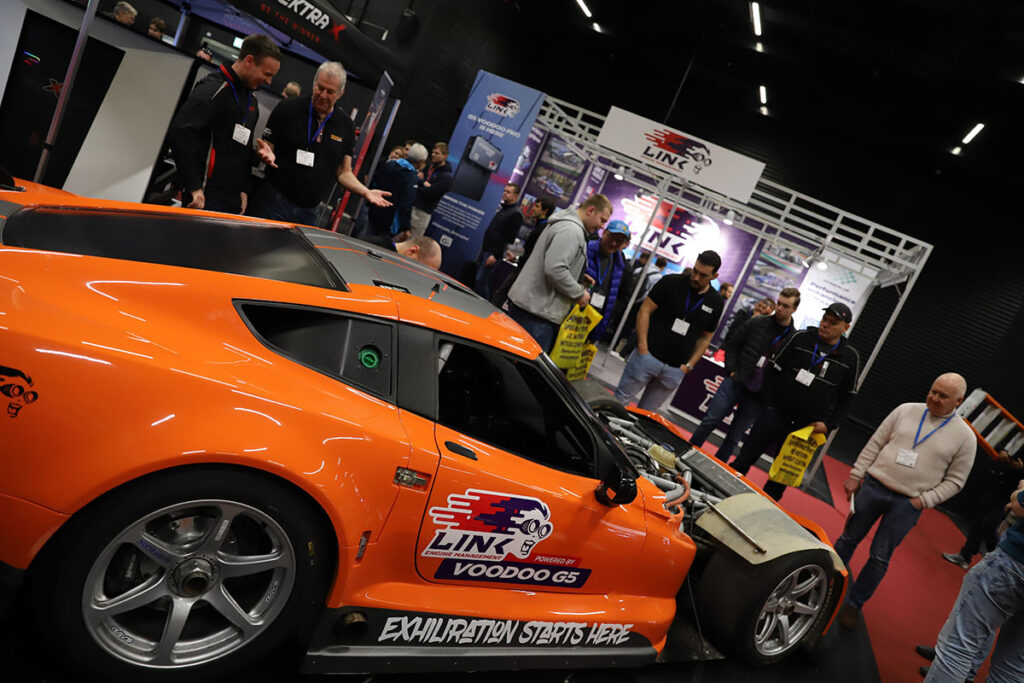 Additional highlights at the show included: Life Racing upgrading its portfolio with a new D7 Display Dash; Link Engine Management's introduction of a flexible ECU, the G5 Voodoo Pro (above); Sportech Engineering's revamped steering systems for historic motorsport and restomod vehicles; and Monit's Brake Bias Dial for race and rally customers and OEM race vehicle manufacturers.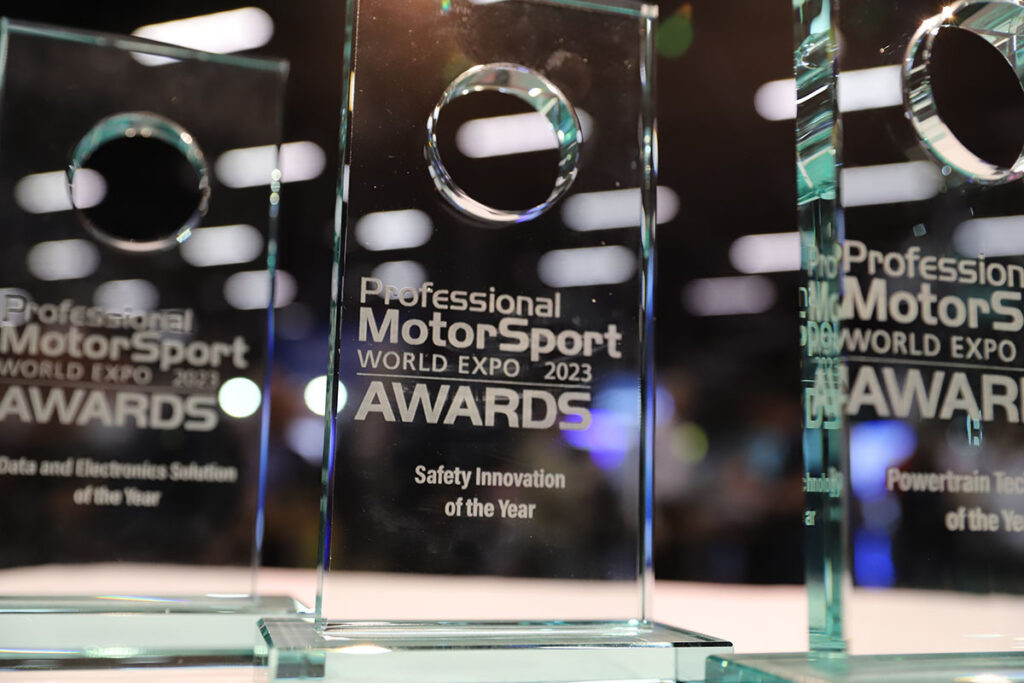 What's more, the Professional MotorSport World Awards returned for 2023 with a revised format recognizing excellence in the motorsport supply chain.
In a first for the awards, they were judged live at PMW Expo on Day 1 by a panel of five industry experts spanning various motorsport specializations from rallying to Le Mans and with experience in powertrain, chassis and race engineering.
The five awards categories were Powertrain Technology, Chassis Technology, Safety Innovation and Data and Electronics Solution, with an overall award presented for Motorsport Engineering Innovation of the Year. The judges scored nominations based on their assessment of a product's innovativeness, market relevance and overall display of engineering ingenuity.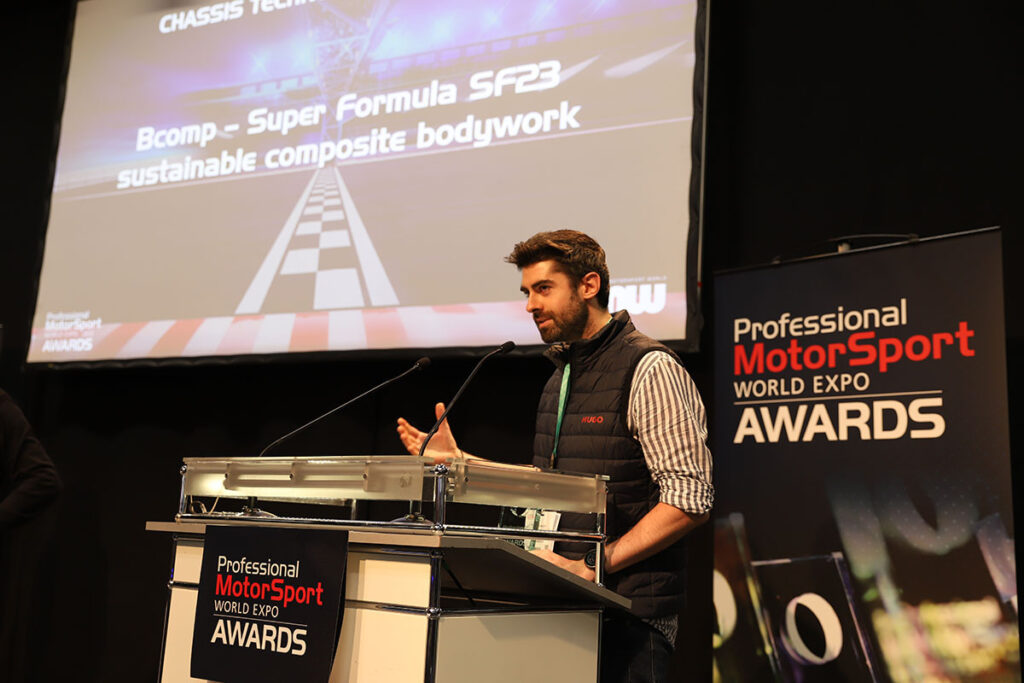 Winners crowned at the awards included: Bcomp (above), for its flax-fiber bodywork for the Super Formula SF23 single seater, in the Chassis Technology category; and Austrian outfit AVL which scooped the Powertrain Technology award for its hydrogen-fueled ICE engine (below), which was presented to the public for the first time at the show and was commended by the judges for its role in ensuring the long-term sustainability of many racing series.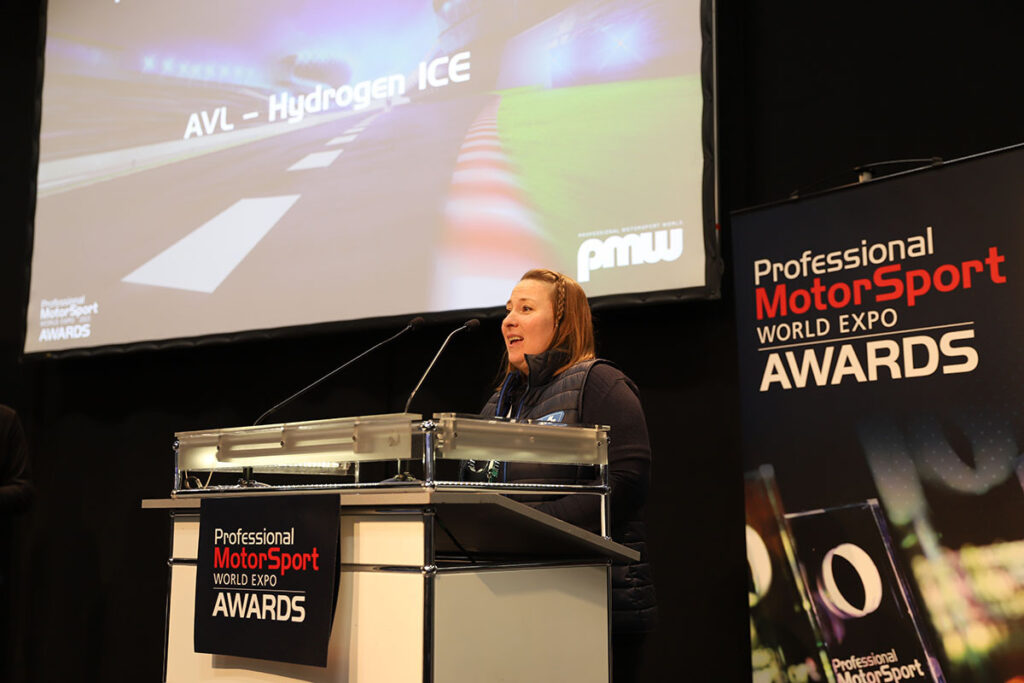 Taking the victory in the Data end Electronics Solution category was Greek company Plex-Tuning and its PCA-2000plus portable combustion analyser, which impressed the panel with the functionality that had been packed into the system.
In the diverse spread of safety tech, it was EEC Performance Systems' E-Pod intelligent, wireless, fuel stop system that clinched top spot in the Safety Innovation category, with the judges impressed by the safety, flexibility and usability innovations it brings to pit stop refueling.
Lawrence Butcher, editor, Professional Motorsport World magazine and chair of the judging panel, said, "It is incredibly encouraging to see so many companies bringing new products to market; testament both to the ever-impressive levels of engineering ingenuity in motorsport and the current boom in public and manufacturer interest in racing.
"There are also many unrealized business avenues for our industry, that are crying out for the agility, high-performance engineering skills and innovation motorsport is renowned for. Now is the time to hunt them down."
Professional MotorSport World Expo will return to the Koln Messe in Cologne, Germany, on November 13 & 14, 2024!