McLaren Automotive has reinforced its commitment to racing in the British GT Championship in 2018, the continued relationship will see a Sports Series model as the safety car at each of the seven race weekends.
McLaren will also have a strong presence throughout the grid with four customer teams entering a total of seven cars across the GT3 and GT4 classes, including the PMW Expo Racing GT4 entry with 2016 GT4 champions Graham Johnson and Mike Robinson at the wheel.
A two-car entry by customer team Balfe Motorsport will represent McLaren across both the GT4 and GT3 categories. Balfe Motorsport announced its collaboration with PMW Expo Racing earlier in the year (January) and 2018 will see the team make its debut in the series. Johnson and Robinson will once again run the 570S GT4.
Meanwhile team owners Shaun Balfe and Rob Bell have moved to the British GT Championship off the back of securing the International GT Open Pro-Am title, and will campaign the 650S GT3, hoping to repeat their success.
The latest team to confirm entry is GT4 European Series regular Equipe Verschuur. The Dutch team has added British GT to its 2018 season plans and will make its series debut with Dan McKay alongside Finlay Hutchison. This marks a return to the British GT grid for McKay with a McLaren, having raced a 570S GT4 last season, while Hutchison was one of the rising stars of the GT4 European Series in 2017.
With McLaren supplying the safety car to the SRO-run series for the last two years, as in previous seasons, the continued support will see a range of models from the McLaren Sports Series leading the field and coordinating on-track safety throughout the season.
"We are really pleased to confirm the extension to the partnership with McLaren Automotive, which will see a Sports Series model fulfilling our important safety car duties for a third season," commented British GT Championship manager Benjamin Franassovici.
"In ad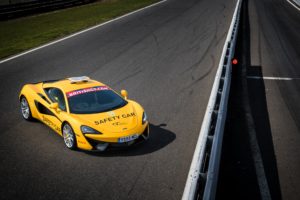 dition to choosing the British GT Championship to showcase the latest road car offerings, it's great to see McLaren so well represented on the grid, in both the GT3 and GT4 classes, with some familiar customer teams along with some exciting new faces who look ready for the challenge. This year is shaping up to be one of the most competitive in the history of the series, and it is really exciting to have so many brands involved."