The FIA has announced the creation of all-new technical regulations for an electric-powered GT race series. The new regs feature several technical innovations including fast charging, with lap times set to be in the region of current GT3 machinery.
According to the FIA, the concept embodies a combination of innovations previously unseen in motorsport and is intended to provide manufacturers with a platform to develop technology relevant to their high-performance road cars. It also claims that cars built to the new regulations will compete on full-length permanent circuits and will set new standards for electric vehicles in motorsport in terms of performance and range.
The regulator says the new class has been formulated with direct manufacturer involvement, and the technical regulations attempt to achieve the right balance between giving OEMs scope for technology development and preventing cost escalation.
Leena Gade, FIA GT Commission president, commented, "The market for high-performance electric road supercars is on a constant rise, hence a platform to allow manufacturers to develop and showcase their technology was much needed. Creating these technical regulations has been a key project for the FIA GT Commission over the last 18 months. We've held regular discussions with GT manufacturers through our Technical Working Groups and there's keen interest in this new category. It also widens the FIA's GT portfolio, coexisting alongside with GT3, which will remain the focus of the customer racing market worldwide for the time being."
The category will be open to specialists in electric vehicle construction without previous combustion-engine motorsport experience, as well as manufacturers already committed to the GT3 class, who will be able to utilize the architecture and certain design elements of their existing cars and convert them to electric power.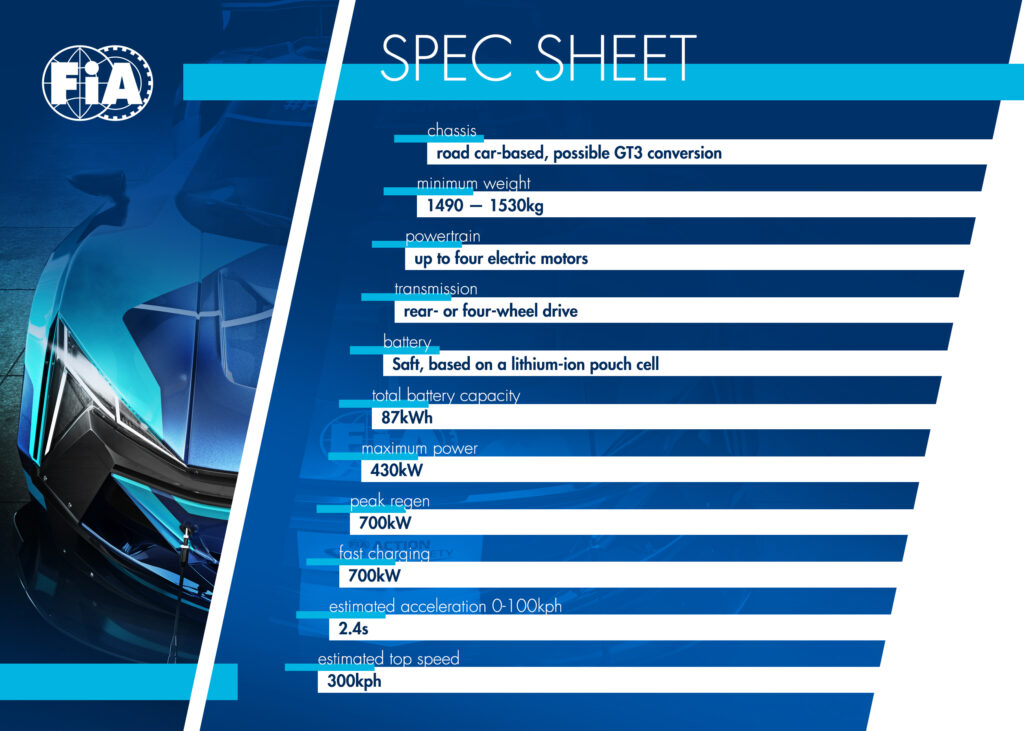 Depending on the base model, the minimum weight of the cars will range from 1,490kg to 1,530kg, with maximum power reaching 430kW. Setting the weight threshold higher than it is for the GT3 class will limit the use of expensive materials. Significantly, the new class will be the first in electric-powered motorsport not to rely on standardized batteries, not least because it will accommodate cars of different architectures with different spaces available to install key components.
Through a partnership with industry-leading firm Saft, a subsidiary of Total, the category will allow manufacturers to build their own bespoke battery layouts based on Saft-supplied cells, using a lithium-ion chemistry optimized for the needs of the new class.
The cells are designed to allow for 700kW peak regen and 700kW fast recharging that will enable them to replenish to 60% of their capacity within a few minutes during a mid-race pit stop. The FIA says a charging network will be developed to meet the fast charging requirements and, depending on the venue, will include elements of permanent and temporary infrastructure.
Manufacturers will have the freedom to choose their own powertrain setups, comprised of either two or four electric motors, with two- and four-wheel-drive configurations allowed. Torque vectoring systems will also be permitted.
The promoter of a new world-level competition built around the concept of electric-powered GT cars will be announced in due course.
Xavier Mestelan Pinon, FIA technical director, concluded, "The role of electric propulsion in the automotive industry is ever increasing. As we want motorsport to be relevant to our industry, more and more competitions are going in this direction. The main technical challenges are battery development, battery integration in the cars and fast charging technology. This is crucial to the manufacturers who want to develop road-relevant technology rather than relying on standard components. Also, being able to utilize and adapt the GT3 platform ensures that costs are under control."