With 2023 marking the centenary year of the infamous endurance race, a great number of household automotive names will be battling it out on track in a range of different classes.
For this year, a 16-strong Hypercar class will feature, including renowned manufacturers Ferrari, Porsche, Peugeot, Cadillac, Vanwall, Glickenhaus and Toyota. Toyota will be on the hunt for its sixth consecutive win, while Porsche competes for its 20th overall win. Ferrari returns to the top tier of Le Mans after a 50-year hiatus.
Cadillac will field three cars for the race following a strong start to the season. Peugeot will be seeking a fourth Le Mans victory whilst newcomer Vanwall aims to make a good impression within the Hypercar class.
For the LMP2 grid, 24 cars will compete, with eight entered as Pro/Am. The LMGTE Am grid will feature 21 cars, consisting of eight Porsche 911 RSR-19s, seven Ferrari 488 GTE-EVOs, five Aston Martin Vantage AMRs and one Chevrolet Corvette C8.R.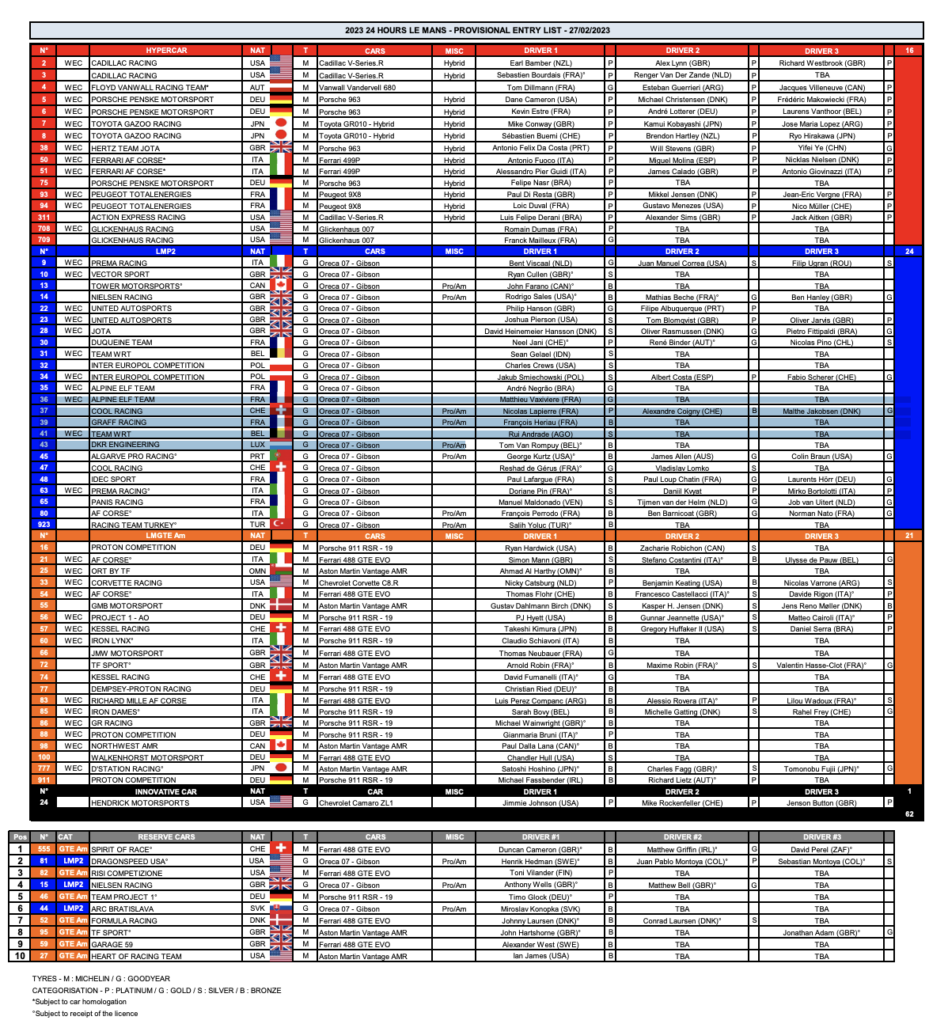 Running outside of the official classification will be Garage 56 with a modified NASCAR Chevrolet Camaro ZL1 entered by stock car team Hendrick Motorsports. The car will be driven by former Formula 1 World Champion Jenson Button, Le Mans winner Mike Rockenfeller and seven-time NASCAR Cup Series champion Jimmie Johnson.
"The 24 Hours of Le Mans race is one of the biggest and greatest motorsport events in history as well as the traditional focal point of the FIA World Endurance Championship season," said Mohammed Ben Sulayem, FIA president. "With the race celebrating its centenary and owing to the incredibly strong entry, it will be even more special this year."
"The build-up for this year's edition of the 24 Hours of Le Mans starts today and the entry promises that there's plenty to look forward to," commented Richard Mille, FIA Endurance Commission president. "The Hypercar class reached an impressive 16 cars, which is the highest seen in the top class at Le Mans in over a decade. This is exactly what we envisaged in the early days of developing the Hypercar concept."