Porsche has introduced its new 935 race car. Featuring a body reminiscent of the 935/78, the 700ps competition vehicle will be produced in a limited number of 77 units.
Powered by a state-of-the-art 3.8-liter flat-six-twin-turbo engine, the new 935 is equipped with the very same engine that is mounted in the road-legal 911 GT2 RS. Power is transferred to the 310mm-wide rear wheels via a 7-speed Porsche Doppelkupplung (PDK) dual-clutch transmission with rigid mounts.
Six-piston aluminum monobloc racing calipers on the front axle, in combination with internally ventilated and grooved iron brake discs with a 390mm diameter, promise optimum braking performance. The rear axle is fitted with four-piston calipers and 355mm discs.
"This spectacular car is a birthday present from Porsche Motorsport to fans all over the world," said Dr Frank-Steffen Walliser, VP of Motorsport and GT Cars for Porsche. "Because the car isn't homologated for any series, engineers and designers didn't have to follow the usual rules and thus had freedom in the development."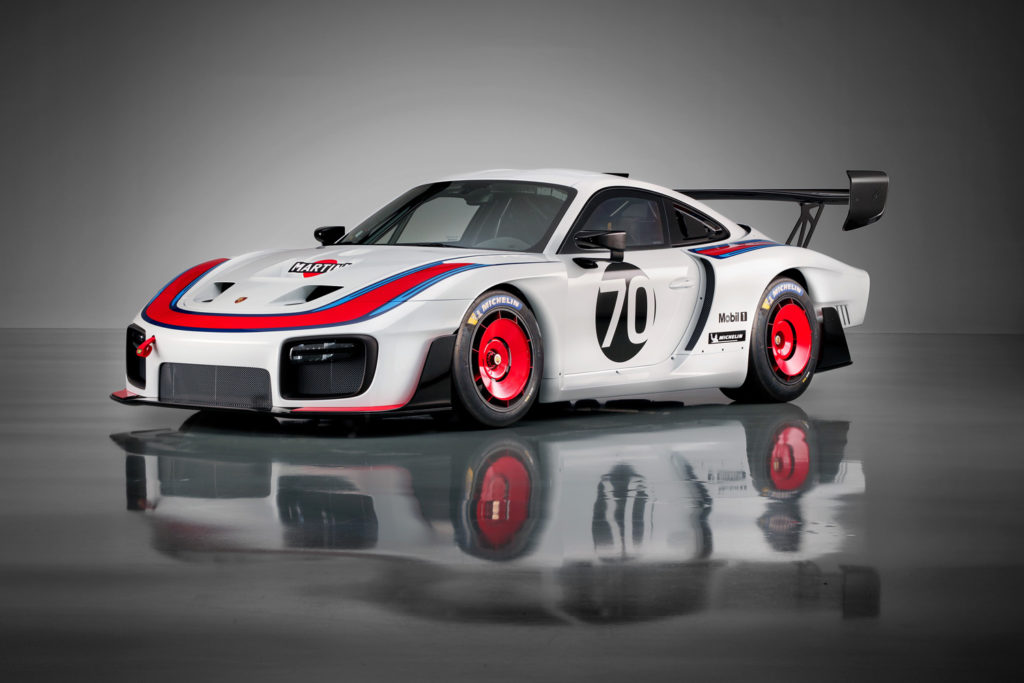 Based on the street-legal 911 GT2 RS high-performance sports car, the technology is geared toward club sport events and private training on racetracks. Like its historic predecessor, most of the body has been replaced or supplemented by carbon-fiber reinforced polymer (CFRP) parts. With its streamlined extended rear, the new Porsche 935 measures 191.5in in length. The width is 80.1in.
The aerodynamics, which are newly developed, feature distinctive wheel arch air vents on the front fenders that increase downforce at the front axle. Measuring 75.2in in width by 15.8in in depth, the rear wing promotes aerodynamic balance.
The aero enhanced rims echo those of the 935/78, with the LED rear lights on the rear wing endplates adopted from the 919 Hybrid LMP1 race car. The side mirrors come from the current Le Mans-winning 911 RSR, with the exposed titanium tailpipes modeled on those from the Porsche 908 from 1968.
Like the road-legal 911 GT2 RS, the 1,380kg 935 is equipped with PSM (Porsche Stability Management) including traction control as well as an anti-lock braking system (ABS). Thanks to a so-called map switch, these assistance systems can be adjusted separately or switched off completely, depending upon the track situation.