Ford Performance has revealed a "race car for the road" – the 2025 Mustang GTD, designed in parallel with the Mustang GT3 competition car set to debut at the 2024 Rolex 24 at Daytona. Named for the IMSA Grand Touring Daytona, the Mustang features a 5.2-liter, supercharged V8 engine capable of producing 800hp partnered with a rear-mounted, 8-speed, dual-clutch transaxle.
The GTD was created in collaboration with Ford Performance partner Multimatic, which was tasked with the development of the new competition GT3 and GT4 versions of the Mustang. As a result, the Mustang features hydraulic semi-active suspension and active aerodynamic technology to enhance handling attributes.
Clad in carbon-fiber bodywork with vents and a race car-inspired rear wing, the GTD also benefits from a carbon-fiber driveshaft and optional ceramic brakes, and a titanium exhaust and magnesium wheels enhance vehicle dynamics.
"The hardware has been carefully selected and developed to enable blistering lap time performance," commented Greg Goodall, chief program engineer, Ford. "The target for this project was clear – go much, much faster than we've ever gone before, with a targeted sub-seven-minute Nürburgring (lap) time. This makes it the fastest roadgoing Mustang ever from Ford."
Development work was conducted in secret in Allen Park, Michigan, with the project led by Ford Motor Company president and CEO Jim Farley.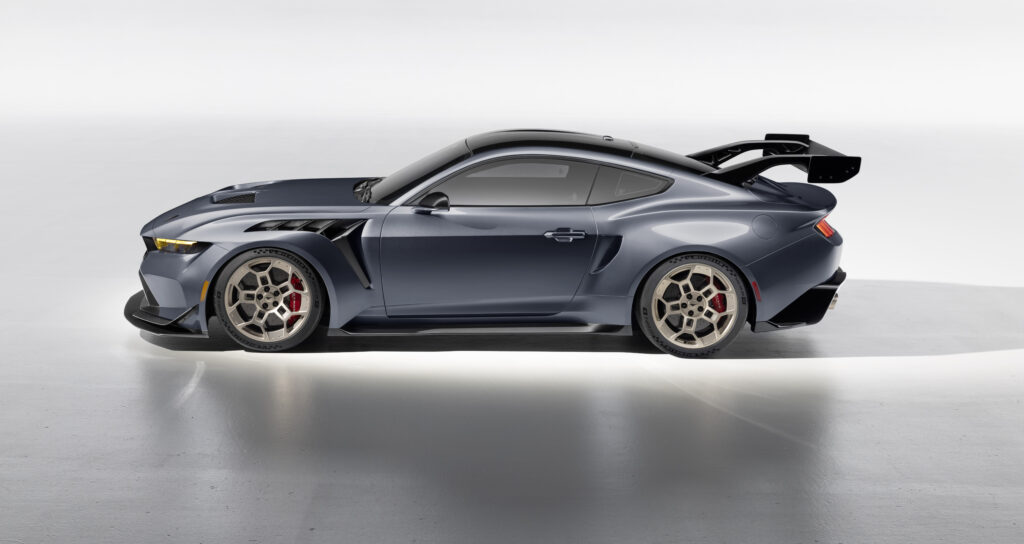 "Mustang GTD represents the very best of Ford Motor Company and what our team needs to do every day," said Farley. "This is what happens when we take what we're good at and push the boundaries to see where the bubble stops. It represents the essence of the transformation we're going through at Ford, from software to special edition cars.
"We are extremely proud of our work on the Mustang GTD," added Larry Holt, executive vice president, Multimatic Special Vehicle Operations. "It showcases our state-of-the-art DSSV spool valve suspension technology, with features not even allowed in racing. The Mustang GTD sets a new benchmark for road-going racers, and we can't wait for clients to experience the thrill of driving it."
The initial production stage of the Mustang GTD will be carried out at Ford's Flat Rock Assembly Plant south of Detroit, before being transported to Multimatic in Markham, Ontario, for final assembly.
Deliveries are expected to start in Q4 of 2024.