Details of the new 720S GT3 Evo have been outlined by McLaren Motorsport as the team aims to build on the successes of the 720S during the 2023 GT3 season.
Available as both a new-build race car or as a package to update an existing vehicle, the 720S GT3 Evo will be homologated for this year's season. By using learnings and feedback from teams running the 720 GT3, the Evo iteration has undergone a wide array of design and component changes to ensure the model's continued competitiveness.
A range of key bodywork improvements have been made, including installing quick-release fastenings on the front bumper and splitter for efficient removal and replacement. The components benefit from improved aerodynamic characteristics for enhanced overall downforce, and the overall balance has been shifted forward to make the race car more consistent in traffic. This characteristic is aided further by a front hood gurney, which also improves cooling. Furthermore, the auxiliary lamps have been moved to increase visibility for drivers racing at night.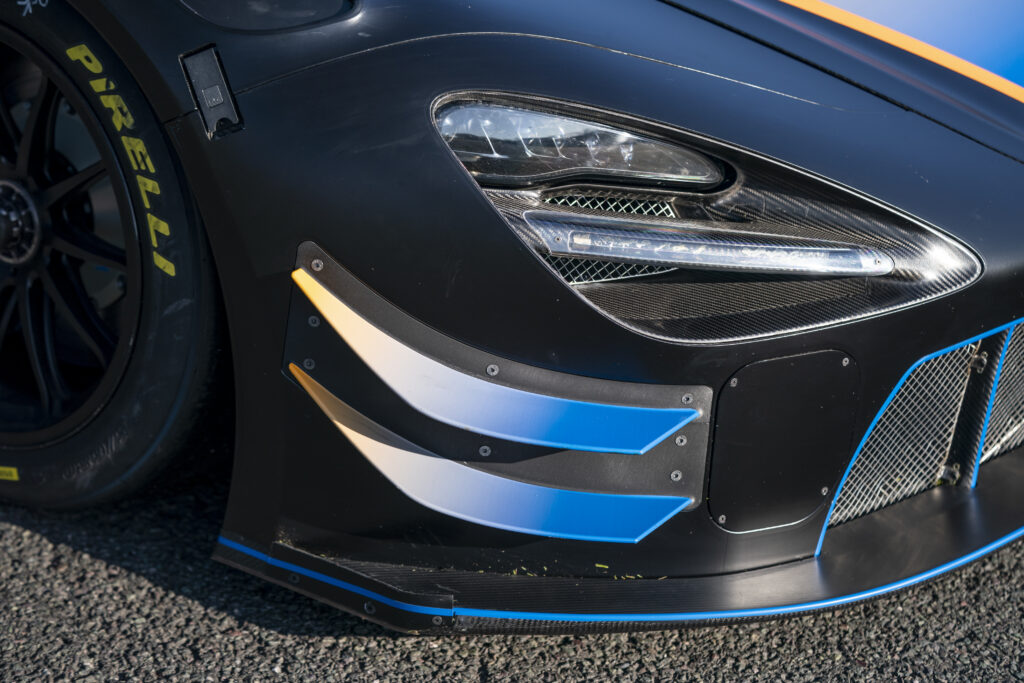 At the back of the car, there is a new wing pylon mechanism that can easily be adjusted, and the rear wing gurney is taller for increased downforce without upsetting the car's balance.
Suspension revisions have also been made, with the car now benefiting from TTX40 Ohlins 4-way adjustable dampers with high-frequency pistons and adjustable lengths. The front and rear upper wishbones have been changed for new components, and the front is now adjustable to improve tire wear. A new clevis has also been fitted for increased droop.
Brand-new uprights at the front feature a bolted brake caliper for quick changes of the entire system as a unit, in addition to a built-in track rod clevis for added durability. These changes also apply to the rear uprights, which has improved geometry for tire management, and increased setup options. Furthermore, the 720S GT3 Evo's brakes now benefit from closed face bells for enhanced disc durability.
"The McLaren 720S GT3 has been an incredible success in GT3 racing since its phenomenal debut four years ago, leading the Gulf 12 Hours race for several hours," said Ian Morgan, director of motorsport at McLaren Automotive. "Since then, it has recorded many race wins and championships, including titles in the Asian Le Mans Series, IMSA WeatherTech SportsCar Championship and GT World Challenge Europe last year, and it has begun 2023 with a podium in the 24 Hours at Daytona.
"In that time, we've maintained a close relationship with our customer racing teams and have incorporated many of their recommendations into the new Evo package, improving consistency of performance and serviceability, which will ensure that the McLaren 720S will continue to set the pace in GT3 racing for many more years to come."