McLaren has made the announcement that a new GT3 model, based on the all-new 720S, will replace the 650 GT3 and will join its successful 570S GT4 from 2019.
Set to begin testing next year for launch with customer teams the year after, the all-new 720S GT3 will benefit from race and championship-winning experience and knowledge accrued by McLaren during six seasons of motorsport activities. Following an intensive development programme in the 2018 season, the 720S GT3 will make its competitive debut with customer teams in the 2019 season and will be fully compliant with GT3 regulations and eligible to compete in all GT3 race series globally.
The MonoCage II carbon fibre structure at the heart of the 720S road car provides the foundation for a mid-engined, rear-wheel-drive car set to appeal to professional and budding drivers alike. A race-prepared version of McLaren's 4.0-litre, twin-turbocharged V8 M840T engine will provide the power source, through a six-speed, sequential shift motorsport transmission. The aerodynamically-optimised bodywork of the 720S GT3 will be formed from both composite and lightweight carbon fibre, with a bespoke aerodynamic package. The suspension will comprise tried and tested adjustable dampers and coil-over springs, front and rear.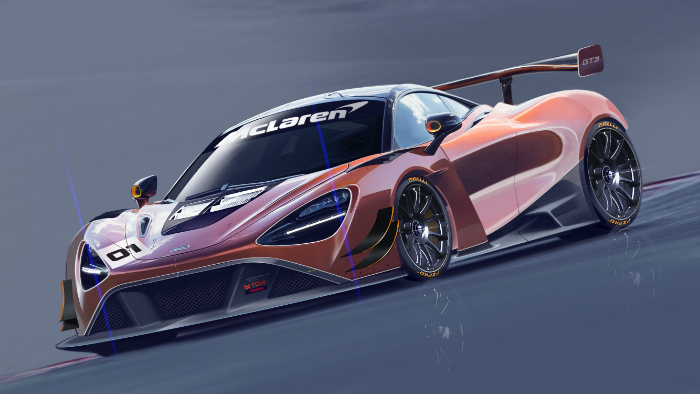 The 720S GT3 race car follows on from the 650S GT3 which has proved itself as a race winner and world-beater on the highest GT stages globally following its launch in 2014. It has scored titles on all four continents on which it has campaigned, including the Asian Le Mans Series, Australian GT championship, the Bathurst 12 Hour, Blancpain Endurance Cup and Pirelli World Challenge. This was a development from the original 12C GT3 which was launched in 2010. After an intense development programme throughout the 2011 season, the 12C GT3 debuted with customer teams a year later, winning 19 races, a further 19 podiums and pole position for the legendary Spa 24h race.
"McLaren is built on racing and providing our growing family of customers with unique and exhilarating driving experiences," explained McLaren Automotive CEO, Mike Flewitt. "It therefore makes sense for us to unveil a dedicated, widened motorsport programme designed to support and enable more of our customers to focus on enjoying the thrill of pushing our cars on the track. The 720S GT3 will provide a stunning race-going addition to our Super Series product family and drivers will now be able to hone their skills under expert guidance backed-up by our technicians at the circuit and our motorsport retailers away from it."