The high-performance GT2 race car from Maserati made its track debut at the Autodromo Varano de' Melegari in Italy as the OEM begins testing of the model ahead of its official unveiling in Belgium at the 24 Hours of Spa in June 2023.
Following the announcement that Maserati would participate in the 2023 ABB FIA Formula E World Championship, the OEM also revealed it would also compete in the GT2 European Series.
Designed and developed by Maserati's engineering team and Centro Stile Maserati, the Maserati GT2 uses the same 463kW/630ps Nettuno V6 powertrain from the Maserati MC20 and benefits from the OEM's new and patented Maserati Twin Combustion (MTC) technology based on Formula 1 engines. Mated to the engine is a 6-speed sequential racing gearbox controlled using paddle shifts on the steering wheel.
For the chassis, an extremely light carbon-fiber central monocoque design has been used in combination with fully composite bodywork to provide an excellent power-to-weight ratio. Several aerodynamic elements have been exploited to the limit to enhance the vehicle's vertical load while ensuring the best drag co-efficiency. The underside of the GT2 has also been redesigned to work in combination with the front splitter and the adjustable rear wing. All of the bodywork is quick release, enabling efficient access to components.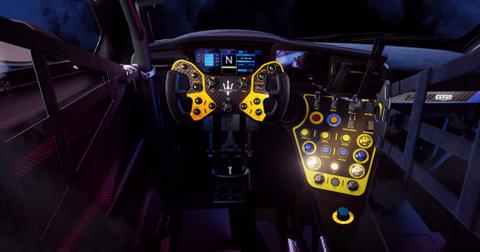 Maneuvering the single-seater race car is made easier through fully electric power steering, while all the suspension has been designed using race-specific parts, including the adjustable shock absorbers and the adjustable anti-roll bars in both the front and rear.
Inside, a carbon-fiber dashboard features with a 10in integrated display to provide an intuitive cockpit.
"The first few days are always quite unique, even more so for me when I was fortunate enough to bring Maserati to success at the GT1 World Championships, where I won four titles," commented Andrea Bertolini, Maserati test driver. "We are now about to get back on track with yet another wonderful car.
"We've done lots of trial runs and early feedback is positive. We've focused on developing a product that not only stands up to its competitors but is also an ideal car for our gentleman drivers in terms of handling, comfort and performance. We want them to experience a unique feeling in this car.
"In the last few months, we've been working intensively in the simulator, courtesy of the commitment of a fantastic team. We have an intense series of test days ahead of us, to get us ready to get back on track."