Following the launch of its new Mustang Dark Horse variant, Ford has announced there will be six versions of the latest model in various different race trims which will compete in various international motorsport series including GT3, GT4, NASCAR and NHRA Factory X racing.
Two track-only Dark Horse Mustangs featuring a 5.0-liter V8 powertrain will be released, consisting of the Mustang Dark Horse S and the Dark Horse R. The Dark Horse S cars have been designed to cater specifically for customers looking to take part in track days, while the Dark Horse R has been developed for use in racing events.
For the Mustang Dark Horse S, Ford has removed all non-essential parts and trim pieces to make way for a full FIA-certified safety cage and safety nets. A race seat and belts has also been installed along with a racing steering wheel with a quick release system. The vehicle also features an electrical cut-off and a fire suppression system.
For ease of use, all of the driver's controls are situated in a central panel, with buttons, switches and knobs for the vehicle's headlights, indicators, wipers, adjustable mirrors and a rain light. A pit lane speed limiter and a data and acquisition display system also feature, with a single passenger seat optional.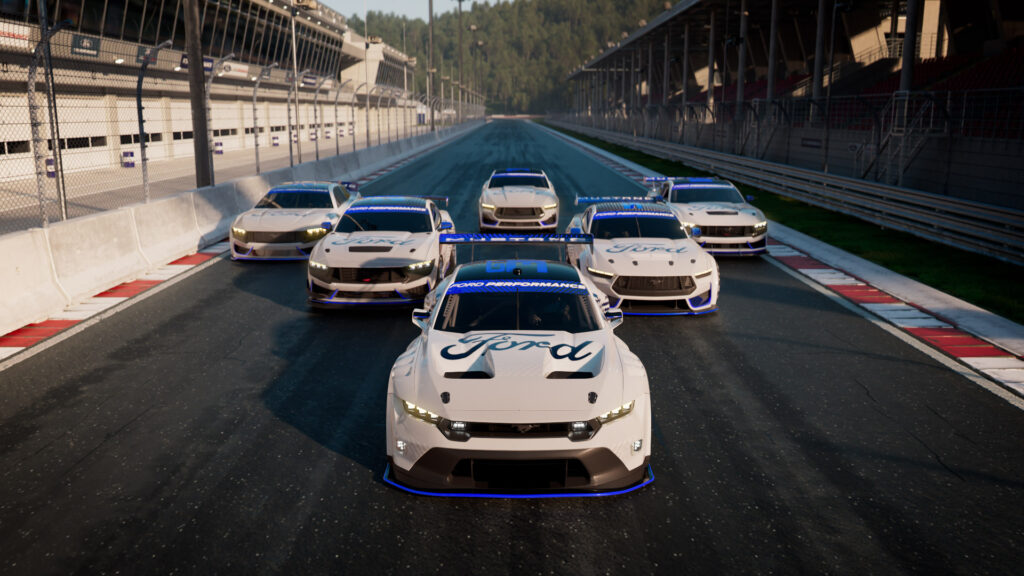 On the exterior, hood pins have been fitted in addition to tow hooks at the front and rear. At the back of the car, a different exhaust system has been fitted and an adjustable rear wing features for added downforce. Other notable differences to the street legal Dark Horse S are the uprated brakes and Multimatic DSSV dampers to enable adjustable ride heights and camber settings.
The Mustang Dark Horse R features all of the Dark Horse S components in addition to serialization to denote its approval for use in racing events. Other changes for the R variant include seam welding, a fuel cell for additional range and Ford Performance Parts wheels.
"Both Dark Horse S and R have been further enhanced for performance and stripped of almost every unneeded comfort, keeping only what is needed to provide better performance," said Ed Krenz, Ford Mustang chief nameplate engineer.
The OEM has plans to return to factory-backed GT3 racing at the 24 Hours of Daytona in 2024 with a newly developed Mustang GT3 IMSA race car – the vehicle will also be made available to Ford's customer base. The car – made by Ford Performance and Multimatic –will be powered by a 5.4-liter Coyote-based V8 engine. In addition to its GT3 entrant, Ford will also debut a Mustang GT4 in the 2023 season for use in global GT4 classes such as IMSA, SRO and FIA GT.
Next season Ford also aims to debut a Mustang in the Australian Supercars series, as well as debuting new models in the NASCAR Cup series and NHRA Factory X racing series in years to come.
"We're taking this all-new Mustang to competition racing and the very definition of a Dark Horse is the perfect fit to introduce this vehicle to the Mustang brand," said Mark Rushbrook, global director, Ford Performance Motorsports. "With our race program development underway, we're confident we have the right car for success."