Ferrari has officially launched its 2023 Le Mans hypercar, the 499P, which heralds the marque's return to the top class of international sportscar competition, where it has not fielded a works team since 1974. The cars will be managed on track in the WEC and IMSA by Maranello technicians and engineers in collaboration with long-term factory partner team AF Corse.
Speaking at the car's launch, Antonello Coletta, head of Ferrari Attività Sportive GT, said, "The 499P is a dream come true. We wanted to pay homage to our history, with many references, both large and small, to a past made up of successes and titles. We do so, however, looking ahead, creating a manifesto of our commitment to the World Endurance Championship. The 499P is a prototype that is decidedly Ferrari, in the fullest sense of the term, and it gives us an enormous thrill to finally show it to our clients and to the many enthusiasts of the marque."
The 499P's hybrid powertrain combines a mid-rear power unit with an electric motor powering the front axle. The ICE has a maximum regulation-limited output of 500kW (680CV) and is derived from the company's road-going twin-turbo V6 family, sharing its architecture with the 296 GT3 engine. However, unlike in the 296, the 499P's V6 is a stressed member, as is the 7-speed sequential transmission.
The hybrid system has a maximum power output of 200kW deployed via a front motor and differential. The battery pack, with a nominal voltage of 900V, is derived from Ferrari's experience in F1 but tailored to the demands of endurance racing.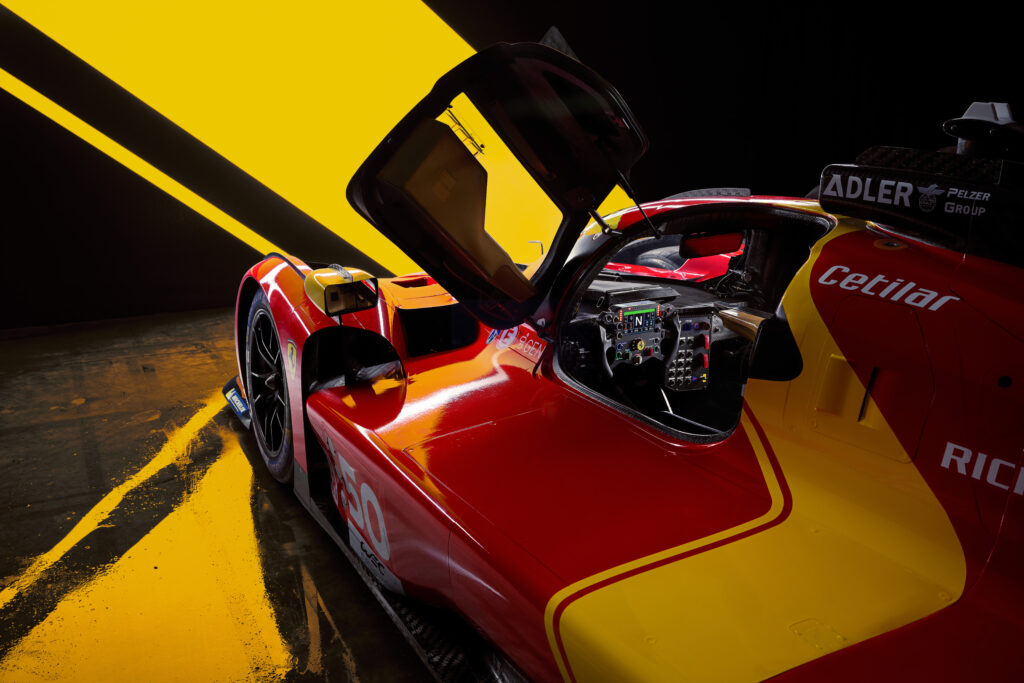 Ferdinando Cannizzo, head of Ferrari GT track car development, concluded, "For the whole team and me, this is a really thrilling moment. We know that we have a huge responsibility. We have designed and engineered a car that is brand new and particularly complex in every aspect. This unprecedented challenge motivated everyone into all-encompassing, all-sharing collaboration involving every department of our company and our technical partners.
"Starting from a blank sheet of paper was a source of unique and continuous motivation in order to find effective solutions to guarantee the 499P's performance and reliability. From the very first shakedown to the first race, we have planned a very intense development program, both on the test bench and on the track, which has given us some interesting feedback. The work of synthesis that awaits us over the coming weeks, and which will see us involved in further track testing, is the most important for fine-tuning and the final integration of all the systems. We still have a lot of kilometers to go, but the team is aware of the importance of the project and will continue to show commitment, passion, maturity and great professionalism."