In last month's poll, we asked whether existing balance of performance regulations provided competitors with an equal playing field, or whether they hampered competition. Of the three options we presented to our database of thousands of readers, an overwhelming 64% of the response was that BoP stunts competition, development, and artificially bring cars closer together on circuit.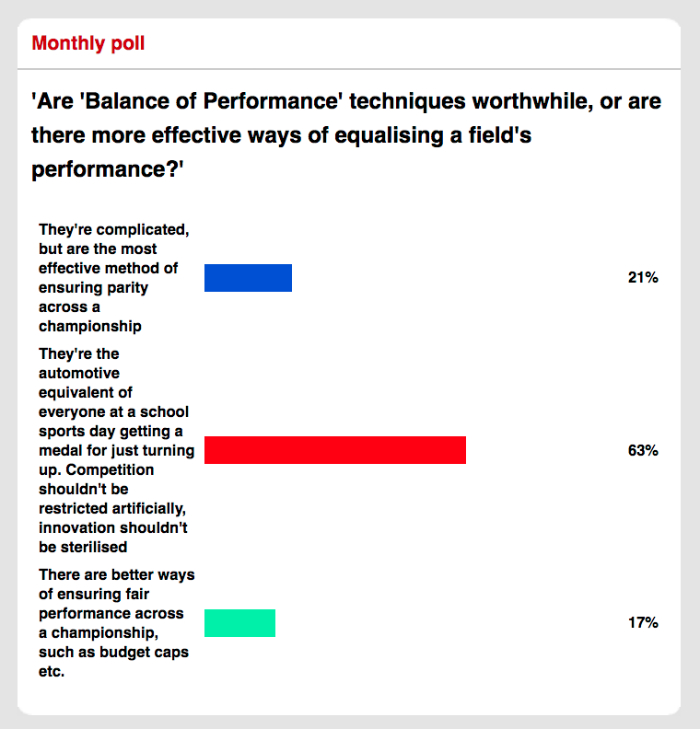 The remaining 36% of poll respondents can be further broken down; with 20% stating that despite the complexities involved with establishing BoP regulations, once achieved, they can result in superb racing. The remaining 16% were of the opinion that there are far more effective ways of ensuring parity within a series or championship, such as the use of budget caps.
The difficulties for championship organisers, when drafting regulations, is establishing a balance between what fans expect and what the field can realistically achieve on increasingly tighter budgets.
BoP has proven to be a successful means to achieving this, with BoP regulated championships such as the SRO organised Blancpain and national GT championships, TCR championships and the British Touring Car Championships all enjoying bumper grid sizes over the past several years.
Contested by, largely, customer teams, the above championships are perhaps the best fit for BoP regulations. Would BoP translate to bigger, international championships, in which manufacturers are investing substantial budgets? Most likely not; which manufacturer would spend millions developing a race car only to have it pegged back and potentially go a season without victory despite being the fastest car on track?
Whilst clearly unpopular with our readership of engineers, team owners, and suppliers, BoP's ability to produce closely fought championships will perhaps rule the roost; as from a fan's perspective, who is likely to pay for a ticket to see one team dominate an entire field with little overtaking occurring behind? That outcome may work for Formula 1 due its long history, appeal and prestige, but it's a big ask for any new start up series…