The FIA has unveiled the 'F2 2018' today at Monza, ahead of this weekend's Italian GP race weekend. The new car, which will be raced in the 2018, 2019 and 2020 seasons, complies with the latest F1 safety standards, features architecture typical of a modern F1 car and a 3.4-liter turbo-charged Mecachrome engine, which delivers 620HP at 8,750rpm. The design philosophy was to refresh the car to mirror the latest updates in F1 design, and to maintain a long tradition of wheel to wheel racing.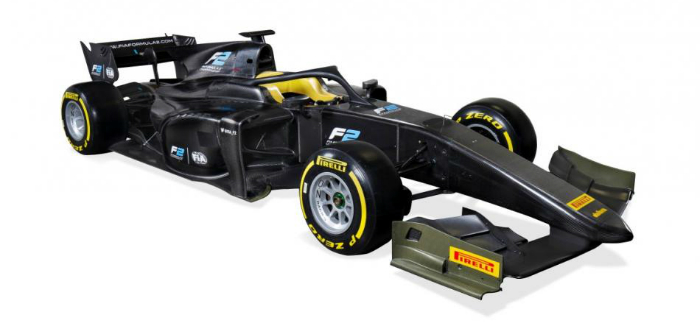 The safety updates include changes to marshalling such as the Virtual Safety Car (VSC), Drag Reduction System (DRS) and upgraded electronics, and most notably is the first new car to be revealed featuring the Halo system, which was incorporated at the final stage of the design process.
The electronics have been enhanced with an updated ECU, which features expanded evolution possibilities for later years in an effort to future proof these components, a design decision which is in line with the usual focus on cost control. The operational costs for the teams are expected to be similar to this year.
The car has made a successful shakedown in July at the Circuit de Nevers Magny-Cours, and the development programme will continue over a number of tests across the remainder of the year to accumulate sufficient mileage, to ensure that a functional and reliable car will be delivered to the teams. Two test sessions in December will be solely focussed on performance testing, where the car will be pushed to its limits ahead of the handover process to the teams.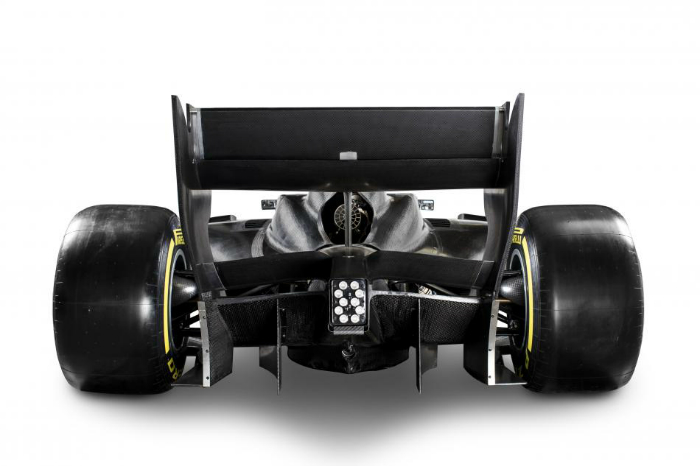 A first car will be delivered to the teams in mid-January 2018, and the second car will be delivered in mid-February. There will be a shakedown with the teams between these dates to allow them to become acclimatised with the car ahead of the first official pre-season test.
Pirelli is once again the official tyre suppliers to the championship, and have been integral to the design process to ensure continuity with respect to the tyres.
"The unveiling of the 2018 FIA Formula 2 car is an important moment for the FIA as we complete the single-seater pyramid from Karting right through to the pinnacle of motor sport in the FIA Formula One World Championship," explained Charlie Whiting, FIA director of F1 and director, single seater department. "The plan for a more structured junior formula ladder is designed to feature cars that better prepare drivers for the next step. For Formula 2, that means we needed a car that will not only educate, but will also allow the drivers that are most ready for Formula One to shine brightest.

"The car has been developed to include improved aesthetics, as well as bringing the safety level up to the highest standards for single-seater cars – and to ultimately bring it closer to a modern Formula One car on both of these points," he continued. "We are proud to present the 2018 FIA Formula 2 Championship car alongside the Promoter, Formula One Management, and we look forward to our continued partnership at this level with this exciting new car."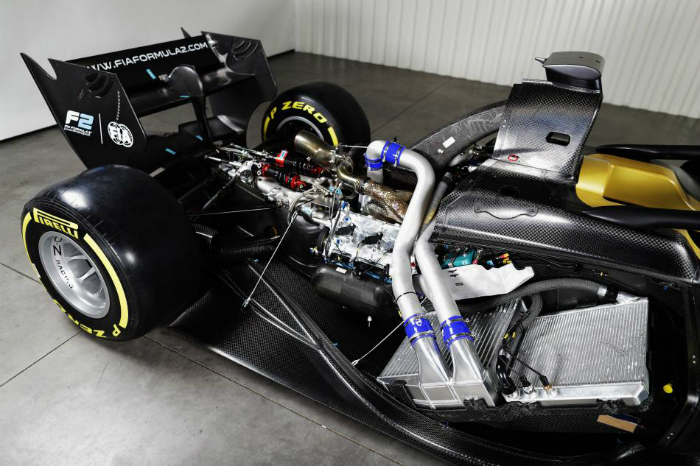 "I am very pleased to be able to present our new car for the next three year cycle of the FIA Formula 2 Championship," added FIA Formula 2 Championship CEO Bruno Michel. "Our focus has always been on providing a powerful, safe and challenging car which will encourage overtaking, and thanks to the new aerodynamics package we believe this car will both enhance racing and provide even more entertainment for our fans. Our philosophy has always been to match this with cost control for the teams, and we believe the F2 2018 will continue to limit operational costs and provide an attractive package to our teams.

"Finally, and most importantly, the F2 2018 matches the very latest F1 safety standards: we have a strong track record on safety, and this was a principle focus during the design process. I believe that the F2 2018 is the right car for the next stage of our championship, while also providing a worthy race car for the final step of the motorsport ladder for our drivers hoping to achieve their ultimate ambition: a race seat in F1."
Dimensions;
Length: 5224mm (was 5065mm)
Width: 1900mm (unchanged)
Height: 1097mm including FOM roll hoop camera (was 1072mm)
Wheelbase: 3135mm (was 3120mm)
Weight: 720kg (driver on-board)
Engine;
V6 3.4-litre single turbo charged Mecachrome engine
Rated to 620HP @ 8750rpm
Fly by wire accelerator system
Rebuild after 8000km
Maximum Torque 600Nm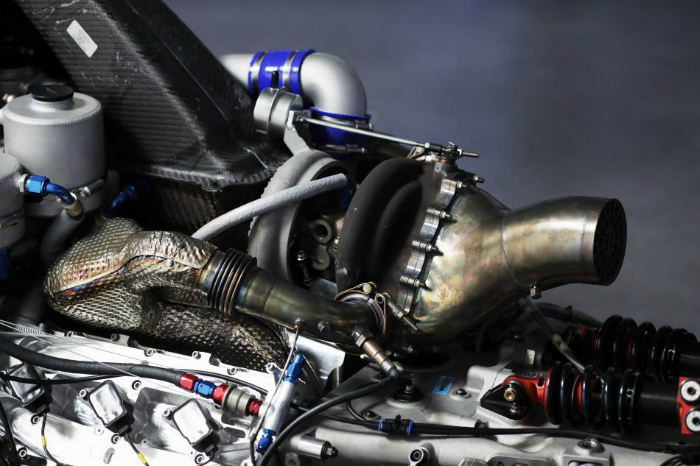 Performance;
0 – 100 km/h – 2.90 sec
0 – 200 km/h – 6.60 sec
Max. speed: 335 km/h (Monza aero + DRS)
Max. braking deceleration -3.5 G
Max. lateral acceleration +/- 3.9 G
Safety;
Full FIA F1 2017 safety standards
Halo F1 specification
Monocoque and Bodywork;
Survival cell – Sandwich Carbon/aluminium honeycomb structure made by Dallara
Front and rear wing – Carbon structures made by Dallara
Bodywork – Carbon – Kevlar honeycomb structures made by Dallara
DRS;
Same functionality of DRS used in Formula One
Hydraulic activation
Gearbox;
6-speed longitudinal Hewland sequential gearbox
Electro-hydraulic command via paddle shift from steering wheel
ZF SACHS Carbon clutch
No on-board starter, anti-stall system
Non hydraulic ramp differential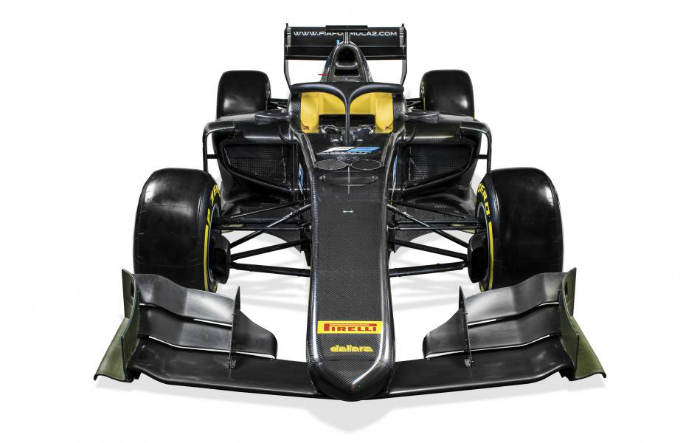 Electronics;
Magneti Marelli SRG 480 ECU/GCU including data logging system
Magneti Marelli PDU 12-42 power supply management unit
CAN data acquisition pre-equipment
Beacon receiver
Suspension;
Double steel wishbones, pushrod operated, twin dampers and torsion bars suspension (F) and spring suspension (R)
Adjustable ride height, camber and toe
Two way (F) / Four way (R) adjustable Koni dampers
Adjustable anti-roll bar (Front/Rear)
Brakes;
6-pot monobloc Brembo callipers
TBC carbon-carbon brake discs and pads
Wheels and tyres;
F1 2016 standard wheel dimensions
O.Z. Racing
Magnesium rims
13″ x 12″ front F1 2016 standard wheel dimensions
13″ x 13.7″ rear F1 2016 standard wheel dimensions
F2 specific Pirelli slick / wet tyres
Steering;
Non-assisted rack and pinion steering system
XAP steering wheel with dashboard, gear change and clutch paddles, marshalling & VSC displayU