R-Motorsport has brought four Aston Martin Vantage DTM cars to Hockenheim for the season opener at the Hockenheimring, on Friday, May 3.
The new technical regulations pose a challenge for all manufacturers and teams this year and the test days in Jerez, Estoril, and at the Lausitzring, showed the R-Motorsport technical team the complexity of the tasks involved in the development of the DTM vehicle, especially the new four-cylinder turbomotors. The turbo unit has two liters of displacement and provides over 600hp and 650Nm of torque. At the same time, the permissible unladen weight of the vehicle was reduced from a 1,115kg minimum weight to 986kg.
From the aerodynamic point of view, there are also changes from the front end of the car to the rear wing. The cooling requirement of the new turbo engines leads to a larger cooling opening at the front of the vehicles. At the same time, the cooling outlets in the bonnet are significantly larger than in the previous year's vehicles. While the overhang of the front splitter has been reduced by 90mm, the rear wing is 520mm wider than before.
Another innovation concerns the driver's view from the cockpit. Starting this season, there are no interior mirrors in the DTM cars. These are replaced by a rear-view camera, whose image the driver can see on a screen. The display is where the rear-view mirror used to be. This was made necessary by the introduction of a fire protection wall between the gearbox and the cockpit, which prevented the use of an interior mirror.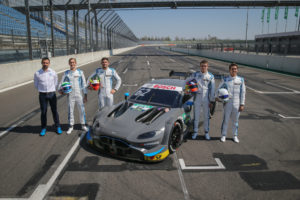 "It is an amazing achievement by every single member of the team that we are starting in Hockenheim. Now we are looking forward to the first race, although as a small team we will not stand up to the established competition. But surprises are always possible," said Dr Florian Kamelger, R-Motorsport team principal.