Revolution Race Cars is the new venture of Phil Abbott, the founder of Radical Cars. The 'Revolution' features a carbon-fiber chassis, a dry-sump Ford 3.7-liter V6 turbo and a 750kg weight and aims to offer LMP technology in an affordable, reliable package.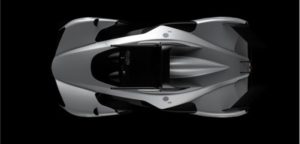 The 440bhp per ton track car will cost less than £100,000 (US$130,000) and promises some of the lowest running costs – 10,000km or 100 hours between rebuilds should be achievable.
Initially, there will be a general race series for the new car, the Sports Prototype Cup. It starts on the GP course at Silverstone and concludes with a round alongside the European Le Mans Series in Portimão, Portugal. There will also be a France-based championship in 2019.
"Race car technology has advanced immeasurably over the last couple of decades along with tools available to design and develop them, and it's now possible to bring these advancements to a larger market," said Abbott.