As impromtu track tests go, getting the opportunity to sample Nicola Larini's 1993 DTM winning Alfa Romeo 155 V6 Ti at the Goodwood Festival of Speed is something PMW's editor won't forget in a hurry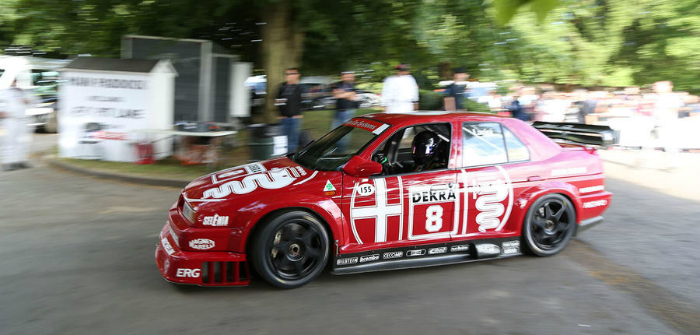 It's not very often that I've found myself in the right place, at the right time but the 2017 Goodwood Festival of Speed happened to be such an occasion. On the opening day of the festival, I bumped in to the press relations manager for Alfa Romeo UK and as we got chatting about the forthcoming weekend, she asked 'Would you like to take the 155 DTM car up the hill on Sunday?' Having owned, and loved, a 1/10th Tamiya remote control version of the car as a child it was a question that wasn't even finished before I gave my answer!
As the final day of the four-day event rolled around, the excitement subsided and sheer terror began to sink in. This is, after all, Nicola Larini's 1993 DTM championship winning car. Or to put it another way; a priceless part of Alfa Romeo's motorsport heritage. For anyone who has ever been to Goodwood, I sincerely hope you sympathise as getting used to a very serious competition car in the tight confines of the paddock truly isn't an enjoyable experience. At all.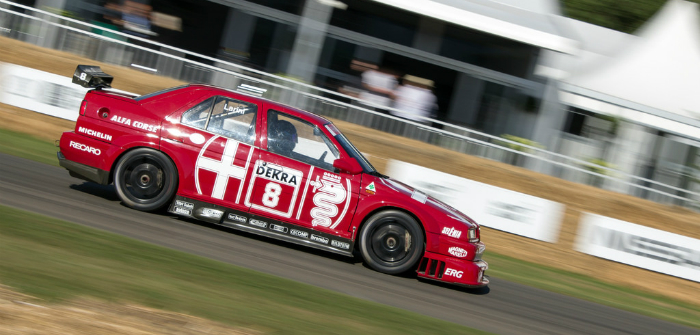 The very quick technical briefing occurred first thing, and whilst the first coffee of the day was still taking effect, I was being told that the race battery doesn't charge if the engine is below 2,000rpm, the competition clutch was like a light switch: on, or off and would need serious modulation, and add to that, the Magnetti Marelli digital dash was, to someone informed very quickly, largely ineligible – I guarantee that with more time, it would have made perfect sense. But time was a luxury I really didn't have. There was also the need to keep an eye on the engine temperature, which on a day where ambient temperatures were around 29°, rose extremely quickly. Then there's the steering lock, which in the paddock felt like it was half a turn lock-to-lock. On top of all of that, there are then certain elements of the expansive crowds to negotiate. An enthusiastic bunch? Absolutely. Passionate, and determined to get the ideal photograph? Also true. Devoid of common sense and spatial awareness; 100%.
Basically, this is me getting all of my excuses out the way early for stalling the car at least five times on the way down to Parc Ferme. Out on the hillclimb, and in a more natural habitat, the car delivered way, way more than I could anticipate. Launching off the start line, the first sense to be assaulted is hearing. The bespoke, high-revving 2.5-liter 60° V6 engine changes in note from a burbling idle through to a sonorous scream as the revs rise. It's also worth noting at this point that the Alfa 155 is the only car I've ever shifted up 'early' at 9,500rpm – some 2,000rpm shy of when the car produces its peak 480hp. Then it's sight that takes a beating as the tree-lined route begins to pass by extremely quickly. The tricky clutch also transformed in to one of the most beautifully weighted pedals I've ever used, and the slick mid-mounted gearbox made snapping up through the gears an absolute delight. Despite being on all weather tires, and going straight from Parc Ferme to the start line with very little opportunity to warm either the tires or brakes, the levels of grip the car produces are staggering. Built to FIA Class 1 touring car regulations, the trickery going on below the wheel's center line meant that the first corner could be taken much quicker than originally anticipated (as I found out on my second run) and despite being cold, the massive AP Racing brakes shed chunks of speed from the circa 1,000kg racer with aplomb.
The Alfa's delightfully 'old-school' Momo steering wheel, devoid of any switchgear or toggles, was perfectly sized and the extremely quick rack also transformed from being an absolute pain at walking speeds to one of the most direct and tactile I've ever encountered. In a priceless car, in front of 100,000 camera phones I admit I took it easy; particularly through the notorious Molecomb bend. But the Alfa 155 DTM inspires such confidence through its competency that I imagine that most corner entries could have been barrelled into several mph faster, squared off under heavy, late braking and thanks to the snappy rack, apexs would still be made before accelerating out of at lightening pace. Sadly, even at my 'relaxed' pace, the 1.16-mile tight and twisting course was dispatched in a little over 50-odd seconds.
It may be obvious from my repeated gushing, but I'm still in awe of the whole experience. They say you shouldn't meet your childhood heroes, but when it comes to cars, I'm still yet to be disappointed. As much as I loved the Alfa Romeo 155 V6 Ti as a child, I can't begin to explain the emotions involved on the day I sat behind the wheel. Oddly, I can't even say experiencing it is something ticked off the bucket list, as the opportunity to drive a DTM car through Lord March's back garden at high-speed seems so surreal, so far detached from reality, that I never dreamed I'd get chance.
A huge thank you to Alfa Romeo and its Heritage collection, the extremely patient and tolerant mechanics and support team, and especially to Krystyna Perry for offering the opportunity in the first place. I'm now off to dig out the Tamiya RC car from the parents loft space as it may be some time before I'm off cloud nine!