In June this year, the USA will see the arrival of a new short-track (under 1 mile/1.7km) oval race series, the Superstar Racing Experience (SRX). It is the brainchild of three-time NASCAR Cup champion Tony Stewart, and Ray Evernham, the former NASCAR crew chief who also has three championship wins to his name.
The series has a similar remit to the defunct International Race of Champions (IROC), pitting successful drivers from various disciplines against each other in equal machinery. The list of names signed up so far is impressive: Stewart will be piloting a car, alongside fellow NASCAR personalities Michael Waltrip and Bobby Labonte, as well as IndyCar 500 winner and series champion Tony Kanaan, to name just a few.
The championship will also bring in wildcard entries from local drivers at each round, as well as a few ringers currently active in top-level championships. SRX is geared firmly toward a TV audience: the Saturday night races are set to be short in length and closely fought across the 12 car grids, with CBS Sports signed up to televise the events.
The cars, all identical, have been designed by Evernham and Fury Racecars, based in Mooresville, NC, (where Evernham is also based). PMW spoke to Evernham about the design and build of the machines – which will race on paved ovals, dirt ovals and, in the second season, road courses – to find out what steps have been taken to ensure parity in terms of performance and driver feel.
"Most people when they start a series like this pick an oval car, then worry about converting that to a dirt car, then converting that to a road race car," explains Evernham. "But we started with a road race car – very similar to a Trans-Am car – then converted it to pavement oval and also dirt. So probably the place the car is going to feel least good is on a paved oval."
This is important because, given the nature of the tracks, stock car drivers should have an inherent advantage. However, Evernham is at pains to point out that "it's a very unique animal, the car won't feel like anything that they've [stock car racers] raced before".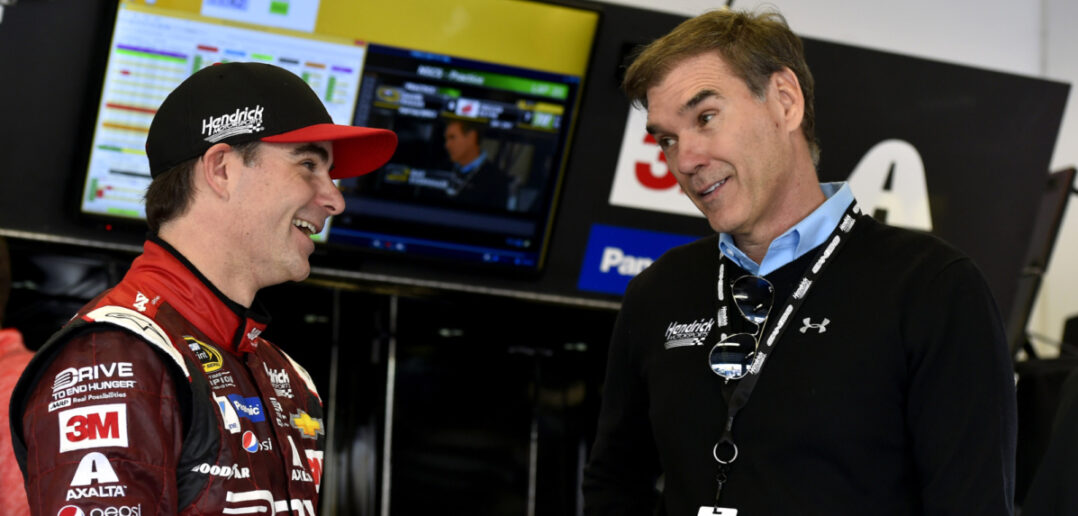 He highlights, "The biggest fact is that the center of gravity is very different and much more in the center [than an oval car]. It has very little left-side weight bias and there's no suspension offset. It's really not made to turn strictly left, so it's not going to respond like a paved oval car." Instead, he says, the focus has been on building a chassis that responds well to driver inputs. "We've worked on this car really hard to make sure that it drives with the driver tools: the steering wheel, the brake pedal, the gas pedal."
The chassis in question is, of course, based around a tubular steel frame with box section chassis rails. Evernham says it takes its inspiration from a variety of sources including modifieds (a type of asphalt stock car commonly raced in the eastern US) and Trans-Am road racing as well as traditional stock cars. The equipment is as one would expect on a high-end stock car: brakes from PFC (Performance Friction Company), dampers from JRi, tires from Goodyear, etc.
Looking at the center of the chassis, the influence of NASCAR best practice is clear to see. Evernham explains, "I think NASCAR leads the way in safety, certainly in this world over here. I've been in racing for 40 years and a lot of what I've learned is about safety. I've just kind of taken the best ideas from all the series that we've been involved with. We've been able to put them into one car because we're not really limited by rules, manufacturer body styles or anything like that."
Power will be provided by a 690bhp+, 396 cui, pushrod V8, developed by engine specialist Ilmor's US operation and built around a similar package to that which the company supplies to the ARCA series as a spec motor (and the NASCAR Truck series in upgraded NT1 specification). The Chevrolet LS-based motor runs a Holley fuel injection system with coil-on-plug ignition, and SRX has also partnered with Edelbrock for the supply of camshafts (from its Comp Cams brand), pushrods and water pumps. In ARCA spec, the engine can run around 1500 miles (2,414km) before it needs a refresh, which should be enough for a season of SRX competition.
As to why this particular engine was chosen, Evernham says his primary concerns were parity and reliability. "Ilmor did the best job showing us that they could produce the motors equally – equal horsepower, equal torque – and deliver the motors on time. Our motor is not exactly the same as their truck motor, it's a little bit different. But it's still very much the baseline that Ilmor had. And really the fact that they have so much experience in racing, I mean, so much in every type of racing, when they pitched and showed us what they could do, it was really a no-brainer, they were the natural choice."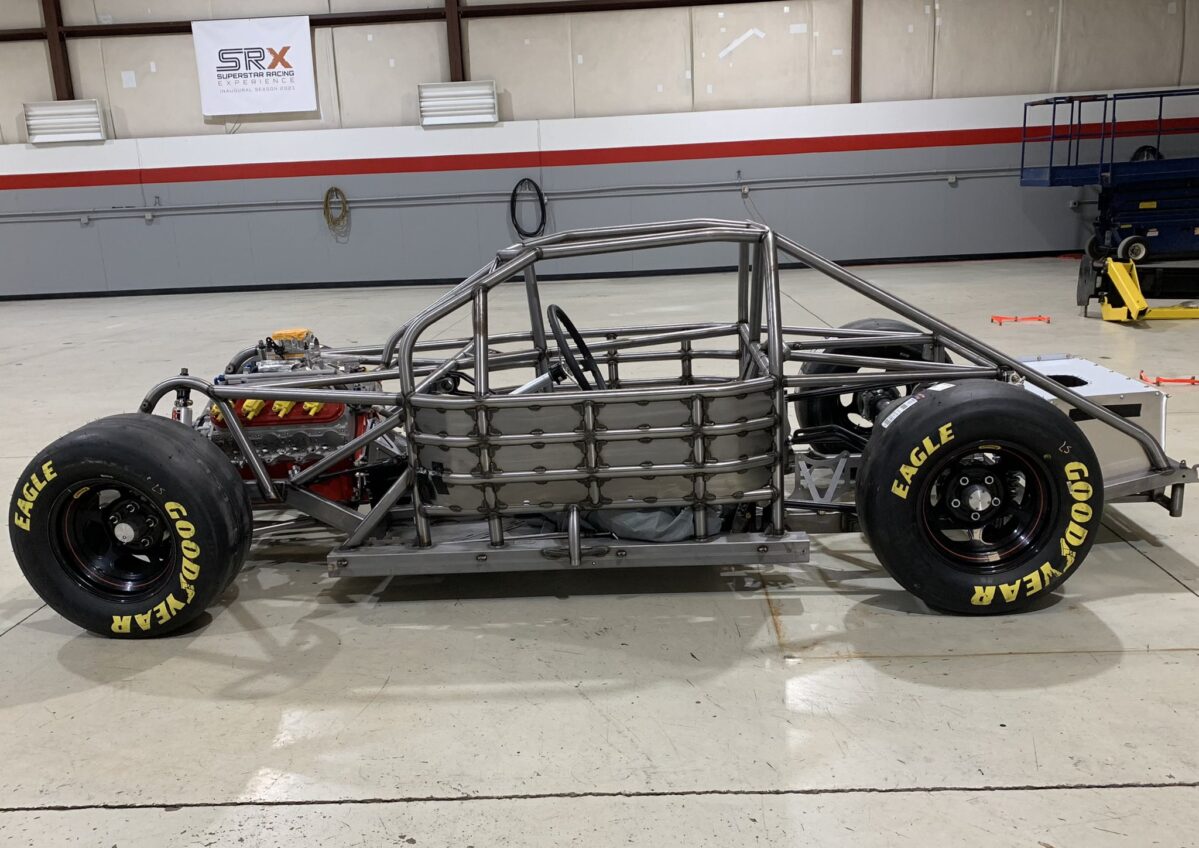 Reliability had to be high on the list, not simply to ensure the show is not spoiled by in-race failures, but also because of the hectic schedule. "We're running six weeks in a row, traveling from place to place," points out Evernham. "We're going to be a rolling roadshow, the circus, if you will, rolling down the road. So we're not gonna have a lot of time for changing motors. We needed something very dependable."
The back-to-back races mean the series will have to be self-sufficient when on the road as it makes a  4200 mile (6,760km) circuit of the US. Given the inevitable on-track incidents, spare parts and cars will all be carried along. "We're gonna build 16 cars to begin with and we'll probably build two more, at least," says Evernham. This will be in addition to spare front and rear clips and at least half a dozen extra bodies.
"You know, I counted it up the other day, and right now there's 14 vehicles that will be leaving here to go north to Stafford Springs, Connecticut [the first race venue]," he remarks. "We're going to be a veritable Barnum and Bailey show for six weeks. We're bringing a rolling fab shop inside of a hauler that we can use for build and repair. We've also made contacts with people in the areas of the racetracks in case we need to use their fab shops."
Of course, making cars equal from a mechanical perspective is one thing, but making them perform the same on track is quite another. Drivers will all have their individual setup preferences and naturally, dialing in a car to suit a given track as it evolves through a night's racing has a huge impact on performance. Here, Evernham says SRX will take an interesting approach.
"Each car will have a car chief, supplied by SRX, and then we're going to have four legendary crew chiefs from NASCAR and IndyCar racing and they'll draw for which drivers they look after, with three drivers on a team. They'll be able to help those drivers adjust their driving style, make adjustments to the car and whatnot – we want to make that part of the show. The drivers are going to get a chance to adjust on their cars a little bit. There's going to be a small window of adjustments that we're going to allow between our races, for the driver to either make the car better during the night or have the coach be able to talk to the driver about his style, or her style, and make them a little bit faster."
The first SRX race is set for June 12, and the series backers have high hopes that it will attract strong support, drawing new fans and stock car racing's grassroots. It will also, hopefully, be a shot in the arm for the US's short-track venues, some of which have suffered heavily following a year of pandemic-induced shutdowns.