With Formula E's eighth season fast approaching, hardware development has been frozen to cut costs ahead of the introduction of Gen 3 machinery for Season 9. However, the arrival of a new qualifying format and tweaks to the race format mean teams have been far from idle.
With software tuning the only remaining avenue of investigation, they have been hard at work chasing the marginal gains that can prove decisive in the tightly fought series. PMW caught up with Lewis Butler, technical director for Mahindra Racing, at the team's new livery launch, held at the opening of powertrain partner ZF's latest UK facility last week (November 18).
"The primary thing that they leave open in Formula E, and it's done deliberately compared to a lot of other formulae, is the software," said Butler (below left), explaining the reasoning behind the current development freeze. "The only reason we would be allowed to change things in hardware land now would be if there's a reliability issue, which you have to prove. It basically means we're locked in to a two-season cycle to help save costs on development. It also encourages more of what they'd [the organizers] like, which is the event by event and season to season development from purely the software side."
As to the extent of this development, while unwilling to giveaway specifics about Mahindra's program, Butler said, "That can range from anything from fundamental low level motor control improvements concerning accuracy [of control], basically reducing oscillations and noise, all the way up to a system level. Things like trying to understand what we do with our energy management, how we try and control the tires and the way they are being used, what can we do to aid the drivers within the regulation limits. We work on a priority order, identifying which of those are the pain points at each."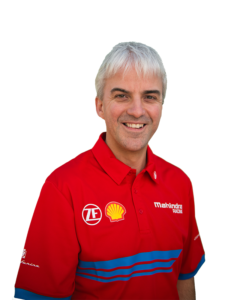 So far as tackling the new qualifying format, which will see an initial group stage run at a 220kW power output, followed by three duels at 250kW, flexibility is the name of the game according to Butler: "When you have this big contradiction between qualifying and the race [in terms of power demand] it's really important that our systems are adaptable enough and have a wide enough operating range. The need to be understandable by the driver in flat-out mode, as we call it, but also usable and tunable during the race [where energy conservation is key]." Effectively, noted Butler, the qualifying format means there are now two flat-out modes, one run at race power (220kW), but with no concern for energy conservation and one at the maximum 250kW output.
As to whether these changes could have an impact on serviceability and operation of the McLaren Applied-supplied batteries, Butler said, "Potentially it could, but it shouldn't in real terms because usage will stay within the bounds of what was put together in the tender process for the championship for Gen 2. They have been careful to ensure that there are no fundamental changes with the battery as that's something that nobody wants to invest in during this final season of the generation.
"It [the battery] is something that will be getting used differently. Sure, races will be longer, but because of that, it's likely that the energy will be used in a way that's potentially slightly better for the batteries at some events."