The University of Nottingham Racing Team was founded in 2016, with the Electric Bike Team achieving three podium finishes at the Isle of Man TT Zero in its first three years before deciding to branch out into other electric motorsports.
Their first challenge was an ambitious one: to create the UK's first all-wheel drive electric Formula Student car. To achieve this, they would need to develop a custom powertrain, from battery to motors and all the software included.
This process led to a shift in gears, and in 2021, they realized their potential with a new two-wheel drive design named Frankie – which achieved first electric place at that year's Formula Student competition. Racing against other universities from around the world, the competition is a meeting point for world-leading educational engineers, students and universities.
As part of the University of Nottingham Racing Team's extensive research and development of two further electric vehicles (one of which is to be solar powered), the team needed specialist equipment in its workshop to test its machines to the very highest standards. For this, the team turned to long-time partner Lauda – who it had collaborated with since Frankie – and the Lauda Integral Unit – IN 530 T Process Circulator.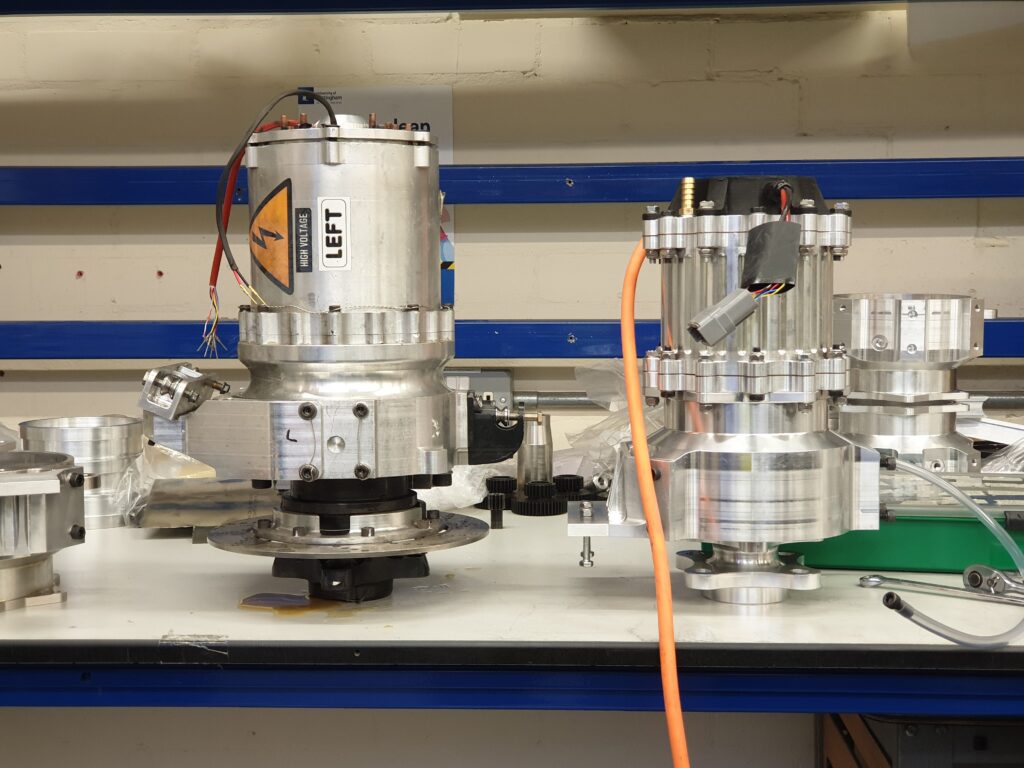 The challenge was to use a flexible and modular unit to test the thermal behavior of the motor and gearbox corner unit (MGCU) in the Nottingham university Formula Student car. The MGCU is designed and manufactured in-house, and two things are critical: ensuring the unit is as lightweight and small as possible. It is critical to optimize the thermal characteristics during testing.
The team also wanted to incorporate physical experimentation to support and validate the thermal models – and the Lauda IN530T offered an ideal solution. With a temperature range of -30°C to +120°C, the Lauda IN530T provides the perfect test environment for the MGCU, which operates safely in the range of 15°C to 120°C.
The MGCU is critical to the Formula Student drive-cycle and needs to be tested thoroughly as it's designed to operate over a complete endurance cycle. This consists of a 22km cone track with very tight corners and small overtaking straight-line stretches, typically lasting 30-40 minutes each. When faced with this challenge in real life, the team need to be confident their testing has proven they're track ready.
The Lauda IN530T provides the reliability the team needs during testing but also contributes substantially to improvements gained during development.
"The Lauda Integral IN530T provides incredibly powerful prototyping capabilities that may be used to validate the thermal behavior of future generation MGCUs, providing us with the opportunity to develop even lighter and smaller units," said a University of Nottingham Racing team spokesperson when asked why they chose Lauda.
"Take the improvement from first-generation to second-generation MGCU – the weight has been reduced by 33% despite the gearbox reduction ratio increasing to 14:1 (from 9:1 previously). This has contributed to an increased brake-torque output of 800Nm (up by 40%)."
Through its research and development – and sponsorships from companies with a shared interest in green technology and clean transportation solutions – the University of Nottingham Racing Team is contributing to a cleaner and brighter future for motorsport.