NASCAR's Next Gen car is a revolution compared to the last decades of stock car development, with the transmission no exception. For time immemorial, Cup cars have featured 4-speed, manual gearboxes. Come 2022, the H-pattern will be history, in its place a 5-speed, sequential transaxle, with an option for the implementation of a hybrid system at a later date. It will be a single supplier model – there are currently five approved gearboxes, from four companies – with Xtrac equipping the field.
Though better known for its sportscar and single seater transmissions, the company has a long association with NASCAR, having produced a 4-speed H-pattern gearbox and range of ring and pinions, with the latter providing a step change in durability and efficiency when introduced over a decade ago. Xtrac began early concept work on a potential Next Gen NASCAR transmission in mid-2018, at the request of a manufacturer wanting to assess options for adding a hybrid system to the cars.
Paul Barton, assistant vice president of Xtrac's North Carolina operations, explains, "We started looking at what the best packaging for a hybrid motor would be in terms of where to put it, starting with something along the lines of the Australian Supercars transmission [which Xtrac also supplies] with the addition of a P2 hybrid arrangement, where the hybrid motor would be introduced at the input of the gearbox, but off-axis."
Following this initial work, NASCAR issued a request for proposal in June 2019, for a transaxle unit with hybrid integration potential. The use of a transaxle layout was driven by the series organizer, as relocating the gearbox from the front of the car would reduce the volume of the transmission tunnel, in turn enabling the driver to be placed nearer the center of the car – desirable from a safety perspective.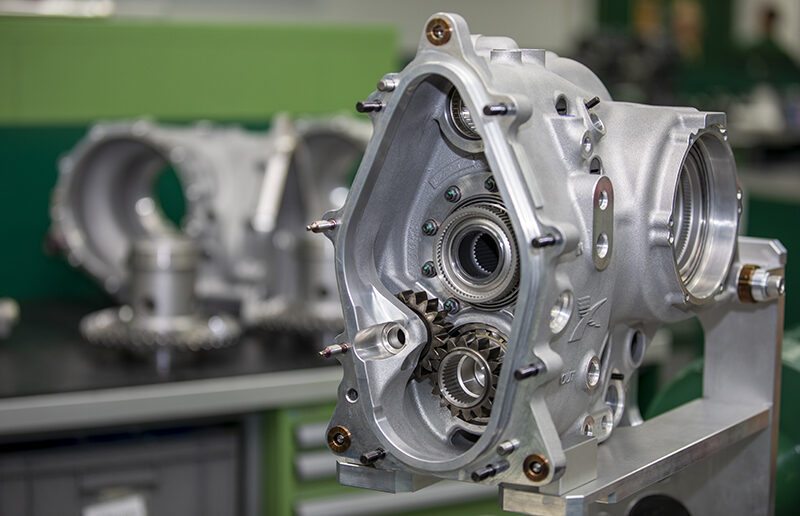 Beyond this stipulation, Barton says that the specification was wide open, even so far as not specifying the number of gears required. One of Xtrac's first tasks was to ascertain the gearing spread needed to accommodate the varied tracks Cup cars visit. With cost control in mind, NASCAR wanted a limited set of ratios to help reduce teams' inventory and thus costs.
"We've got a lot of experience supplying the existing ratios for the different tracks," outlines Barton. "We did some analyses of what cluster ratios all the teams are using, and from that tried to get within a small percentage of those with a selection of fixed cluster ratios." Currently, the overall gearing in top gear is mandated by NASCAR for each track, defined using the ring and pinion ratio; for example, a superspeedway such as Daytona will see a 3.45:1 ratio, while a short track such as Martinsville will use a 6.20:1.
The new transmission uses an input drop gear arrangement to tune the overall ratio (in the existing setup, top gear is a direct drive from the clutch to the rear axle) and to provide the required increments to enable NASCAR to fine-tune from event to event. Xtrac established that a combination of 13 input drop gears and three ring and pinions would cover the required range. Notably, at the uniquely demanding Martinsville short track, the gearbox will only be used in a 4-speed configuration to save costs for teams using the extreme ratio. Xtrac will supply three main gearbox configurations, A, B and C, covering high- to low-speed tracks.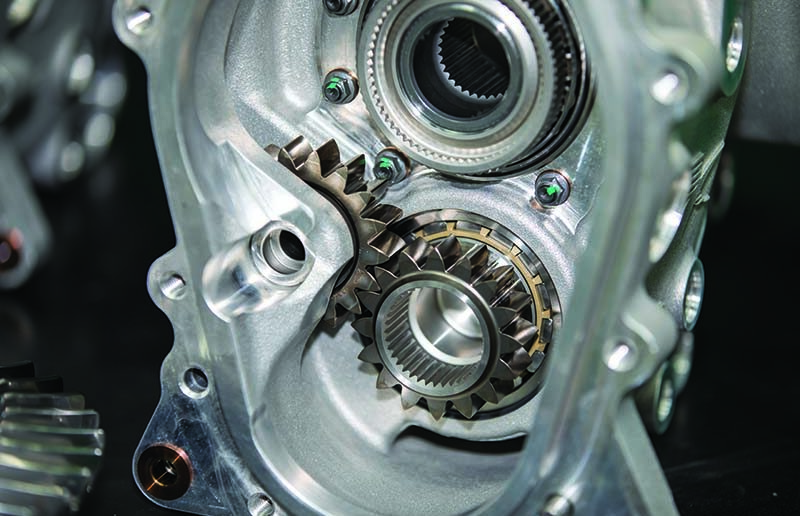 Given the relatively unknown performance of the cars, NASCAR will likely specify a number of drop gears that teams should carry to each race, to enable fine-tuning similar to its previous use of primary and alternate ring and pinion setups. Transmissions destined for road course use will have subtle differences to oval units, "For example, Watkins Glen is a B gearbox, but we change first and second gear, and Sonoma is a C gearbox where we change second gear to suit the specific track requirements," summarizes Barton.
Lubrication
Running on banked ovals presents a unique challenge when it comes to ensuring consistent lubrication of a transmission. According to Barton, initial track testing was conducted with the company's Australian Supercars transaxle, featuring only a single oil pickup at the rear of the casing: "As we expected, we saw a pressure drop off on the banking as the car gets loaded up on left-hand turns and the oil moves to the right-hand side of the box."
To counter this, the NASCAR unit features dual pickups, one at the rear on the center axis of the casing and another at the front right. This setup is shared across all transmissions regardless of track type, says Barton. Validation of the transmission design, including the lubrication, used both virtual and physical testing. Fortunately, Xtrac had developed its own in-house gimbal test rig, which was put to good use when establishing parameters such as oil fill levels and distribution within the casing.
"We built the first gearbox and ran it on one of our static rigs to make sure we had the intended oil pressure and flow, but it is hard to ascertain what the optimum oil level is on a static rig," notes Barton. Feeding the gimbal rig with data direct from teams could create a far better representation of real-world demands. "We could then start refining the oil level to a point where we're comfortable. We are brand agnostic but recommend 75W90, with a recommended fill of two liters," he says.
However, oil will not be a spec item, and teams will inevitably push the boundaries in pursuit of friction reduction, particularly on super-speedway tracks, running less oil and working with their respective partners to develop lower viscosity formulations. "We know teams will want to run less than two liters as they balance life versus performance, but that's their prerogative," muses Barton. He admits that teams have already asked the maximum oil temperature the transmission can be run at. The answer, he says, is 120°C, the standard for all of Xtrac's fixed specification products, though he knows teams run the existing ring and pinions hotter at certain tracks.
The transmission is built to handle the 750bhp maximum output of the current Cup engines, with an additional 150kW (200bhp) for a future hybrid, while also accepting the back torque spikes caused by wheel hop which can occur as cars come into pit. NASCAR did not specify a mileage requirement, an understandable omission given the very different duty cycles seen from track to track. However, a reasonable running distance is expected and Barton notes that with its current ring and pinions, a big team is happy to achieve 500 miles use at a track like Martinsville, but on superspeedways, a running life of 8,000 miles is not unheard of.
Differential
When Xtrac first looked at the NASCAR transmission brief, its initial feeling was that using a spool, rather than a differential would be an ideal solution, similar to the system used in Australian Supercars. However, the OEMs were adamant they wanted a differential in the cars, to increase road relevance, so a limited slip unit was specified. Barton recognizes the dichotomy here, with the addition of what is in effect a tuning device to a sealed transmission. "We suggested that it would be a great marketing tool, having an adjustable, torque biasing differential, so NASCAR allowed it to be externally adjustable."
The adjustment system applies positive preload to the differential via a nitrogen charged piston, a system Xtrac has deploys across several other race transmissions over the past 10 years. The benefit over a traditional mechanical adjuster using adjuster gears is that it allows very light preload levels, if needed, which can be challenging to achieve mechanically. Barton explains, "If you want to run, say, 10Nm preload with a mechanical system, you can find that the preload may unwind due to, for example, wheel hop when coming into the pitlane."
Xtrac is not expecting teams to make differential adjustments often, with Barton predicting they will find a sweet spot from track to track (the piston is charged via a needle, with access not easy on a closed body car). The differential will only be available with a single ramp option from the outset, though Barton suggests that high-, medium- and low-speed transmission ramps could be provided later. "We tried to mimic the existing Detroit Locker with quite an aggressive ramp," he says. "We didn't want the drivers having a very different feel to what they are used to, but there may be demand to change to something less aggressive for different track types."
Mass production
The scale of NASCAR, even in its pared back Next Gen form, is formidable. To put the level of manufacturing demand in perspective, Barton estimates the company has supplied around 150 transmissions to IndyCar since the arrival of the DW12 chassis in 2012, yet it has already delivered more than 120 Next Gen transmissions before the first open test, and is expecting to deliver 300 to NASCAR teams before the first race at Daytona in 2022. Teams won't be rebuilding their own transmission either, so Xtrac's workload will be relentless from the outset.
"Xtrac's business model changed massively when it became a sealed gearbox," points out Barton. "If you imagine supplying 40 Cup cars with a new product, the spares sales would have been massive in year one, because everyone says they want five of each part. Now, it's not really a spares business, because we're having to hold all the spares ourselves, it's turned into more of a service model. "We have come up with different service models, looking at the likely schedule, and from that we can establish how many gearboxes a team will need, depending on the service model that they pick," he says.
The company has also taken steps to ensure its supply chain is secure, such as signing up two separate foundries for production of the casings. Xtrac is acutely aware that any increase in losses from one unit to another would be picked up on by the intensely competitive NASCAR paddock; all big teams have access to advanced transmission dynos. To prevent this being an issue, it has implemented stringent consistency targets and has revamped some of its build processes to be able to provide supporting evidence (for the governing body) of build consistency.
According to Barton, these process revisions have paid dividends. "Of the first 40 transmissions we built, eight were on the limit of the acceptance, so warranted an additional audit of the pre-loads, and we were able to further minimize the variability of the performance. We're looking for a very narrow band of acceptance criteria, the feedback [from teams] on repeatability has been excellent." As he highlights, Xtrac saw great success with its range of NASCAR ring and pinions, where 0.2hp gain over the competition, a tiny amount on a 750bhp engine, was deemed significant. Xtrac knows the stock car industry and is accepting of the fact that there will be some resistance to change and that drivers will also have to adapt their driving to a sequential transmission.
For example, where they currently drop into neutral and cut the engine to save fuel under a caution before bump-starting the motor in fourth gear, this will not be possible with the sequential shift. Its approach to countering any talking-up of issues is to provide as flawless a product as possible; with up to 40 transmissions a month now shipping to teams, it is determined to feed the insatiable demand that is unique to NASCAR.