UAE-based race team Al-Futtaim Lexus has teamed up with Red Bull drift racer Ahmad Daham to develop a new Lexus RC F drift car. In a rare positive caused by Covid-19, the new-car build was enabled by the cancellation of competitions due to the pandemic! Daham used the extended off-season to undertake the project at a more measured pace than the development of his previous (also Lexus based) steed, which was completed in just 70 days.
The latest car uses a Lexus RC F chassis and is fitted with a modified Toyota 2JZ, straight six, running a single Garrett GTX3584 turbocharger. Output is said to be 'around 1,200bhp' with the addition of nitrous-oxide injection, while drive is via a four-speed Samsonas' sequential transmission through a Winters' rear diff.
Thanks in part to the use of carbon-kevlar body panels, the vehicle weighs around 25% less than a stock car, tipping the scales at 1,250kg. According to Daham, he and his team have shaved 450kg from the weight of the original car and he says they have achieved close to a 50/50 weight distribution front and rear (see spec table below).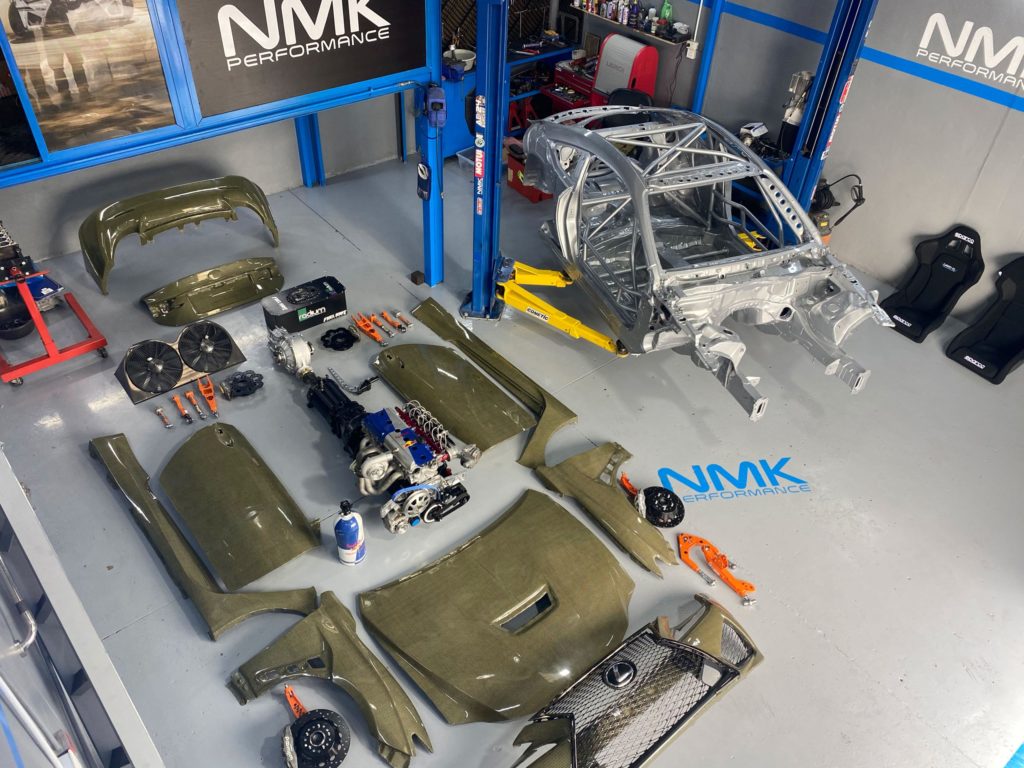 The latest build was not without its challenges: while Covid-19's presence actually enabled the build in the first place, the resulting restrictions banned all vehicles from the road, meaning many parts sourced from abroad either never arrived in the country or landed, but were unobtainable for some time.
Daham plans to compete the car in both the Drift Masters European Championship and Formula Drift when the season gets under way.
Lexus RC F Drift Car technical specifications
Engine
3.0-liter in-line 6-cylinder with VVT-i
Max. power (hp)
1,200
Max. torque (Nm)
1,464
Max. RPM
9,000
Curb weight (kg)
1,250
Weight distribution front/rear (%)
47/53
Fuel system
Radium Engineering 40-liter, fuel cell, pressure regulator, fuel filter and 1,700cc Injector Dynamics
Turbocharger
Garrett GTX3584RS with Tial 60mm wastegate
Transmission
Samsonas 4-speed sequential with Competition Clutch 215 Victory Series clutch, Winters Performance quick-change differential, carbon fibre driveshaft and Stage 5 axles
Electrics
Thunder ECU, AIM dash, fuel pressure and temperature sensor, EGT, wideband sensor, 4-bar map sensor and port boost solenoid, all by Link
Cooling
HGK custom radiator with carbon-fibre shroud, Spal dual fans, Dual Mocal 25-row oil coolers and Garrett 3.5in intercooler
Suspension
BC Racing 2-way custom coilovers, FIGS Engineering knuckles and arms, Nitron 3-way adjustable front and rear coil-overs
Brakes
Front Wilwood drilled discs and 6-pot callipers

Rear Wilwood drilled discs and 4-pot callipers

ASD hydraulic parking brake

Wheels & tires
Rays 57CR 18×9.5 (front)

Rays 57CR 19×10.5 (rear)

Toyo PROXES R888RD 255/35R18 (front), 285/35R19 (rear)

Bodywork
Complete carbon-Kevlar Rocket Bunny aero body kit

Carbon-Kevlar roof and doors

Interior
Carbon-Kevlar Sparco seats with Schroth 6-point seatbelts

Sparco steering wheel

Part-flocked carbon fibre dash

Tilton adjustable pedal assembly