Ahead of the final grand prix of the 2017 F1 season, Pirelli has unveiled its new range of 2018 Formula 1 tires. The new selection adds an additional two extra compounds and colours, as well as fresh constructions, compounds and working ranges.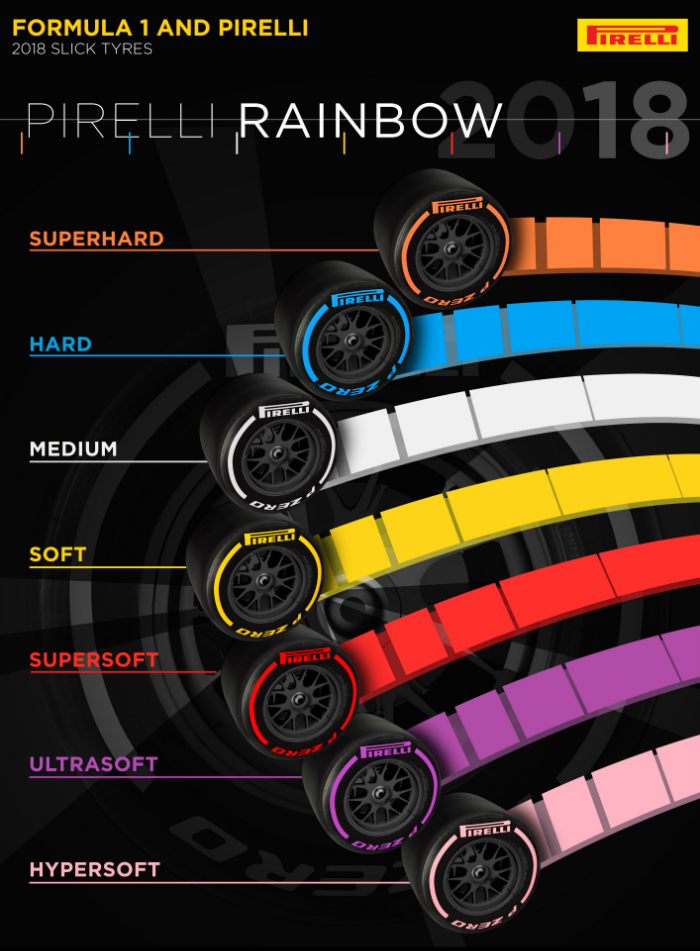 Pirelli states that all of the compounds are a step softer than this year, which it states will make them the fastest tires in Formula 1 history. Brand new for 2018 is a tire that sits below the ultrasoft: an even softer compound called P Zero hypersoft, which is colored pink, and is the softest Formula 1 tire that
Pirelli has ever made. This new compound will be suitable for circuits where maximum
mechanical grip is required, such as Monaco.
Also new for 2018 is the hard compound, which will now be coloured ice blue, whilst the new superhard, will be orange. In total, there will now be seven slick P Zero compounds, which together with the new
Cinturato intermediates and wets expand the 2018 range to nine options.
Pirelli also states that the compounds and constructions have been redesigned for each tire, which are 'in keeping' with its philosophy of renewing the range every year since the Italian firm returned to
Formula 1 in 2011.
The new tires also introduce a new working ranges across the entire family as well, which together with the increased number of compounds, will allow tire nominations that are more specifically suited to each race next year. For Pirelli and the Teams, this also means that there can be more flexibility and variation in the tire choices, leading to extra opportunities when it comes to formulating creative race strategies.
The brand new pink tire was named the P Zero Pink hypersoft following a poll across Pirelli's social media channels, endorsed by the sport's leading personalities, who invited fans to choose a new name after the Brazilian Grand Prix.
"Compared to this year, when the tyres grew by 25 percent to fit a brand-new generation of cars, the changes for next year are less far-reaching," explained Mario Isola, Pirelli's head of car racing. "However, we're pleased to present some important innovations with softer and faster compounds across the range: including the new hypersoft. We realised that, under the unique circumstances of this year, some of our 2017 compounds were perhaps conservative: the tyres we have created for 2018 addresses this, in line with the objective of having around two pit stops at most races.

"The fundamental design concept of the tyres hasn't changed next year, preserving the attributes that all drivers have appreciated this year and allowing them to push hard from the start to the finish of each stint. The new range consists of faster tyres that should lead to even harder and more spectacular racing in 2018."