J's Consulting has officially announced that it has become the promoter of the TCR Korea Series. The first round of the series will be held in July 2018. The full details have yet to be announced, but it's envisaged that the series will be made up of three rounds for next year, with each event consisting of two races. An official test will be held in June and the events will be held in July, September and October.
Launched in 2015, TCR is a new Touring Car competition aiming to provide sustainable long-term opportunities for teams and drivers. Unlike existing races with high cost structures, TCR is low-cost and accessible racing. It's a customer-oriented series that aims to offer significant business opportunities to teams and manufactures in terms of supply and management.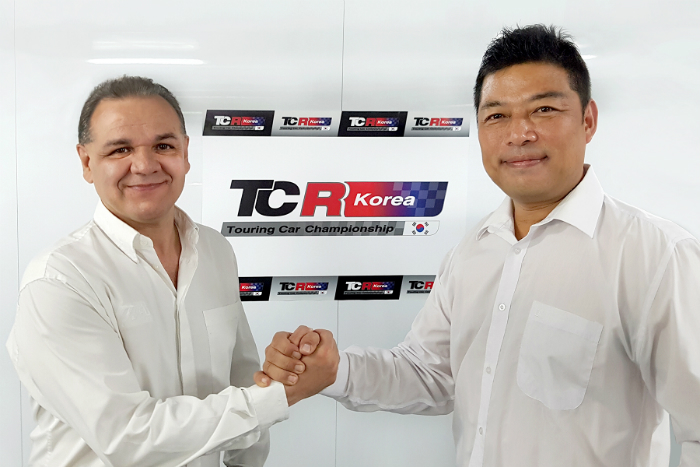 TCR provides close and exciting racing while keeping the running costs under control. The TCR cars cost comparatively reasonable as there is a maximum cap of €135,000 (US$160,000) for the purchase of the car. The TCR concept maintains a long-term stability of the regulations to control production, development and running costs, ensuring a long life for the cars while it is enhancing the competition through a Balance of Performance system.
The TCR concept and regulations are adopted by a number of national and regional Series. Regional Series are held for Asia, Europe, Middle East, with National Series held in Germany, Italy, Portugal, Thailand and China. In 2018, the TCR Korea Series will be launched alongside the USA, France and the UK.
The success of the TCR concept can also be measured by the list of eligible cars that includes the SEAT León, Volkswagen Golf GTI, Audi RS 3 LMS, Honda Civic Type-R, Opel Astra, Alfa Romeo Giulietta, Subaru WRX STi, Peugeot 308 Racing Cup, Kia cee'd, Ford Focus, and the new Hyundai i30 N TCR.
Korea has a strong affiliation with the TCR concept, with the TCR Asia Series competing at the Yeongam circuit in past seasons, whilst last October, Hyundai unveiled it's i30N TCR, a debut which saw victory in the car's first outing in the TCR International Series in China. As domestic brands have developed, TCR racing cars have successfully launched onto the international stage, boosting expectations for the TCR Korea Series.
"I'm very pleased to launch the TCR Series in Korea for next year, as the interest in Touring Car racing around the world is growing and Customer Racing is become a worldwide trend," Hongsik Jeon, the promoter of TCR Korea commented. "With the TCR Series enabling teams in Korea to use the same cars to contest national, regional and international championship, I believe that the launch of TCR Korea Series will provide a big chance for teams to develop not just locally, but internationally as well."
"I am delighted to welcome TCR Korea into the TCR family," WSC Asia Limited's David Sonenscher added. "I believe that TCR Korea under the stewardship of J's Consulting will be a strong addition to the numerous Championships that we have established across the globe and will strengthen the TCR concept and brand here in Asia. I am certain that TCR Korea will provide the close action and exciting racing that TCR has become widely known for, and with the recent launch of the Hyundai i30N TCR, the battle between domestic and International brands will provide an unrivalled attraction for Korean motorsport fans. I wish J's all the best and we also look forward to holding joint TCR Asia and TCR Korea races in the near future."