Porsche specialist Singer Vehicle Design has kicked off the new year with its All-terrain Competition Study, undertaken in partnership with renowned 911 rally specialist, Richard Tuthill.
Built in response to a customer request to take their 911 off-road racing, the car is based around a 1990, 964 model, which has been extensively modified to compete in events such as the Baja 1000. In addition to considerable reinforcement of the chassis, it has a completely revised suspension system, featuring twin, five-way adjustable dampers at each corner. Meanwhile, the steel OEM shell has been clad in a carbon fiber body, designed for rapid removal to aid maintenance. Drive from the 3.6 liter, turbocharged flat six, which produces 450 bhp, is run through a four-wheel drive transmission system with center and rear limited slip differentials.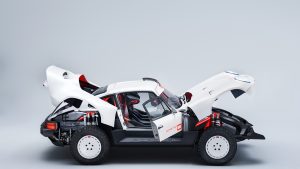 Rob Dickinson, founder and executive chairman, Singer Group, commented, "So much of what we've done for the last decade has been inspired by Porsche's competition success and the All-terrain Competition Study provides us the opportunity to showcase that idea literally and vividly.
"We've taken particular inspiration from the iconic Rothmans-sponsored 911 SC/RSs and 959s that conquered events like the Qatar International Rally and Paris-Dakar in the mid-'80s and, at the request of our client, have reimagined these all-terrain 911's in their honor while utilizing fresh perspectives and state of the art know-how.
"We feel confident this machine can appeal to off-roading enthusiasm of all kinds, whether it be in the pursuit of professional competition at the highest level or adventure and exploration. ACS advances Singer's capabilities in forced-induction, all-wheel drive, off-road ability and dynamic response – all of which will support our ongoing mission. This pursuit of focused competition studies is something you will see more of from us in the future."
Richard Tuthill added, "This collaboration brings together the best of innovation, cutting-edge technology and decades of real rallying experience into one, amazingly capable, all-terrain off-road racing vehicle. In the 1980s we partnered with Prodrive to prepare bodyshells for the Rothmans 911 SC/RS that was part of the inspiration for ACS. I am delighted to have now partnered with Rob and the team at Singer to bring this incredible machine to life and look forward to working with them in the future. I am incredibly proud of what we have achieved."