A collaboration between simulation specialist Ansys and Ferrari has seen the development of a HUD (head-up display) concept for use in the Italian marque's 488 GTE car.
While HUD displays have become relatively commonplace in road cars, racing drivers still tend to receive data such as lap times and warnings via radio, pit boards or, in some cases, through their dash displays.  Ferrari has sought to improve on these practices with a HUD. In some ways, it is surprising that race teams have taken so long to cotton on to this approach, given its widespread use for many years in fighter aircraft, a similarly chaotic and complex environment to that found in a race car.
"Communication among engineers, drivers and the pit crew is critical in a race, so we want to explore the most efficient means of giving the driver all the information they need to win," says Mauro Barbieri, GT endurance racing performance engineer from Ferrari. "A HUD is promising, not only for speed of communication, but for added safety. Of course, to be safe the information displayed must be clearly visible without obstructing the course."
Ferrari and Ansys engineers used the simulation specialist's Vrxperience software to virtually test the parameters of the proposed system. Most importantly, the HUD display needed to be readable at all times, whether the sun is on the horizon and shining directly on the windshield or when racing at night. One only has to think to the complex conditions experienced running a race such as Le Mans, with faster and slower traffic on track and lighting conditions varying from pitch black to bright floodlit sections around a single lap.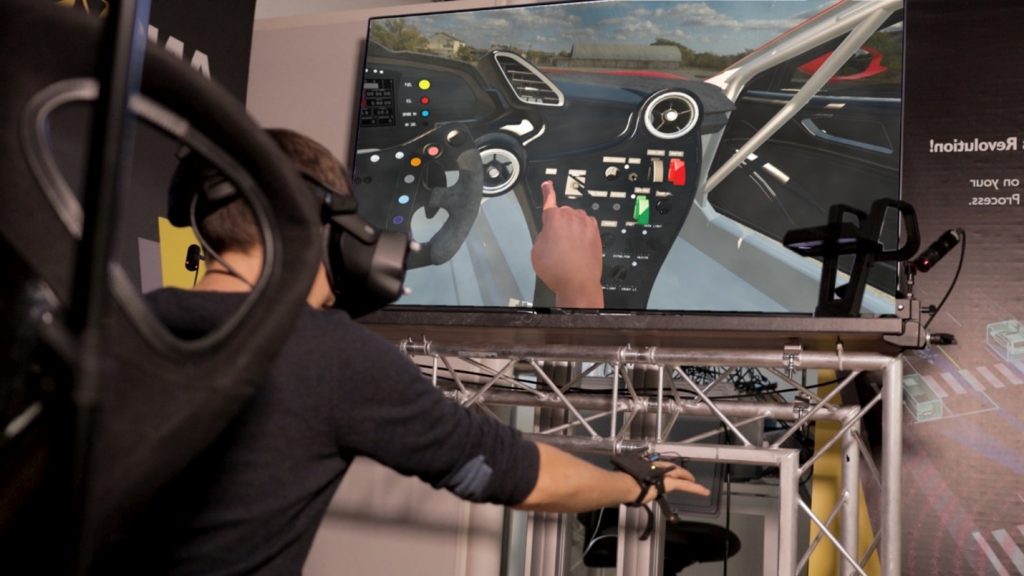 Obviously, the amount of data displayed and its location on the windshield is an important variable. Too much information overloads the driver, whose attention must focus on the track and the surrounding race cars, too little and the system would not justify the inevitable weight penalty its installation entails. Data projected onto the windshield also needs to be in positions that the driver can see easily without blocking their view while driving at speed through traffic.
Instead of trying to build a physical prototype of a HUD system for a race car, the Ansys software was used to construct a virtual model that could be used in conjunction with a driving simulator to test the new components and their functionality. The engineers simulated various light intensities from the projector combined with all angles of the sun – from the horizon to directly overhead – to determine the optimal projection brightness and to verify that projected data was visible no matter what the sun's position.
A human-machine interface (HMI) was also developed that Ferrari's drivers could use to evaluate the experience of driving with a HUD. They were able to provide feedback on the types of information they need and how best to display it, with speed, time behind the car in front, lap time and warning flags highlighted as the most critical elements.
"We have been considering adopting a HUD system for our race cars for a long time," continued Barbieri. "But we were concerned about the amount of time and effort it would take to design and test such a system. Collaborating with Ansys engineers [and using their systems] minimized the time it took to prove the concept of using a HUD in race cars. Now we plan to continue using Ansys simulations as we further develop a working model for use on the track."