Volkswagen has finally unveiled the R5 variant of its Polo GTI. Destined for its customer motorsport program, the R5 is based on the sixth and latest generation of the new Polo.
The company states that the development of the new rally car incorporates experience and know-how acquired from its four-year stint in the WRC.
"Presenting the new Polo GTI R5 to the public was a magnificent moment," said Volkswagen Motorsport Director Sven Smeets. "The close relationship to the road-going Polo GTI is unmistakable. In the rally Polo, the GTI family has another spectacular ambassador. Our team and the colleagues at Volkswagen Design in Wolfsburg deserve great credit for this. Over the coming months, the Polo GTI R5 must prove itself in a series of tough scenarios, in order to ensure that it can build on the success of its predecessor in the customers' hands."
The car has been in development since the start of 2017, with initial asphalt and gravel testing taking place in mid-November, in Fontjoncouse, France. The program is set to continue in Great Britain later this month.
"The Polo GTI R5 came through the initial tests without any problems. The feedback from the test drivers was very positive," added technical director François-Xavier 'FX' Demaison. "It is obviously beneficial to be able to call upon an experienced team of engineers and mechanics, who helped to develop the Polo that won the world championship. And it goes without saying that, as we have in the past, we are also taking advantage of the close and excellent cooperation with the colleagues in the technical development department in Wolfsburg, as well as our Škoda colleagues, who have been offering their customers an R5 car since 2015."
The Polo GTI R5 is powered by the same inline four-cylinder turbocharged engine, which is mounted transversely in front of the front axle, as the road car. In R5 application, the engine's capacity is reduced to 1.6 litres, in accordance with regulations. This generates 272 hp and 400Nm. This is transferred via a close-stepped, sequential, five-speed racing gearbox and permanent four-wheel drive. Weighing 1,320kg, VW is claiming a 0 to 60mph (100kph) sprint of 4.1s.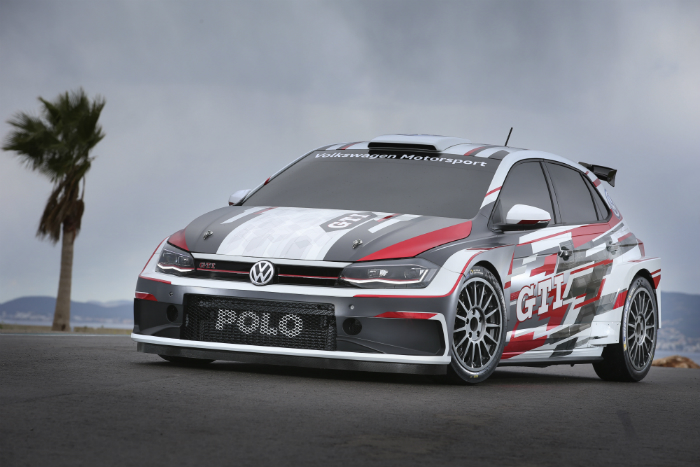 Volkswagen expects the GTI R5 to be homologated in the summer of 2018, with first deliveries planned for the second half of the year.
In 2012, the International Automobile Federation FIA passed the R5 regulations for a new generation of rally cars, aimed primarily at customer teams, talented youngsters and privateers. Since then, more than 400 cars have been produced by five different manufacturers and have been in action in national and international championships all over the world.