An all-new WRX rally car has been revealed by Subaru, designed for entry into the Open 4WD class of the American Rally Association (ARA) Championship. The car will debut at the Ojibwe Forests Rally on August 24-25, 2023, piloted by team #180 – driver Brandon Semenuk and co-driver Keaton. Travis Pastrana will also join in a second car in the 2024 ARA season.
Constructed by Subaru's technical partner Vermont SportsCar (VSC) over an 18-month period, the competition vehicle is based on the OEM's very first current-generation Subaru WRX, with power provided by a fully bespoke turbocharged 2.0-liter four-cylinder boxer engine. To ensure the powertrain complies with the requirements of its class, a mandated 33mm restrictor is fitted and the boost limit set to 22psi. In racing trim, the engine produces 325ps and 515Nm of torque, combined with a SADEV six-speed close-ratio transmission to deliver power to all four wheels.

R53 Suspension provided the springs and dampers for the car, with VSC designing the crossmembers, links and hubs to manage wheel movement. To increase chassis rigidity, the entire shell was seam-welded and an FIA/USAC-specification roll cage was fitted. An 82-liter Kevlar fuel cell takes place of the stock fuel tank, while Sparco ADV Prime competition seats provide additional safety for occupants.
In keeping with the latest ARA aerodynamics ruleset, the WRX's carbon-fiber widebody kit was designed from the ground up, complete with a large rear wing.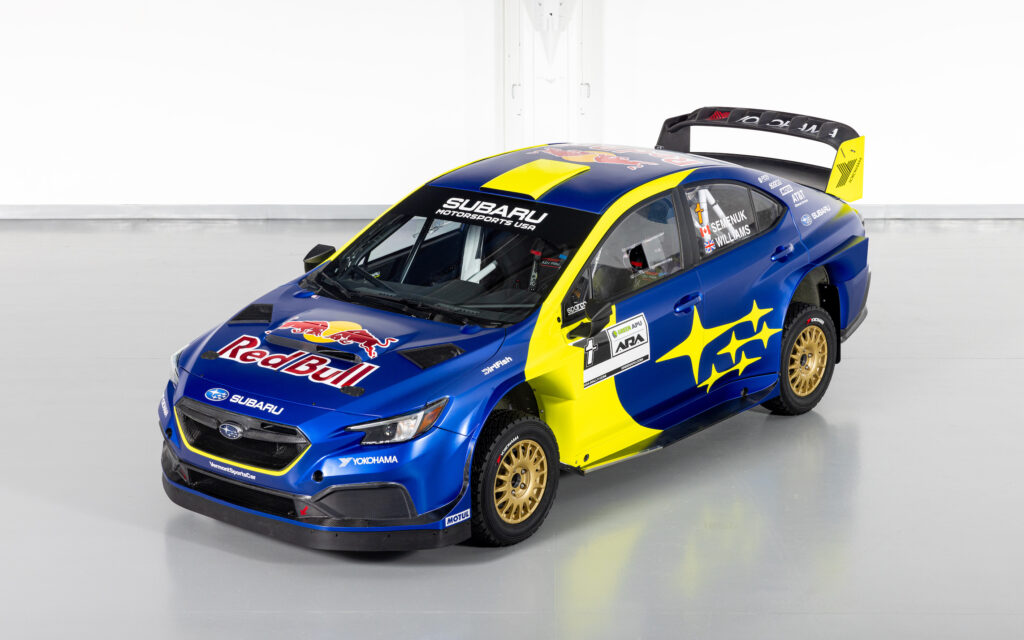 "The new Subaru platform is amazing and the chance to battle again with two-time and defending champion Brandon Semenuk is going to be so much fun," said Travis Pastrana. "When Brandon joined the team, I was the veteran. But the tables have turned and I'm looking forward to learning a lot and hopefully getting back to the top. I've only been away from the sport for a year but a lot has changed and I'm ready for the new challenge."
"The release of the new car will bring an exciting future along with it," explained Brandon Semenuk. "This platform has been completely reengineered and the car looks and feels more dynamic. We will also have Travis coming back to the championship next season, which I'm looking forward to. Not only is it more fun having a teammate, but you learn so much more with a two-car team, and this will be important for the ongoing development of the platform."
Read more Subaru news here