The FIA has unveiled a new set of technical regulations for Electric Sport Vehicles (FIA ESV) which focus on the development of race cars derived from roadgoing electric vehicles (EVs), particularly GT type cars.
The FIA emphasizes that these regulations have been designed with the aim of promoting affordable and entry-level electric racing while ensuring compliance with their rigorous high-voltage safety standards. These regulations cover both technological advancements and safety considerations, with an optional provision for performance management based on specific competition requirements.
Member clubs are identified as the primary target for these regulations, empowering them with the tools necessary to develop race series that can effectively cater to the growing number of EVs. A stated advantage of the new rule set lies in its ability to facilitate the use of the same car across various sporting formats, including circuit racing and sprint-type events, even those demanding road-legal homologation. Consequently, competitors are afforded the convenience of driving their vehicles to and from the actual events.
Similar to the Group N regulations employed in the past, the primary objective of the FIA ESV rule set is to minimize the adaptations required from the original roadgoing production model. Aligning with the latest trends in road cars, the class encompasses both Grand Touring cars and four-door, coupe-shaped sports sedans, with chassis height capped at 1,460mm.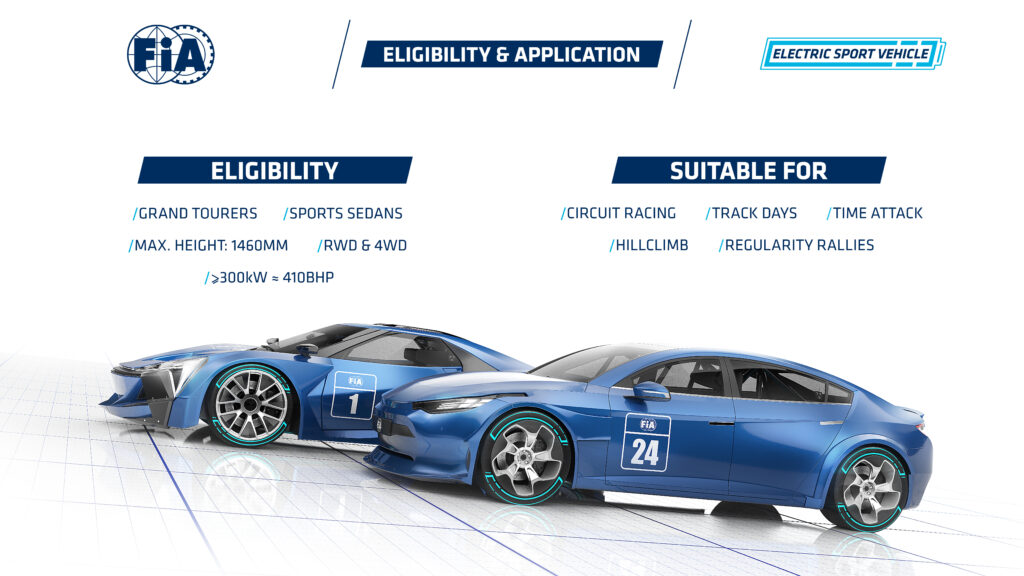 According to the technical regulations, the fundamental shape of the bodywork must remain largely unchanged, except for specific allowances such as extending the wheel arches to accommodate wider racing tires and incorporating additional cooling ducts. In the interest of weight reduction, certain bodywork panels, including the rear hatch and doors, rear wing, and diffuser, can be replaced with lightweight alternatives that maintain the original shape.
The class is intended for cars with a minimum production volume of 300 units within the initial 24-month period following the homologation of the road car. Consequently, prototype or low-production specials are deemed ineligible. The rules cater for both rear-wheel and four-wheel drive cars, with a minimum power output requirement set at 300kW.
Lutz Leif Linden, FIA GT Commission president, commented. "The FIA ESV rule set very much responds to the demands of the market. Having this set of technical regulations will allow the manufacturers' customer racing departments to offer competition-ready variants of their electric cars, which should be a considerable source of revenue of them, much like GT3 is. It can even open the door for them to create their own one-make series. The fact that the regulations are inclusive and accommodate four-door cars reflects the latest trends on the road car market. We already see several manufacturers having sporty four-door grand coupes in their line-ups."