Triumph has announced a 'major step' in its Moto2 2019 season race engine development programme, as last week the team completed a successful second track test at the Ciudad del Motor de Aragón. Following on from the extensive factory test programme, Julian Simon, 2009 125cc World Champion, Moto2 runner-up and experienced Moto2 test rider, put the Triumph engine development prototype through its paces.
Coming mid-way through the engine development programme, the shake down test provided essential data input into the performance and durability evaluation programme. Initial feedback from the test shows that the development programme is progressing positively and that the team is well on schedule to deliver its first batch of Moto2 race engines by June 2018.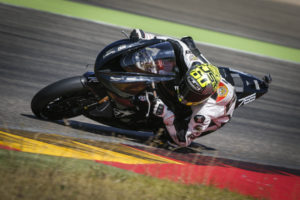 In regards to power, torque and durability, we are ahead of our expectations and during the track session saw excellent results, with the bike delivering good, consistent and competitive lap times.
"At this stage of the development programme we are in a good place," explained Steve Sargent, chief product officer for Triumph Motorcycles. "We are very pleased with the pace that Julian is showing with the latest engine and his feedback has been very positive. We have confidence that we will deliver an engine that the teams will enjoy racing with and a spectacle and sound that will excite the fans."
"I am really happy to be here in Aragón testing the development of the 2019 Moto2 engines with Triumph," added Julian Simon. "I can see there has been a big improvement with the latest engine, giving a great feeling. There's a lot of power and the gearing is fantastic, and for the sound, this is also fantastic. To me, it's fun."
With a three-year contract with Dorna, the commercial rights holder of MotoGP, Triumph are to supply a dedicated race-tuned 765cc Triumph triple engine, based on the powerplant from the all-new 2017 Triumph Street Triple. The new engine is a significant development of the race-winning Daytona 675R powerplant that has powered supersports wins at the Isle of Man TT, Daytona 200 and British Supersports Championships in 2014 and 2015.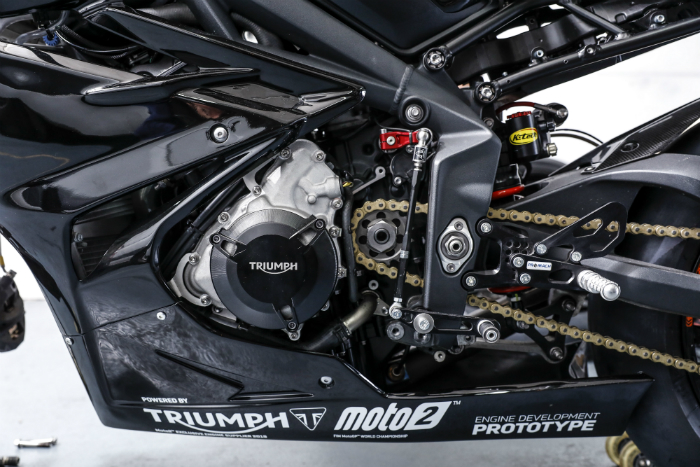 Based on the highest specification 765cc powerplant from the Street Triple RS it has been developed for Moto2 with the following modifications;
Modified cylinder head with revised inlet and exhaust ports for optimised gas flow
Titanium valves and stiffer valve springs for increased rpm
Low Output race kit alternator for reduced inertia
Taller 1st

 

gear ratio
Race developed slipper clutch which will be tuneable
Specific race ECU; which will be

 

developed with Magneti Marelli
Revised engine covers for reduced width
Different sump to allow for improved header run
Based on the new 2017 Street Triple powerplant, the Triumph Moto2 765cc triple engine has been developed and tuned to deliver increased power and torque. In 'road' set-up the new 765cc engine delivers 121hp at 11,700rpm and 77Nm at 10,800rpm. It has more than 80 new parts compared to the previous generation engine, including an increase to the bore and stroke, a new crank and pistons and a revised gearbox.