Ferrari has revealed the KC23, a non-competitive track car based on the Prancing Horse's 488 GT3 Evo 2020 platform with which the latest vehicle shares its layout, chassis and engine. Designed as the latest addition to Ferrari's One-Off series, the KC23 benefits from a host of revisions, including updated aerodynamics in the form of motorized air intake vents and a large rear wing.
During the project's inception – and with the agreement of the client for which the KC23 was built – the Ferrari Styling Centre focused on delivering a car that was free of homologation constraints, resulting in an entire redesign of the 488 GT3 Evo 2020. The project's development from concept to reality took a total of three years.
Described as a "bold and extreme vision of what the closed wheel racing of the future may look like", the KC23 benefits from a dual configuration. The vehicle has been designed to show off its clean body lines when stationary, but when turned on, custom kinematics open the air intakes automatically. Additional panels include a fence behind the front wheel to enhance front downforce, and another panel at the vehicle's rear to deliver the required amount of air for the intercoolers, engine and auxiliary components.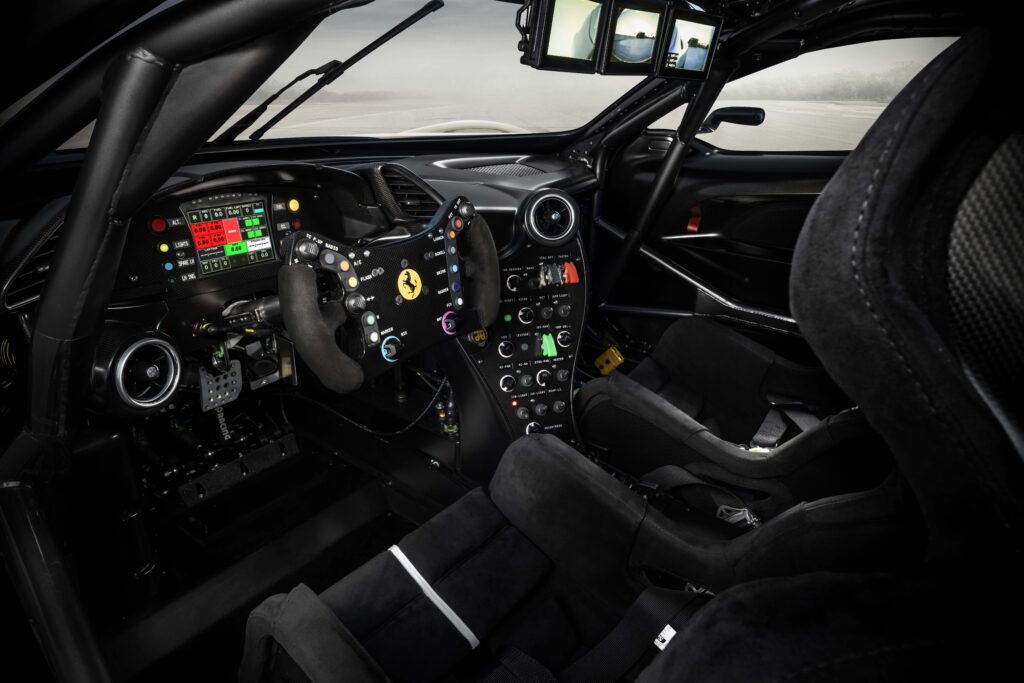 To further optimize cooling for the mid-rear mounted V8 twin turbo and to provide a high level of downforce, Ferrari's design team worked to retain the performance levels of the Evo 2020 despite the KC23's drastically different body shape.
The KC23 cabin features seats upholstered in Alcantara with an electro-welded logo. For enhanced rear visibility, the OEM has fitted a video camera system which also meant that traditional wing mirrors were no longer needed – enhancing the car's aerodynamics.
Additionally, Ferrari designed the KC23 with two sets of wheels, an 18in set for use on circuit and a 21/22in set for when the vehicle is on display and stationary.