Since winning its first desert rally in Abu Dhabi, the Audi RS Q e-tron – now dubbed the E2 as it is the second evolution of the vehicle – has undergone a multitude of changes ahead of the 2022 Morocco Rally and the 2023 Dakar Rally.
The OEM's prototype off-road race vehicle features a completely different body with revised shapes for enhanced aerodynamics, reduced weight and a lower center of gravity. To comply with prescribed interior dimensions, Audi widened the vehicle's cockpit, which was previously narrowly recessed toward the roof, and redesigned the front and rear hoods.
"We are now doing away with the underflow of the rear hood to the left and right of the B-pillars. In conjunction with modified lay-ups, i.e. optimized fabric layers of the composite materials, this solution reduces weight," said Axel Löffler, chief designer of the RS Q e-tron.
Alongside the newly designed hoods, the E2's aerodynamic concept in the area of the body below the hoods has also been changed. Furthermore, Audi has done away with part of the fenders behind the front wheels and added a transition to the door, an area that the team has nicknamed the elephant foot. The design has helped to reduce weight and optimize airflow.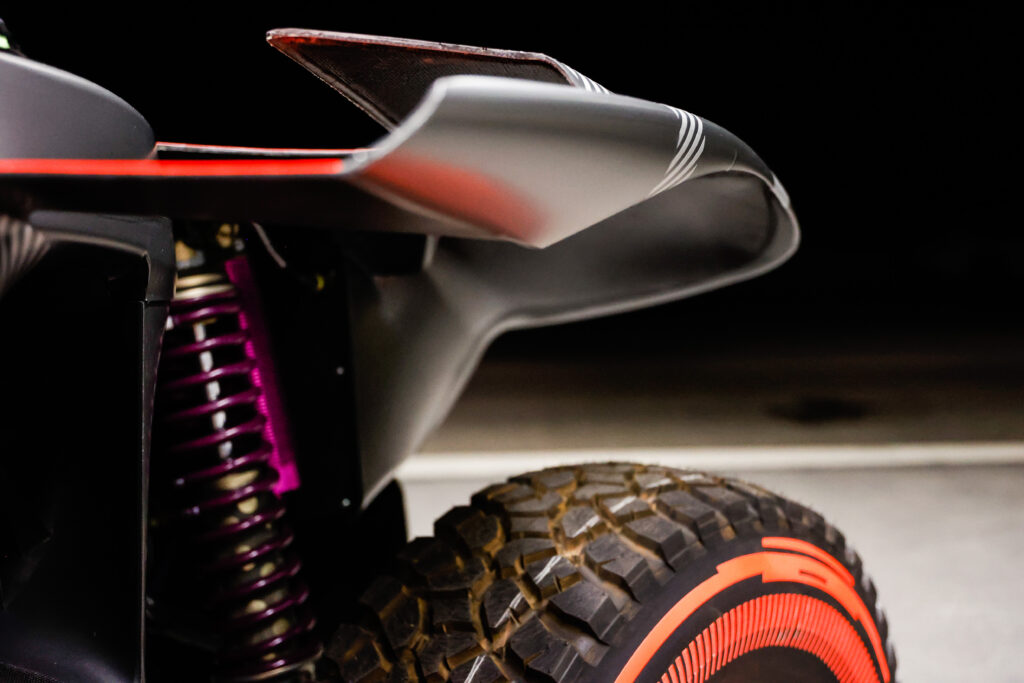 "The Audi RS Q e-tron E2 does not adopt a single body part from its predecessor," added Löffler.
Despite the new cockpit dimensions making the vehicle's body larger, the OEM was able to reduce overall aerodynamic drag by around 15%. The top speed, however, remains unchanged and is limited to 170km/h. The improved airflow over the E2's body has resulted in a major advantage though.
"It further reduces the energy requirements of the electrically powered car," said Löffler. "We implemented the aerodynamic calculations entirely using computational fluid dynamics (CFD)."
The Audi RS Q e-tron E2's electric drivetrain consists of an energy converter with an internal combustion engine and a generator, teamed with a high-voltage battery and two electric motors on the front and rear axles.
During the 2022 Dakar Rally, Audi engineers noticed short-term surpluses of power when the wheels made less contact with the ground during jumps or when traveling across uneven terrain. The FIA, however, can intervene at a threshold of 2kJ of excess energy and hand out penalties.
"By way of comparison, more than 100 times the amount of energy flows to the motors per second within the permissible limits," said Florian Semlinger, development engineer for embedded software, application and test bench. "We could have made it easy on ourselves and set our threshold several kilowatts lower but that would have meant performance disadvantages. Instead, we put a lot of fine-tuning into the power controllers."
Each motor now features two individual limits that are recalculated by the E2's software in milliseconds. This ensures that the system operates precisely at the permissible limit.
"We have combined all the important lessons in a very short time. The result of our ideas is the E2 evolution," commented Uwe Breuling, head of vehicle operations at Audi Sport. "Our development team is determined, and cost-efficient work has prepared us perfectly for our second Dakar Rally."
"We've managed a good debut at the Dakar with the Audi RS Q e-tron and even our first stage victories in a motorsport discipline that is new to us," said Rolf Michl, managing director of Audi Sport and responsible for motorsport at Audi. "The entire team is working excellently together and pulling in the same direction. As is usual at such an early stage, the drivers, co-drivers and technicians quickly agreed on the next development targets. We have summarized the result in a new evolution package – the RS Q e-tron E2."