Ford has unveiled its latest electric-powered motorsports effort with the Mustang Super Cobra Jet 1800, a revision of the NHRA world-record-holding Mustang Cobra Jet 1400, which holds the standing world record for full-bodied electric vehicles in the quarter-mile, with a time of just 8.128 seconds at 276.76km/h (171.97mph). The Cobra Jet 1800 is expected to beat this time.
After setting the record in June 2021 with Bob Tasca III at the wheel of the Cobra Jet 1400, Ford Performance set about making several revisions and upgrades to the chassis, powertrain and control systems.
The Super Cobra Jet 1800 uses the same four PN-250-DZR inverters coupled to two double-stacked DS-250-115 motor pairings, but these are now attached to a new transmission from Liberty. Furthermore, these are now powered by a completely redesigned and lighter battery system from Ford Performance and MLe Racecars. Electrical power is delivered to an MLe Racecars-revised rear end, which benefits from enhanced suspension geometry from PMR. The vehicle now also uses Mickey Thompson drag radials in a larger size to enable better launches.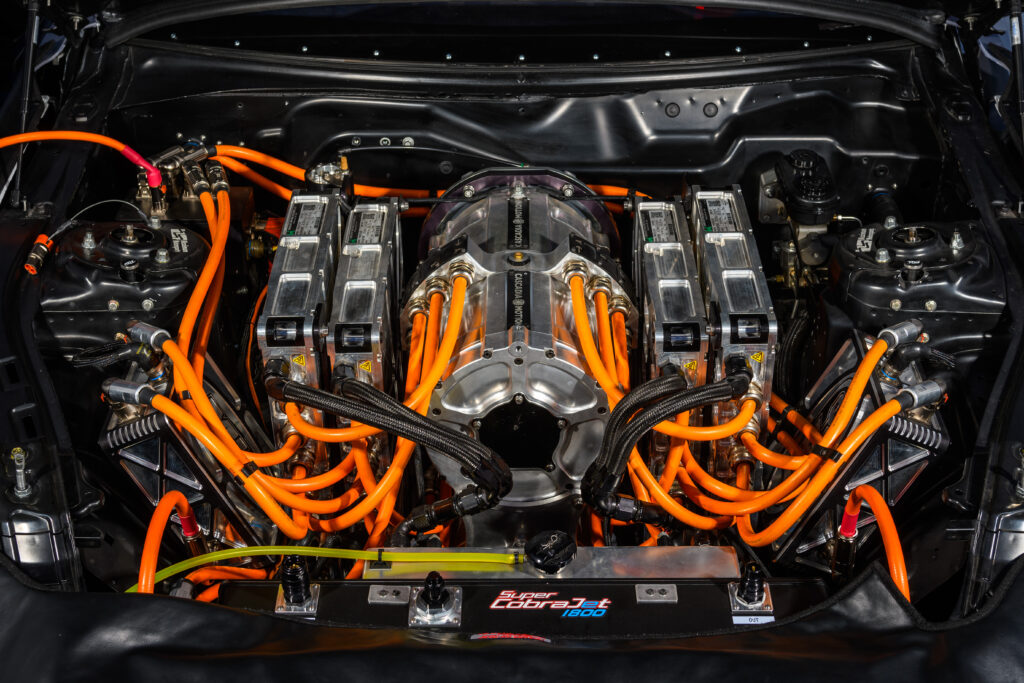 The whole system is managed by Ford Performance's control software running on AEM-EV hardware. Designed in-house, the solution features a new data acquisition system and a dash and power distribution system.
"We're always looking to push ourselves in every corner of the motorsport world," said Mark Rushbrook, global director at Ford Performance Motorsports. "Drag racing remains a key proving ground for our products and technology, and we're excited to not only try to best our own record in the quarter-mile but to further showcase ongoing development we continue to make across the entire electric vehicle landscape."
Rushbrook added, "Our changes have made significant improvements to the car, including removing hundreds of pounds in weight and increasing horsepower to 1,800."
In addition to competing for a new full-bodied electric vehicle record, the Super Cobra Jet 1800 will attempt to claim the record for the fastest electric vehicle 0-60mph and also for the fastest two-wheel-drive electric vehicle 0-60 during an NHRA event later this season. The driver of the vehicle for the record attempts is expected to be Pat McCue, MLe Racecars co-founder and official program test driver.