To enhance the aerodynamic testing of its next-generation electric, hybrid and petrol vehicles, including the 2024 Mustang Dark Horse, Ford combined advanced wind tunnel technology with what it describes as "the equivalent of a vehicle-sized treadmill" in its new Rolling Road Wind Tunnel facility (RRWT).
The RRWT is capable of simulating both road surface and wind speeds of up to 322km/h and supports Ford's development of efficient and performance-oriented vehicles. Compared to conventional wind tunnels, the new RRWT delivers data which is more accurate in terms of wind drag and downforce. The testing solution also enables Ford to conduct more in-house testing that simulates open-road conditions.
"The closer we can get to reality in the lab, the better and faster we can create more energy efficient vehicles with great on-road and track stability," said John Toth, North America wind tunnels engineering supervisor. "Testing while the wheels and tires move is instrumental to improving aerodynamics for track-ready vehicles, like Mustang Dark Horse, which has to balance both aerodynamic drags and downforce."
To test for optimal aerodynamic performance, each wheel is provided with its own belt, while the fifth belt runs under the center of the vehicle. The single belt system enables testing at speeds of up to 322km/h.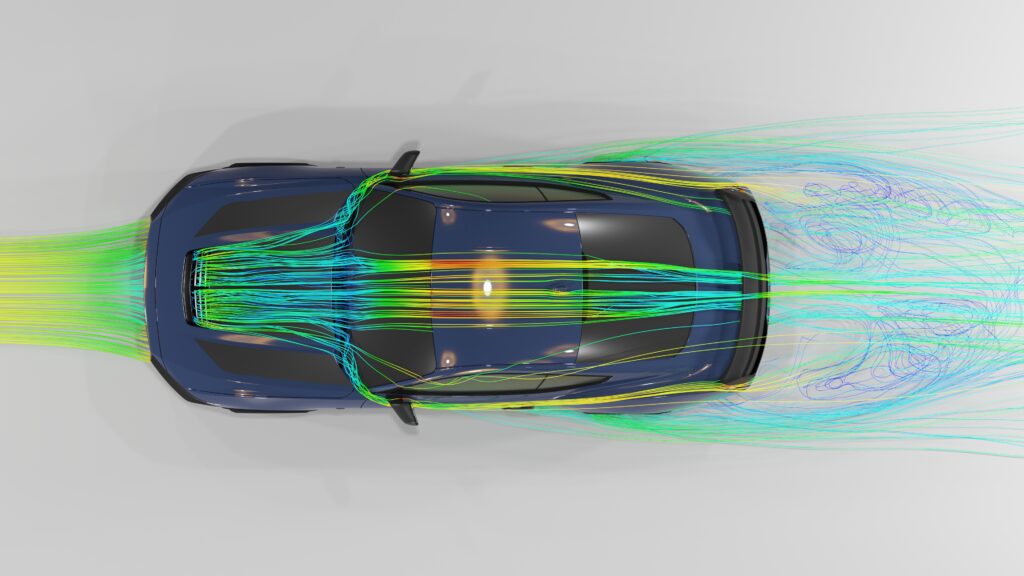 The Mustang Dark Horse was one of the first vehicles to be tested in the RRWT. Unlike most road-going vehicles, which aim for low drag, track-ready vehicles will trade low drag for increased downforce to enhance handling.
Ford has optioned the new Mustang Dark Horse with an gurney flap for the rear wing to generate additional downforce. Three vertical plates – called strakes – have also been added to the underside of the car near each front wheel to disrupt airflow. These generate more downforce on the Mustang's underbelly for increased handling and higher cornering speeds.
Several other changes have also been made to the performance Ford model, including a revised front bumper design, a lower valence and a spoiler. The new front-end design provides enhanced airflow to the engine, brakes and cooling systems, in addition to reducing front lift.
"We spent approximately 250 hours in the wind tunnel developing the 2024 Ford Mustang which includes Dark Horse," said Jonathan Gesek, program aerodynamicist for Mustang and Bronco. "The aerodynamics of Mustang Dark Horse along with several other factors have created the most track- and street-capable 5.0-liter Mustang to date."