Next year will see the launch of the world's first national, all-electric touring car series as the Swedish Touring Car Championship (STCC) makes the switch to EV. The changeover was initially planned for 2023, but the onerous supply issues that affected the wider automotive industry had an impact on racing. As a result, the entire 2023 season was canceled, with neither ICEs nor EVs racing. Fortunately, with pressures now easing, everything is on track for a 2024 debut.
To this end, two months ago STCC rolled out the first customer EV racer, based on a Tesla Model 3 – the only true track racing variant of any Tesla to enter competition to date. This is set to be followed by a further 11 cars to make up the initial 2024 grid.
The series has taken an interesting approach to the challenge of fielding cost-effective electric racers while still allowing for brand differentiation. It could be described as a combination of NGTC regulations and TCR, with a host of standard chassis components combined with a spec electric powertrain. Notably, the cars are also being produced by a single supplier: EPWR, the electrified arm of long-time Swedish racing outfit PWR, which has long been exploring the potential of electrified touring cars.
Micke Jansson, CEO at PWR Group, recalls, "We started this whole journey in 2016, basically due to the fact that PWR Racing was running in STCC and we saw that it was getting more and more difficult to attract partners. We needed to do a big change and we needed to be able to talk sustainability."
It took some time for the rest of the industry and supply chain to catch up with this mindset, but in June 2022 a deal was signed that would see EPWR lead the STCC into the electric era. The company has handled the entire technical side of the project, explains Jansson: "What we did is say, we own the technical regulation, we will build all the cars and then we set up a license for the STCC championships; they have a license to use our technical regulation but we control those regulations and we're the exclusive car builder."
Jansson highlights that when structuring the regulations, EPWR was keen to avoid some of the problems that TCR has hit over the years. "We've been working with TCR for a long while, both in Sweden as well as World TCR, and the whole BoP is kind of a mess. You see things like the teams are not going full throttle, they don't want to be too fast, because then they get added weight, etc. The whole idea was to ask, how do we change sustainably and take a bigger step where we try to find more commercially viable and sustainable terms for the teams, and the promoter, to finance this whole operation?"
Race on Sunday, sell on Monday
Logically, touring cars should be the ultimate marketing model for manufacturers looking to sell their EVs, and it is somewhat surprising that there has not been greater interest in recent years. The ETCR series looked like it had an ideal model but floundered last year, and there has been little interest in taking its approach of rallycross-style heats further.
To try to avoid such a fate, Jansson says one of the guiding principles behind EPWR's regulations for STCC was ensuring an easy access point for potential manufacturers while reducing costs. "We asked, how can we work with different car brands and bring in the DNA of the cars? From there, what kind of common components can we use in those cars?" If the cost of entry could be reduced for teams and manufacturers, the series would be more attractive. Ultimately, says Jansson, "We can cut out a lot of the cost of engineering, bring more focus to the drivers and create more entertaining racing to watch."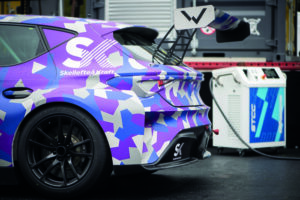 On this last point, the choice of a powerful, rear-wheel-drive layout is certain to gain fans. As Jansson points out, "If you look at cars like TCR, where they have lots of grip and front-wheel drive, they are just too good to be interesting to watch. They pretty much all go as a train, drivers can clip the curbs and it doesn't matter how hard, because the suspension is so good. Because they are so good, the drivers don't make mistakes and that's not entertaining." The teams at EPWR and STCC hope that this approach will fit better with what Jansson views as an evolution in how OEMs go racing, and a shift in the automotive market itself. "If you go back 30 years, car manufacturers had big motorsport departments and spent hundreds of millions going racing. Now the marketing is changing and there are new OEMs coming and, in that change, the money is moving toward marketing.
"With our formula, we can use their cars and branding. But we need to reinvent how we work and ask whether it makes sense for car manufacturers to spend millions producing the same [racing] components. We need to look at it more from an entertainment viewpoint, to attract fans and partnerships to commercialize it. In a way, we want more people to make money out of racing, otherwise it is what I call 'made-up money', financed by investors to feed a sport that doesn't have a business model that works."
What Jansson wanted to avoid at all costs was a BoP series, with a labyrinthine system of adjustments through a season and all the gaming that comes with it. "The first thing that we wanted to do is take out the BoP, because I don't think it brings any relevance to the teams or audience."
By giving every team effectively the same mechanical platform from a chassis and powertrain perspective, with tight limits on adjustment, performance should solely be down to driver skill and a team's understanding of the package. Janne Ljungberg, who has headed up technical development of the cars for EPWR, says, "The idea we have is that all the cars should be as good or bad as each other. So it's up to the driver to make the difference."
Spec approach
For the first season, EPWR is building cars representing four road models: the Tesla Model 3 shown here, Cupra Born, VW ID.3 and BMW i4. These are no silhouette racers, and all are based around the production chassis.
In a similar way to the current GT3 regulations, the front and rear chassis are replaced by subframes to carry the suspension and powertrain, which are identical across all cars.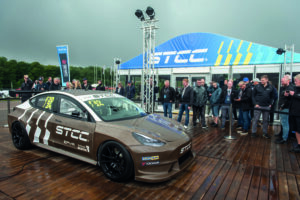 These subframes incorporate MacPherson strut suspension, with Öhlins dampers all around. According to Jansson, teams are limited on what they can do with the dampers. Adjustments are limited to castor and camber changes and external adjustment on the dampers. The subframe design is shared across all models, with the only differences being to accommodate the welded fitments where they meet the factory bulkheads. "It's a lot easier task to only change the subframe mounts between the cars than to start producing different subframes," notes Ljungberg. "This way, all have the same kinematics, etc."
The base platforms all differ to one degree or another (though the ID.3 and Cupra are almost identical), which means there are some subtle variations in overall weight, dimensions and weight distribution. However, Ljungberg is confident that there is nothing that would create a notable performance difference. There is also sufficient scope for ballasting so that any significant divergence in weight distribution can be accounted for.
Clearly, the OEM batteries are not used, replaced instead with a 45kWh unit from Austrian supplier Stard running at 800V. With all the road cars' battery enclosures playing a structural role, the roll structure in the central area of the chassis includes frame elements to stiffen the floors.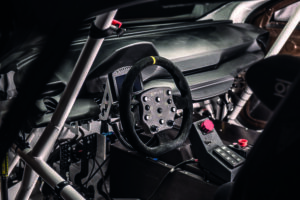 "There are some small modifications between the bodyshells for the fitment of the battery," explains Ljungberg. "The frame we put in is more rigid than the original cars. With these skateboard chassis, it is just a thin, flat floor. Once we have the battery frame, the seat mounts and roll cage, it becomes very rigid."
The powertrain is a standard fitment across all cars, with a single motor driving the rear wheels with a maximum output of 410kW (550bhp), though Ljungberg suggests this power will be available only in bursts. EPWR is not yet willing to reveal the motor supplier. Drive is transmitted to the wheels via a reduction gearbox supplied by Sadev and, notably, a spool rather than a differential is deployed.
"We try to keep it basic for the teams; simple," Ljungberg remarks. "Even though the system that runs the cars in the background is far from simple, the teams do not touch that. They can't even play with the diff." The choice of a spool, along with the rest of the powertrain specification, is all accounted for as a result of the close eye EPWR has kept on costs.
"What we have come across, especially here in Sweden, is that cars like the ETCR were way too expensive, nobody could really afford them," Ljungberg says. "That is why we have one motor, because if you have three or four motors, it's more expensive. We have tried to make things more affordable, but then in the end no motorsport is cheap." However, he admits that battery costs are still high, a situation he hopes will change in the future.
The target was for the cars to be similar to current TCR machinery in terms of running costs. "We have done more than a season's worth of running with the prototypes and things like the reduction gearbox; we haven't had a single failure," says Ljungberg.
The cost for the mechanical parts of the powertrain are far from stratospheric. For example, with the motor there was no need to go with the absolute lightest, most power-dense technology on the market. As such, the cost for a replacement unit is in the region of €11,000 (US$11,800). Furthermore, and similar to the way World RX operates, the cars are bought outright by teams, including the powertrain, rather than on a lease basis. EPWR is also set to bring full spares supplies to races, meaning teams do not need to carry extensive and expensive inventory.
In tune with EPWR's cost philosophy, aerodynamic modifications are restrained, with only a rear wing and front diffuser added. In sync with the sustainable, new-energy message of the rules, the bodywork also makes use of natural-fiber composites.
Cooling is one area where EPWR had a relatively easy task. Electric machines can be trickier to cool than ICE, due to the low temperature delta between the component cooling demand and ambient air. However, Ljungberg explains that due to the anticipated short nature of the races (around 15 minutes), and a reasonable time between races, the most temperature-sensitive element – the battery – can be kept comfortable.
He also reveals that in earlier prototypes, a passively cooled battery was used, but this approach proved insufficient and a liquid-cooled unit (with cold plates rather than immersion cooling) was settled upon.
Building momentum
Though the first car has been delivered, EPWR has its work cut out to complete the remaining 11 machines in time for pre-2024 season testing. Though the race calendar was still to be confirmed at the time of going to press, the STCC is looking to take full advantage of the benefits that electric racing brings, with street races in the cities of Helsingborg and Gothenburg confirmed, mixed in with a combination of traditional circuit races.
The fact that Sweden's tracks tend to be relatively short works in favor of close racing and less battery-sapping, flat-out high-speed racing.
Though the proof will come in 2024, the Swedish touring car series has long been one of the more successful national championships and, if the cars prove a hit, could set the template for others to follow. EPWR is certainly open to expansion beyond Sweden. "If there is a request from a new OEM or team wanting to use this model or that model, we can accommodate that fairly easily," says Jansson. "We have also been approached by promoters and teams from all over the world who are interested in the concept."
Whether any such expansion would see the company continue to build all the cars in-house to its rule set or simply license out the build remains to be seen. No doubt more organizations will come knocking as demand for cost-effective, brand-linked electric racing grows.