Since the mid-70s, NASCAR Cup cars have remained almost unchanged in their basic construction. The key elements have been a pushrod V8 mated to a four-speed manual transmission, mounted to a tube frame and box section steel chassis featuring a-arm front suspension with a live rear axle located by truck arms, a steering box rather than rack and predominantly sheet-steel bodywork.
The cars have gone through a variety of evolutions, from the CoT (Car of Tomorrow) introduced in the wake of Dale Earnhardt's fatal accident in 2001, through the current Gen 6 machines (which saw the introduction of far greater bodywork differentiation). However, the basic underpinnings have remained unchanged.
With NASCAR officially unveiling the three individual manufacturer versions of its Next Gen car, which will race in the Cup series from the 2022 season, the sport of stock car racing is about to undergo a revolution, marking the biggest change since racers moved away from stock floorpans.
The Next Gen is a ground-up reappraisal of the Cup car platform, based on the desire of manufacturers and NASCAR to make the race cars more relevant to their road equivalents. "The Next Gen is more relevant and with more innovation than any car in NASCAR history," claimed NASCAR president Steve Phelps at the official launch this week. "We wanted to get back to a promise we made to fans to put the stock back in stock car. This car has features that will make the racing better, it will make the sport healthier and stronger."
The majority of development work on the base chassis and body configuration was undertaken by NASCAR R&D, based in Concord, North Carolina, working in conjunction with Italian race-car manufacturer Dallara, which constructed the initial prototypes. Further test cars were built by Richard Childress Racing and sportscar team Action Express Racing. Meanwhile, the three manufacturers – Ford, Chevrolet and Toyota – developed their own unique body shapes, based on guidelines laid down by NASCAR, derived from an extensive CFD-led analysis program.
Since around 2010, NASCAR has been honing a benchmarking system for its vehicles, to ensure they are of equal performance aerodynamically, while still allowing for the incorporation of manufacturer styling elements. The Next Gen cars mark the culmination of this process, with manufacturers able to instill far more brand identity into each car than previously. In simple terms, the manufacturers are given an aero performance window to work within, which is then checked and confirmed by NASCAR via a wind tunnel test.
To bring the proportions of the car more in line with production machines, the greenhouse area has been revamped, while the front and rear overhangs and length of the rear deck have also been reduced. Taking the Toyota Camry as an example, the Cup version is now almost identical in length and wheelbase to the road version. Adding to the visual differentiation between marques, the fenders, along with the front and rear quarters also incorporate design elements unique to each manufacturer.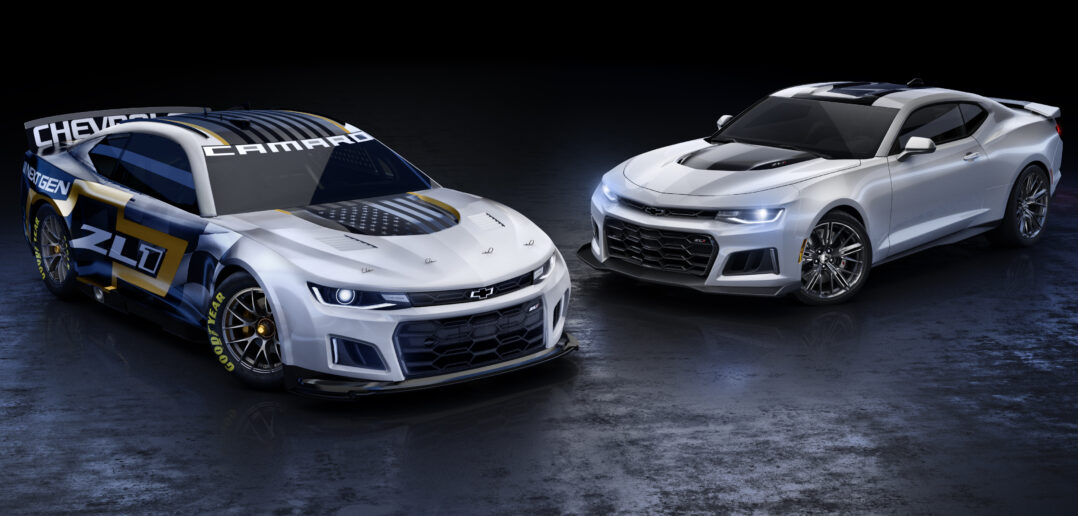 Removing one of the unique features of oval-specific race-car design, the bodies are now entirely symmetrical, finishing a process started with the CoT whereby NASCAR began to clamp down on bodywork asymmetry, incorporated by teams to gain an aerodynamic advantage when running on banked ovals. The transition to all-composite construction will also be completed with the Next Gen cars; the Gen 6 already featured composite hoods and rear decks, and the Xfinity series switched from steel bodies in 2018.
The underfloor has also been heavily revised. Whereas previously, Cup cars featured very messy, effectively open, undersides, with teams tweaking elements such the frame rails, floorpans and other additions for aerodynamic gain, a flat floor and rear diffuser have now been implemented.
The aim of this is not only to limit the opportunity for aero shenanigans but also to reduce the effect of the car's wake on following vehicles. Furthermore, the hoods now feature manufacturer-specific cooling outlets for the radiators (which previously vented to the underfloor). NASCAR has also mandated a minimum ride height 50mm higher than the current cars, governed by a travel limiter to prevent teams developing complex solutions to run lower dynamic ride heights.
The greatest changes are evident under the skin. The chassis will now be spec items – supplied in kit form to teams rather than being constructed in-house – consisting of a central cage with front and rear clips. In a cost-saving move, these clips will be bolted rather than welded to the central chassis. Furthermore, teams will be limited to seven chassis per season to prevent them building specific chassis for certain tracks. However, it is likely that as they become familiar with the cars, engineers will find subtle ways to tweak the Next Gen to better suit certain layouts.
Further safety improvements over the Gen 6 cars have also been incorporated, including some additional reinforcement bars in the roll cage, plus energy-absorbing foam inserts in the front and rear chassis sections.
Also gone are the truck arm rear suspension and live axle, supplanted by double wishbones and five-way-adjustable coil-over dampers. A rear-mounted five-speed, sequential transaxle has replaced the previous four-on-the-floor gearbox and rear differential arrangement. Significantly, steering is now by a conventional rack-and-pinion system rather than a steering box (which was still based on a 1950s GM Saginaw truck unit).
Other components headed for the history books are NASCAR's signature five-lug wheels, the source of many penalties for teams due to missed lug nuts during pitstops. These are replaced with center lock, 18in wheels similar to those found on GT3 machinery and the like.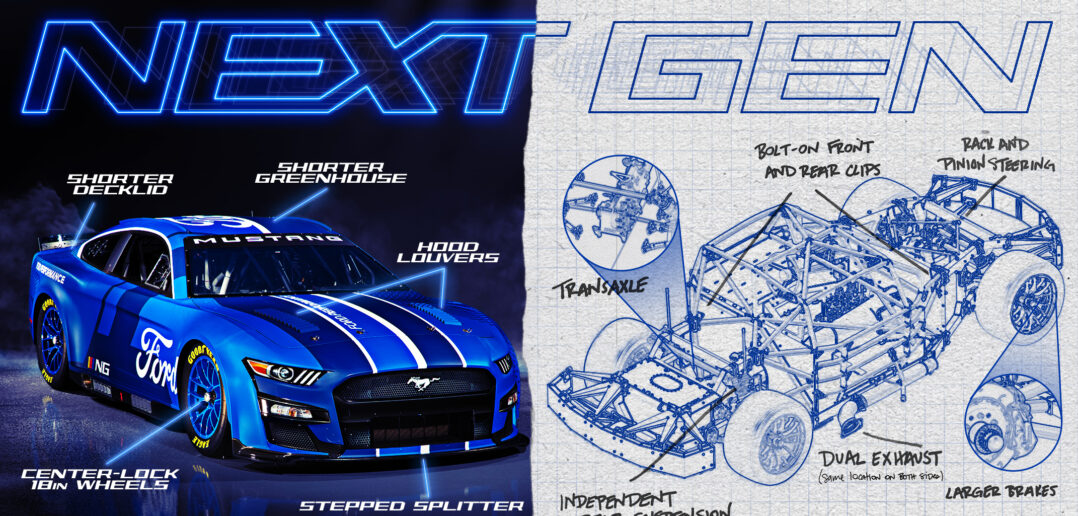 The current generation of pushrod V8 engines are retained, but with some modifications to suit the new package, including revised oil pans and exhaust systems. The latter will now utilize two exits, one either side of the vehicle, instead of the single right-side exit of the current cars. Power will be set at between approximately 550 bhp and 670 bhp depending on track type. There are no immediate plans to downsize the engines; however, the OEMs and NASCAR are open to future developments, including hybridization. To this end, the Xtrac-supplied transaxle already can incorporate a motor generator unit (MGU).
Talking about this matter late last month, Phelps remarked, "I think right now it's something that we are certainly having a lot of discussions with our OEM partners about. If we decide to go to some form of electrification in a hybrid vehicle or hybrid engine, the Next Gen car has the opportunity for us to drop that engine in there.
"The timing of it, it's a difficult one, right? I would have said before Covid, we're maybe looking at '23. Timelines are tough just because we need to make sure that all the stakeholders who matter in this discussion, which are our race teams, our OEM partners, that they're all aligned on what that would look like. It could be '24. I think frankly the opportunity to have a new OEM partner will largely depend on what happens with that hybrid engine."
The new cars will make their debut at the 2022 Daytona 500, but delivery of parts to teams is already underway ahead of the commencement of track testing.
NASCAR Next Gen suppliers
Aero Tec Laboratories Inc
Fuel cell bladder
AP Racing Limited
Brakes
Bald Spot Sports
Foam (bumper, door)
BBS of America Inc
Wheels
Dallara
Radiator ducts
Fibreworks Composites LLC
Deck lid, hood, rocker-box cooling ducts, underwing
Five Star Fabricating Inc
Doors, fenders, front/rear bumper covers, fuel adaptor,
quarter panels, rear door crush panel, rear wheel tubs, windows
Goodyear
Tires
Hyperco (MW Industries Inc)
Springs
Kirkey Racing Fabrication
Bumpers
Öhlins USA Inc
Dampers
Pro-Fabrication Inc
Tailpipes
RCR Manufacturing Solutions LLC
Wheel nuts
Roush & Yates Racing Engines LLC
Shifter, transaxle mounts, uprights/wheel hubs
Roush Industries Inc
Brake ducts (upright/rotor), front door crush panels, front wheel exhaust cover, greenhouse, package tray, roof, spoiler base
Roush Industries Inc, Roush & Yates Racing Engines LLC
Anti-roll bars
Schultz Engineered Products
Fuel adaptor/coupler
Technique Chassis LLC
Chassis: front/center/rear
Technique Inc
Body mounts
Thermal Control Products
Fixed window net, driver window net, assemblies
Tilton Engineering Inc
Bell housing
Visser Precision LLC
Control arms (front/rear)
Woodward Machine Corporation
Steering rack, steering shaft
Xtrac Inc
Clutch shaft, driveshaft, transaxle